Annual ITS Tech Fair Grows into Expo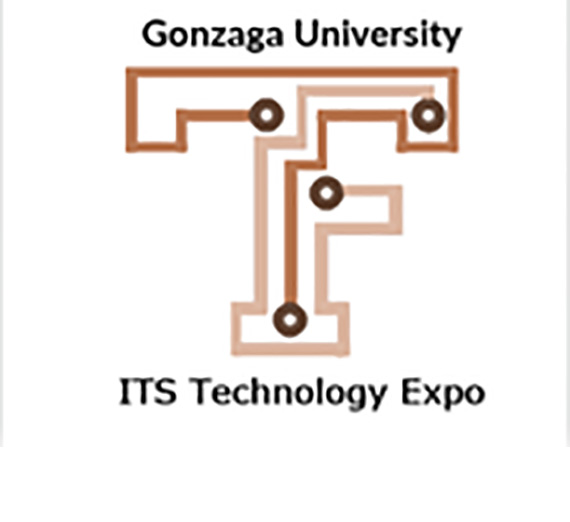 ---
TECH FAIR REVIVAL
On Wednesday, October 5th, 2022, Gonzaga Information Technology Services (ITS) Division held its second Tech Fair in the Hemmingson Ballroom. After a two-year hiatus, it felt like a small miracle to be able to gather once more for a technology event that had so inspired the campus pre-pandemic.
The event's return was a triumphant one, bringing in just over 600 attendees (students, faculty, and staff alike), for four hours of pizza, cupcakes, and prize giveaways, while learning more about the different technology offerings available at Gonzaga.
The Information Technology Services (ITS) department was excited to bring back the event. The Tech Fair planning committee chose the theme, "Space: Out-of-this-world!" and asked ITS employees to dress for the occasion with alien-themed t-shirts and accessories.
The event saw representatives from a variety of different departments and companies, with tables for Amazon Web Services, Oracle, Xfinity, Zoom, Varonis, Lennovo, several ITS departments, and more.
Amazon Web Services, Oracle, and Kaltura are all providers of online computing platforms, cloud computing, cloud software products, online video. Xfinity is a provider of cable, internet, and phone services. Similarly Zoom provides video, phone, and chat services. Varonis is a cybersecurity platform that helps protect the campus' active directory, network shares, and Microsoft 365. Lenovo is a computer vendor through which the university sources all of its laptops.
SHARING IN NEW TECHNOLOGY
Last year's event attendees enjoyed free pizza from local vendor, Pizza Pipeline, as well as mini cupcakes for dessert.
One big change from the previous year was the use of a QR (Quick Response) code to sign in and register for prize drawings. The prizes, which were given out every hour included Xbox Series X, Nintendo Switch, Apple Watch, and even a Pogo stick!
Adding to the festive atmosphere were interactive displays from several IT departments, including a preview of the new Zagweb layout, cyber security password cracking exercises, and Q&A with Support Center technicians. Swing Lounge, a Spokane Valley-based Indoor golf lounge, provided a golfing simulator which also proved popular with attendees.

ITS Budget and Personnel Officer, Julie Tibbs says in-person interactions played a big role in the renewed, positive energy of the event. "Those hours of in-person interaction were definitely different, and good to experience after several years without."

Ismael Teshome, the department's Associate Director of Service Experience, says the event was also an opportunity for technology work studies.
"My work studies in particular were pumped to participate and meet some of the ITS folks, as well as the vendors we work with."
Indeed, one of those work study students, Jake VanZyverden, described the event as providing a fun and friendly environment for people involved in tech to talk to and interact with bigger tech companies. "My favorite part was the raffle that kept people sticking around and gave me a good excuse to go talk to the vendors while I was waiting," he says.
Fellow Next Gen Tech Bar work study Emma Hagner agreed the event was an energetic and friendly atmosphere. "I was impressed with the number of students who were interested in the tech we have at Gonzaga, and I'm excited to attend again next year!"
Gonzaga University Event Service Team's Senior Event Manager Vivi Windsor says Tech Fair is also a favorite within her department. "Our teams really enjoy attending, as it's always a lot of fun."
FROM TECH FAIR TO TECH EXPO
If you missed out on last year's Tech Fair, don't worry, this year's event is already scheduled for October 4th, 2023.
This year's planning committee has renamed the event The ITS Tech Expo and chosen a theme of: Wild West Tech Fest.
Tibbs says the committee's decision to rename the event was part of a desire to "keep things fresh" in an industry that's focused on innovation.
As to this year's theme, she says, "We liked the play of mixing Technology and the Wild West."
In addition to the annual goals of increased attendance, more vendors, and supplying bigger, better prizes, the committee has also shortened the event to run over the lunch hour from 10:30 AM – 1:30 PM to ensure attendees don't miss out on pizza.