Telling War Project Empowers Veterans
Humanities provides unique way to honor service by sharing stories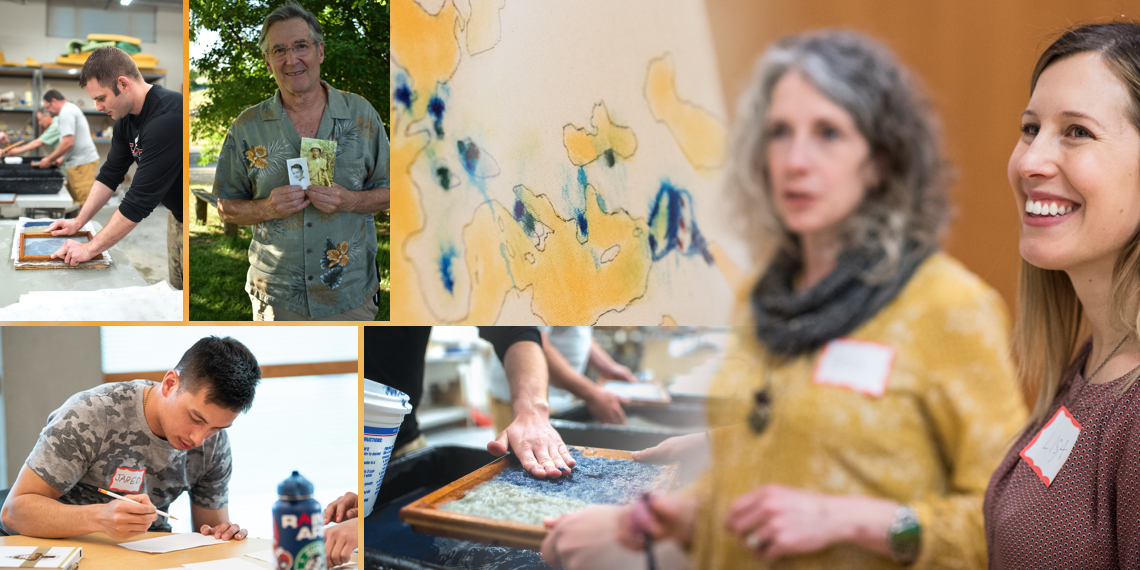 "Telling War" set its sights on giving voice to veterans, through creative arts and multimedia storytelling, to engage in meaningful dialogue about the experience of war.
The effort was personal for Silvestri, communication studies faculty member, who secured a $100,000 National Endowment for the Humanities (NEH) grant for a two-year project that recently concluded. Her family includes several veterans and she observed that many vets are reluctant to talk about their experiences. She wanted to change that dynamic for the local community.
Silvestri partnered with arts educator Rebekah Wilkins-Pepiton (both shown at left, center) on an innovative method to help veterans, particularly those from the Vietnam and Iraq/Afghanistan-era conflicts, express themselves.
The pair spearheaded a series of events designed to stimulate dialogue and move members of the community to share their stories. Several prominent authors – themselves veterans – came to Gonzaga for readings, discussion sessions and workshops to model storytelling as a form of healing. Various humanities-based forms of expression were central to helping participants, and their families, process.
Silvestri also taught a "Telling War" first-year seminar in 2017 to guide a study in the modern experience of war through a multidisciplinary lens. One of the outcomes was training students who were interested in capturing veteran stories. Some served as storytelling facilitators and others supported event programming.
"My goal was for veterans to realize their own wisdom. I didn't exactly know what that would look like when it happened. Each veteran is different. Larry is one of the more explicit examples. But I think all the participants, to some extent, recognized what they have to offer us."
- Lisa Silvestri, assistant professor, Communication Studies
A greater impact was the noticeable positive effect on the lives of participants.
Spokane's Larry Plager can attest to that. A Marine combat veteran, he enlisted and was sent to the Vietnam War in 1968 as an 18-year-old, alongside a few friends and dozens of other Washingtonians who were part of the Evergreen State Platoon. He lost several friends in the war and experienced other tragedies that still haunt him today.
During the early "Telling War" events, Plager was guarded about his background. As he kept showing up and participating, he began to display changes that were noticeable to those involved with the project. He had one-on-one discussions with guest speakers, other veterans, Silvestri and the students. Ultimately, he ended up sharing his story on camera, expressing himself in writing, and fully embracing every experience.
Plager's willingness to share his experiences publicly illustrates the positive encouragement he received from the "Telling War" project.
Excerpt from "Helicoper Assault," by veteran Larry Plager:
"... I and the rest of the Marines in
our company line the passage way leading up to the flight deck. I'm 18, a little over five foot eleven, weigh all of
140 pounds and carry half my body weight in gear. I know I'm scared. Vietnam can kill a guy, you know.
I think of friends who have already been killed. Of the guys I enlisted with from Spokane, two are dead and three
have been wounded and sent home.
Two others I know, also dead. I wonder when it will be my turn to be mourned. But I do my job."
Academics
Arts & Culture
College of Arts & Sciences
Sponsored Research and Programs Office
Gonzaga Magazine