Fiction and Social Justice: Interview with novelist Helena María Viramontes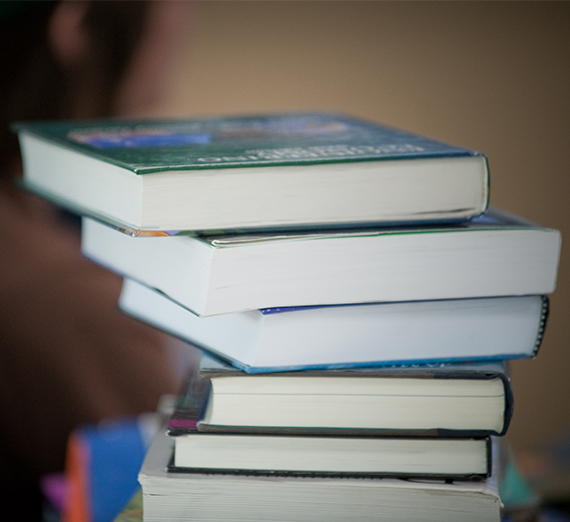 ---
"[I]f people do not believe that we are people, then I have to write to the best of my ability," said Helena María Viramontes, novelist and Cornell University creative writing professor. "I have to write until these characters come to life, almost as a testament to the fact that we are, in fact, people."
In April, Viramontes spoke at Gonzaga as part of the 2018-19 Visiting Writers Series. Viramontes is known for works such as "The Moths and Other Stories" (1985), "Under the Feet of Jesus" (1995), and "Their Dogs Came with Them" (2007). In addition to receiving the John Dos Passos Prize for Literature, a Sundance Institute Fellowship, a National Endowment for the Arts Fellowship and the Luis Leal Award, Viramontes has also been recognized as a USA Ford Fellow in Literature (2007).
Meagan Ciesla, assistant professor of English and director of Gonzaga's writing concentration, selected Viramontes for this year's series. She remembers reading Viramontes' work as a graduate student, and being drawn to the characters' associations with geographical space. In "Their Dogs Came with Them," for example, "her characters are at the center of new freeway construction in Los Angeles, and the story illustrates how they are often forgotten or left behind by this infrastructural progress," says Ciesla. "Viramontes is also an influential writer of contemporary Chicana literature, and I know many of my colleagues teach her work in their classes. Her stories are centered around issues of social justice, and when set next to our current political landscape, the desires and fates of her characters seem more pressing than ever."
During a phone interview, Viramontes reflected on her experience attending a liberal arts college, her journey to her writing career, and some of the challenges and rewards of writing novels.
Viramontes responded enthusiastically to Gonzaga's Catholic, Jesuit, Humanistic tradition and dedication to social justice. These core facets reminded her of her own undergraduate experience at Immaculate Heart College, a private, Catholic, liberal arts school where the nuns, she said, engaged in radical social justice issues for the time.
"[E]ven in 1971, we were talking about incredible issues, global issues in a classroom, even before the legalization, for example, of abortion and before Planned Parenthood and things like that… dialogue, discourse, critiques, to the point where I have never, never forgotten how incredible that training was, for me to be a global citizen of the world," Viramontes said.
As a student at James A. Garfield High in East Los Angeles, Viramontes said she was interested in the idea of college, but knew next to nothing about college applications. Garfield High did not offer AP classes at the time, and Viramontes had never heard of the SAT. Viramontes found inspiration in her older brother, who attended a university in San Diego, and a representative from Barnard College, who visited the high school to share her experiences.
"When I decided I wanted to go, it was just complete and total serendipity," Viramontes said. "It was just this wonderful, radical, feminist education that I got from lay people, but also from the nuns, who were just absolutely fabulous. I mean, they really gave me back my faith in the public imagination, and the power of even one person to provide a sense of progress and a sense of hope. We were never lectured to. It was a matter of establishing real discourse, real dialogue, and real critical thinking."
Student life on-campus was a radically different experience for Viramontes. Many of the students, Viramontes included, had never written a research paper. Rather than writing a research paper about Existentialism, for her first assignment, Viramontes instead wrote a dialogue between Existentialist philosophers. Viramontes fondly recalled this and other stories about her early years as a college student and young writer.
"My composition teacher, who became the Poet Laureate of Los Angeles for a number of years... I think she gave me a C," Viramontes reflected. "She said it wasn't a research paper [laughs], but she appreciated the creativity of my efforts, you know?"
After graduating from Immaculate Heart, Viramontes participated in a few graduate courses to pursue her curiosity and love of knowledge. An instructor encouraged her to submit to a writing contest, which she won, and a friend urged her to apply to UC Irvine.
"I would share my work with people, [who] would tell me, 'Oh my God, that reminds me of my mother,' 'Oh my God, that reminds me of my family,' 'You just captured my sister.' And that's when I realized that I wasn't just writing about my own, personal stories, but actually writing about community," Viramontes said.
Community - culminating in her Chicana heritage, César Chávez's influence over California's farm workers' union, the experiences of the working class, and the political and cultural influences over the lives of strong, persistent women - soon became a key theme in Viramontes' work. At UC Irvine, Viramontes started writing her short story collection, "The Moths and Other Stories." Her advisor – perhaps unknowingly, Viramontes said – was less than encouraging.
"[M]y advisor finally called me into his office and he said, the trouble with my work is that I'm writing about Chicanos. I should be writing about people," She explained. "I was astounded by that. That was so hurtful…I walked out of his office, and I walked through the parking lot, and I didn't return to the program for another 12 years. But that didn't stop me from writing. That just made me more determined to write." Viramontes continued to publish "The Moths and Other Stories," from which "The Moths" soon found its way into American literature anthologies. When she returned to earn her master's, Viramontes wrote her thesis, "Under the Feet of Jesus."
Cink: At what point in your life did you decide to pursue a writing career?
Viramontes: "I think it had to have begun pretty early on, [with] that life passion for the curiosity of people's lives and for their stories. As a kid, I would love to listen to my mother and to my aunt talking. When they would sit around the table to do tamales, for example – making tamales is a communal effort. One person can't make tamales, it's got to be a number of people. And so, several of my aunts and my mother would sit down around the table to put masa on the corn husks. And as they were doing that, they would share stories, share jokes, laugh, remember things, and I would love sitting under the table and just listening to all this.
I come from a large family. There was a total of 11 of us, and I was in the middle. When I talk about my older brother, I also had older sisters, and all of them would go to school and come back with books.
You have to remember, I came from a bookless home. We didn't have books. My father eventually bought, in 1965, a set of Great Books, like encyclopedias. I would sneak and just read- there was always something that I could read. Then came my public library card, and that was liberation, because I felt that even though there [weren't] books in the house, all those books on the shelf in the public library were essentially mine, because I had my library card. I'm a big and firm believer in public libraries, let me tell you.
Then the Bible…The Bible for me was the most beautiful book that I've ever seen, with these gold-leaf pages and these stories and things like that…[I] realized that, in the printed page, I would always get information or always get wisdom…I have always had this innate instinct that whatever I read on the printed page would somehow help me live a life.
So that's how I became very passionate about writing…And I realize, now, during this time that we have here with the Trump era, if people do not believe that we are people, then I have to write to the best of my ability. I have to write until these characters come to life, almost as a testament to the fact that we are, in fact, people. And so that's why I take a long time when I write…The work that I do may be small in pages, but I live by every sentence that I've written."
Cink: As a writer, what are some the accomplishments that you've been the proudest of? And conversely, what are some of the challenges that you've experienced as a writer?
Viramontes: "There's tons of books out there about writers who suffer insecurities, who suffer all kinds of other ailments. To live in your head for a long time is a difficult thing, especially in terms of novelists, where you have this whole blueprint of this world in your head. I feel like, because I'm so much in my head, I forget that I have a real life, you know? That's a major challenge.
Another major challenge is time. Because I've been teaching for these last 26 years, each time there's a schedule change...it's a challenge to keep a disciplined schedule…I believe in discipline in terms of writing every day. There's all kind[s] of things that are good about muscle memory, mind memory, the subconscious kicking in whenever you have to write. But if you can do it all at a certain time, you get pages done, you do get work done.
I guess, for me, [the proudest moments are] when students or people tell me how their life has been affected by the work that I do, in terms of my novels and my stories. I don't think I could ever make up for that kind of joy when people, even high school students, write to me.
'Their Dogs Came With Them' was premiered as a play by a group of inmates at an all-women's correctional facility. This was in February…It was the most spectacular experience of my life. I try to think each night when I go to bed, and I always ask myself, 'What have I done this past day to relieve the suffering of somebody else?'"
Learn more about the Visiting Writers Series
here
.