Visiting Writers Series Welcomes Abani Feb. 12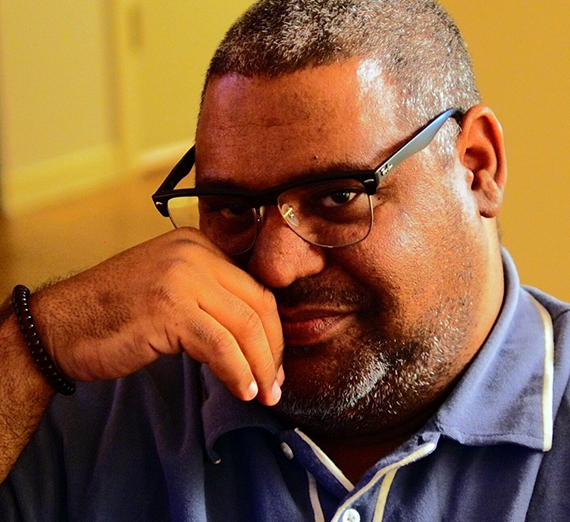 ---
Gonzaga News Service
SPOKANE, Wash. – The 2017-18 Gonzaga University Visiting Writers Series will continue on Monday, Feb. 12 with a reading by award-winning multi-genre author Chris Abani at 7:30 p.m. in the Hemmingson Center Ballroom. The event is free and open to the public.

Earlier Feb. 12, Abani will visit Gonzaga English classes to discuss his writing and to work with students.
Abani – a Board of Trustees Professor of English at Northwestern University – is a novelist, poet, essayist, screenwriter and playwright. Born in Nigeria to an Igbo father and English mother, he grew up in Afikpo, Nigeria, earned a bachelor's degree in English from Imo State University, Nigeria, a master's degree in English, gender and culture from Birkbeck College, University of London and a Ph.D. in literature and creative writing from the University of Southern California. He has lived in the United States since 2001.

Abani is the recipient of the PEN USA Freedom-to-Write Award, the Prince Claus Award, a Lannan Literary Fellowship, a California Book Award, a Hurston/Wright Legacy Award, a PEN Beyond the Margins Award, the PEN Hemingway Book Prize and a Guggenheim Award.

His fiction includes "The Secret History of Las Vegas" (2014), "Song for Night" (2007), "The Virgin of Flames" (2007), "Becoming Abigail" (2006), "GraceLand" (2004), and "Masters of the Board" (1985).

His poetry collections are "Sanctificum" (2010), "There Are No Names for Red" (2010), "Feed Me the Sun – Collected Long Poems" (2010), "Hands Washing Water" (2006), "Dog Woman" (2004), "Daphne's Lot" (2003) and "Kalakuta Republic" (2001). His work has been translated into French, Italian, Spanish, German, Swedish, Romanian, Hebrew, Macedonian, Ukrainian, Portuguese, Dutch, Bosnian and Serbian.

Through his TED Talks, public speaking and essays, Abani is known as an international voice on humanitarianism, art, ethics, and our shared political responsibility. His critical and personal essays have been featured in books on art and photography, as well as Witness, Parkett, The New York Times, O Magazine, and Bomb.

Gonzaga English Professor and Washington State Poet Laureate Tod Marshall, organizes the annual Visiting Writers series that he started in 2007. Marshall completes his appointment as State Poet Laureate on Jan. 31. An Inland Northwest cultural gem, the series stimulates interest in literature and reading through dynamic encounters with some of our nation's most accomplished and respected writers whose voices express new and different perspectives.

The events are free and open to the public.

Following are the remaining events in this year's series.
MARCH 6: MARIE HOWE
Former New York State Poet Laureate Marie Howe will read from her work at 7:30 p.m., Tuesday, March 6, in the Cataldo Hall Globe Room. Howe's poetry is recognized for its use of Biblical and mythical allusions to portray various aspects of human life. She is the author of several renowned poetry collections, including: "The Good Thief"; "What the Living Do"; and "The Kingdom of Ordinary Time." Howe is the recipient of the Lavan Younger Poets Prize from the American Academy of Poets, and fellowships from the National Endowment of the Arts and the Guggenheim Foundation. Her most recent collection, "Magdalene," has been selected on the 2017 National Book Award Longlist for Poetry. She studied at the University of Windsor and Columbia University, and has taught at Sarah Lawrence College, Columbia University and New York University.
MARCH 28: 'GONZAGA READS'
The series concludes with "Gonzaga Reads," featuring public readings from Jessica Halliday, senior lecturer in English at Gonzaga, and the 2018 Michael and Gail Gurian Awards winners at 7:30 p.m., Wednesday, March 28 at in the Jepson Center's Wolff Auditorium. Halliday earned a master's of fine arts with an emphasis in fiction from Eastern Washington University and a bachelor's degree from the University of Washington. Her recent essay on raising a son in the competitive sports world was featured on the Sports Illustrated website. Her previous publications include "A Mother's Fairy Tale" (Weber Studies: The Contemporary West) and "Out Where Everyone Can See" (The Spokesman-Review). The annual Gurian Awards honor three Gonzaga students for excellence in poetry, fiction and creative nonfiction writing. The winners will read excerpts from their work. The contest is open to all enrolled Gonzaga undergraduates.
For more information, contact Tod Marshall at (509) 313-6681 or
marshall@gonzaga.edu
.