Mystery Zag: Steve DeLong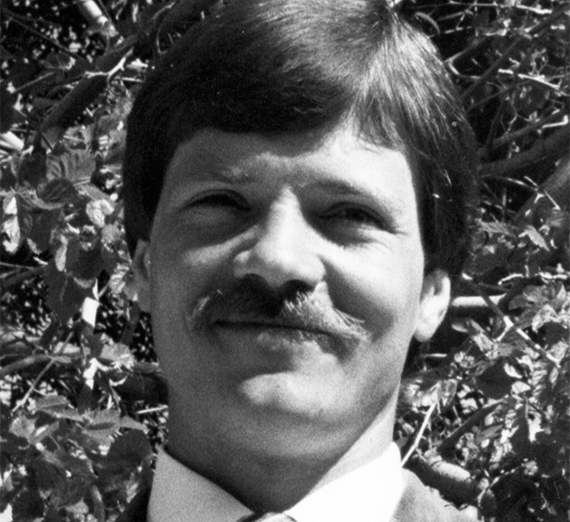 ---
Steve DeLong: Athletic Trainer
From 1978-2017, DeLong served thousands of student athletes with care for their aches and injuries, fitness and rehabilitation. He could fix anything with athletic tape, including the old yellow school bus used to transport athletes to competitions. He was feared by some new athletes, but loved by most by the time they completed their education. Steve was an innovator, and brought many positive changes to the sports medicine program. On Jan. 4, 2019, the training room in Martin Centre was dedicated the Diedrick & DeLong Training Center, in honor of Steve and his mentor, Bill Diedrick Sr.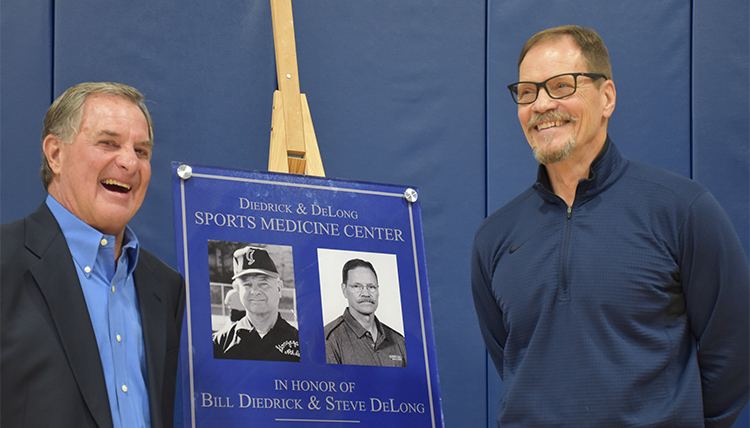 Reader Reflections
During my junior year, our trainer, "Papa D" (Bill Diedrick), retired. The new guy was kinda fancy. He brought "e-stim," contrast baths and an ultrasound device that could be used on almost every musculoskeletal injury. My first impression of Steve DeLong had me wondering why "rub a little dirt on it" wasn't included in his treatment plan for my chronic arm problems as it was for his predecessor. Steve was serious about his work and his responsibilities to the student athletes. But don't think for one second that Steve did not have a humorous side. More than once, my friends Robert Thomas, Mary Hutula and I were caught in his web of practical jokes. There are not enough superlatives to describe what Steve did for the Gonzaga community as an educator and sports medicine professional, and what he did for me personally. He was my first mentor. He willingly gave me direction when I was lost, encouragement when I was down, and vision to see a future in a similar profession. But most all, Steve Delong is my friend.
- Corbin Tudor ('80), Bellevue, Wash.


Steve-O! Rockin' the stache! As a GU student-athlete, Steve-O was our dad in the training room. His no-nonsense but TLC demeanor was reassuring to those of us who needed our ankles taped daily or the ritual ice-bath after games. As a freshman, he terrified me, but in the final three years he was more like a protective big brother. After graduating, my husband and I enjoyed seeing him on the GU men's basketball bench. He was an equal opportunity trainer. Thanks, Steve-O, for the smiles, guidance and for watching over us like our own personal rough-and-tough guardian angel.
- Jenny Withers Miller ('99), Beaverton, Ore.


I played baseball for GU (1997-98). I came in as a walk-on with recent ulnar nerve transposition on my pitching arm. I developed a great relationship with Steve since I was in the training room frequently. He was always friendly, had a dry sense of humor, and was extremely professional. My last year playing baseball with Gonzaga was the darkest time of my life. I threw everything I had into baseball until early spring of my junior year at GU when my shoulder gave out. Turned out to be a torn biceps tendon, a torn rotator cuff, and two large bone spurs. Steve (and assistant trainer Heidi Peterson) worked to get me through the pain, both physical and emotional. It was a horrible thing to have to stop playing a sport and give up on your dreams because your body gives out on you. He even tried some technique to release scar tissue. But soon thereafter, I had to give up baseball. Steve and Heidi were definitely shepherds to me during this time. They let me know that it was OK to fall apart. It happens. It's not a personal failing. Steve was like a mom, a dad, and a big brother. He enriched my time at GU and was truly an asset to the university. I got the sense that he wanted the best out of all the athletes, no matter if you were the star pitcher, or the person sitting at the end of the bench.
- Jason Sazama ('99), Elk Grove, Calif.


That's Steve DeLong (Doctor Death). He was my fencing professor, and my son Clay's fencing instructor, as well. He was able to convey a lot with just a few sentences. We all have a different, but special, place in our hearts for Steve.
- Jil Fraley Scollard ('89), Lake Forest Park, Wash.


Steve was my boss in the training room, 1990-1995. What a compassionate man who made me feel more competent and sure of myself as I worked with athletes as a trainer. He was one of the major influences for my life as a Zag and one of my best memories. He invited us student-trainers into his home and made us all feel like family.
- Daniel Beseau ('95), Gresham, Ore.


I'm a Gonzaga Ph.D. alum, but as a student at EWU in 1975, I used to attend all the EWU home football games and Steve was one of the best football players. I loved to go to my home football games so attending the EWU games made my new college life more fun. Best wishes Steve on your retirement, my how the years go by!
- Michele Aeck ('95) , San Luis Obispo, Calif.