Mystery Zag: Fr. Tony Via, S.J.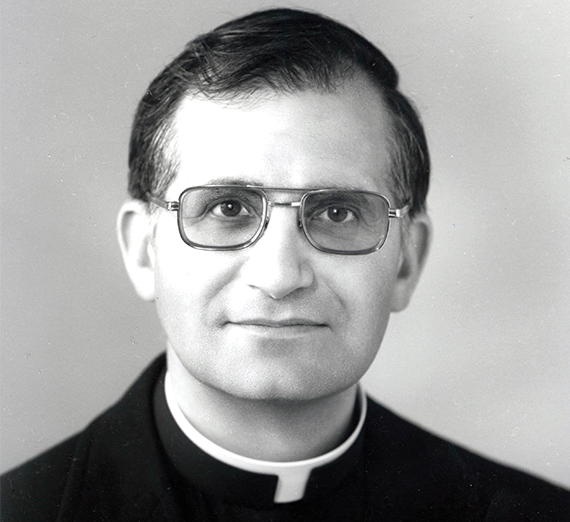 ---
History Professor Emeritus
For 47 years, Fr. Via made an impact on students at Gonzaga – in history classrooms, as director of Gonzaga-in-Florence over 25 years, and as academic vice president. He now lives in the U.S. Jesuit West retirement community in Los Gatos, California.
Reader Reflections
Fr. Via's class was not only academically challenging, but also VERY entertaining. I remember him always inserting bits of little-known history. I learned and laughed in his class. Whenever I think of him, I can't help but smile.
-Sherri (Naccarato) Jones ('71), Kennewick, Wash.
He made my Western Civilization class promise to see the mosaics in Ravenna if we ever traveled to Italy. I kept my promise about eight years ago. He infected his students with his passion for a rich cultural heritage and not fear of "the greats" because he recognized the tradition is as vibrant as it is ongoing.
-Ed Wren ('80), Seattle
I hadn't been around many Catholics. After I got to know Father Via, I was cocky enough to kid around with him but not careful enough to be aware of how little I knew about his world. One day I saw him dressed in a white robe – something I had never seen before. I asked if he was trying out for a part as "Mr. Clean." Fr. Via, with a patient smile, nodded and gently let me know I should probably get to my next class. When I mentioned this encounter to a friend, she was shocked. Fr. Via was dressed that way because he was participating in a funeral. I was horrified and deeply embarrassed to have committed a religious and cultural faux pas. Nevertheless, Fr. Via had not expressed offense for my apparent insensitivity. His gentility and kindness toward my unintended ignorance toward his faith reflected the gentility and kindness he showed everyone. He made it easy for an unsophisticated, ignorant and clueless Protestant boy to feel comfortable referring to a priest as "Father."
-Dan Hamilton ('81, '84), Federal Way, Wash.
I was blessed to have this special man as a scholastic teaching history at Jesuit High when it opened in 1956. I learned more about the Rosetta Stone than I ever wanted to know. While he was in Florence, I wrote him an email and sent it to his peer, who had to print it to share with Fr. Via. Fr. Via hand wrote a response and had his peer retype it into an email message and return to me. I don't believe Fr. Via ever touched a computer.
-Jim Peaper ('64), Goodyear, Ariz.
Favorite Memory: Singing show tunes at the top of his lungs in a Russian airport (his first year in Florence).
-Teresa McNally ('82), Seattle
I was appointed as the student representative to a university committee chaired by Fr. Via. Before one meeting, I was sitting at the table, reviewing the materials to be discussed, and marking the typos with a red pen. Fr. Via saw what I was doing and remarked, "You're going to be a college professor someday!" And he was right.
-Michael Quinn ('77), Seattle
I attended Fr. Via's ordination in Rome in 1962, and he got me in to dinner with the Jesuit hierarchy at the Jesu. Among Fr. Via's virtues was his unassuming, easy and fun-loving acceptance of life as it presents itself. I don't remember him being negative about anything ever.
-William Wehrly ('66), Washington, D.C.
In 1985, spending a few days in Florence, we decided to call Gonzaga-in-Florence. Who picked up but Fr. Via. "Meet me at the Palazzo Antinori," he said. He gave us a private tour of the Palazzo, and then we had lunch at a nearby restaurant where he is clearly well-known (and cared for) by all of the serving staff. He ordered various courses, plied us with extraordinary Tuscan wines, and insisted on paying the bill. I still buy Antinori wines and always remember that one July afternoon in Firenze. Sweet memories!
-Gary Long ('68), Seattle
Fr. Via taught me the value of arguing to the best of your ability your position despite its weaknesses. He was the precursor to the adage "If the facts are on your side, argue the facts; if the law is on your side, argue the law. If you don't have either, pound the table." I love that guy.
-Gary Hebl ('76), Sun Prairie, Wis.
He was a superb storyteller. He was so funny. He had the whole class rolling in the aisles. I am a night person and his Survey of Western Civilization is the only 8 a.m. class I enjoyed. Because my dad was a real pill to the university, especially the treasurer's office, everyone would look at me like they could not believe how nice I was. Fr. Via made my first semester as a lonely frosh the best ever. I consider my years at GU some of the best of my life.
-Mary Ann Leach ('73), Beaverton, Ore.
Fr. Via was my history professor, and a great one at that! I graduated midyear, at the end of 1971, and then left for Zambia to work in the Jesuit missions for 2-1/2 years. Around April 1972 I received a letter from Fr. Tony, forwarded from Spokane, who by then may have been Dean of Students, if I recall correctly. He asked if I would be returning to GU to "walk" with my classmates for graduation. I had to laugh as I replied from Zambia that, unfortunately, I wouldn't be able to make it back to Spokane for the graduation ceremonies.
-Victor Haburchak ('71), Shepherdstown, W.Va.
Anthony Via and I grew up together in Jim Hill's railroad town, Hillyard, outside Spokane. We attended St. Patrick's Church (Jesuit) and St. Patrick's Grade School (Sisters of the Holy Name); we continued our education at both Gonzaga Prep and Gonzaga University; from there, he entered the Jesuits in Sheridan, Oregon and I went to Creighton University Medical School in Omaha, Nebraska.
I settled with my wife in Milwaukee, Wisconsin, where we would get together with Fr. Anthony for "meals and martinis" while he was getting his Ph.D. at the University of Wisconsin-Madison. We not only repeated this ritual with him in Florence, Italy, but also at the Davenport Hotel in Spokane while visiting my parents. For "meals and martinis" in Spokane, Fr. Via's older, widowed sister, Vera, joined in the fun. We always had a great time. Sadly, Vera died a few years later. In her memory, we sent a check to Fr. Via with a note that read, "For Masses or martinis—your choice!!"
-Anthony Cafaro Sr. ('53), Milwaukee, Wis.
The mystery Zag pictured in your Fall edition is a man who is no mystery to Zag students during the 1970's or who attended the Florence program then or later in the 1980's. The international man of mystery is Fr. Antony (Poncho) Via, SJ, who began his teaching career at Jesuit High School in Portland, Oregon. Unable to uphold the rigorous teaching standards required by Fr. Larry Robinson, SJ, at Jesuit, Mr. Via returned to the University of Wisconsin to obtain his Ph.D in history. Once educated as a true "Renaissance Man", Fr Via returned to Gonzaga where he turned the "mush minds of undisciplined students" into scholarly warriors, forever prepared to battle the forces of ignorance and existential doubt. Fr Via taught in, and was chairman of, the history department at Gonzaga, during the 1960's and 1970's. He also served Gonzaga as an Academic Vice President. I count Fr. Via as one of the best teachers, and certainly one of the best persons, that I ever encountered while I was at GU. He was a brilliant man, a demanding yet respectful teacher who imparted to me life skills that made me who I am today. I am proud to have had him as a teacher who always challenged me, was my academic advisor, and later in life gave me one of my greatest honors by marrying my wife (Katherine Lagana '80) and I in 1982. Fr. Via was unable to land a job as a historical advisor to the Game of Thrones, so he is now retired at the Jesuit Community in California. I think of him often and wish him well in retirement. God bless him.
-Greg Hicks ('80), Spokane
My first work-study job in 1970 at GU was as an office assistant to the Dean of the College of Arts and Sciences, at that time, Fr. John Taylor. Fr. Via was Academic Vice President at the same time. His office was right next to Fr. Taylor's, with a large pass-through door between two offices. There was a constant flow of academic personnel and other "dignitaries" in and out of their offices all day long - it was very exciting! About 15 years later I was on a business trip in Florence, Italy, and I heard Fr. Via was acting Dean of the Gonzaga in Florence program, so I contacted him. He graciously met with me for lunch and gave me a tour of GU in Florence. It was another very exciting event for me. I'll always remember him for both of those things - his leadership when I was a student and his kindness in meeting with me in Florence.
-Kathleen Regele ('74), Philadelphia
While visiting my daughter in Seattle I enjoyed her recent copy of the Gonzaga alumni magazine. I noticed the "who's this zag" section and immediately recognized the photo of Fr. Anthony P. Via, S.J. He was the Academic Vice President while I worked at GU, 1971-74, first as secretary to James Mansfield, Director of Admissions; and later as secretary to William Wrigglesworth, Financial Vice President. Fr. Via's office was next to our offices as we interacted on a daily basis. Fr. Via's secretary was Elzora Arnold, a very close friend of mine.
-Alex Thwaites, Eagan, Minn.
He is, of course, Fr. Tony Via! I never had him in class (he was AVP most or all the time I was a student), but I got to know him partly because he was close friends with Fr. F. W. Schlatter, my main teacher in Classics, and partly because his office was across the hall from Fr. John Taylor's (where small groups of upper-level Latin students often had class). Fr. Via always seemed to play the earthy, humorous contrast to the ethereal, collected Fr. Schlatter. Two subsequent encounters with Fr. Via are important to me. First, in the fall of 1981, when my spouse and I were on sabbatical (living in Athens), we traveled a bit in Italy. We met Fr. Via at the Gonzaga-in-Florence building and he showed us around and took us to lunch. A wonderful afternoon. Second, many years later, Fr. Via and I both contributed articles to the Festschrift for Fr. Schatter.
-Joe Day ('70), Crawfordsville, Ind.
To share your memory with Fr. Via, email editor@gonzaga.edu.