Mystery Zag Revealed: Robert Gilmore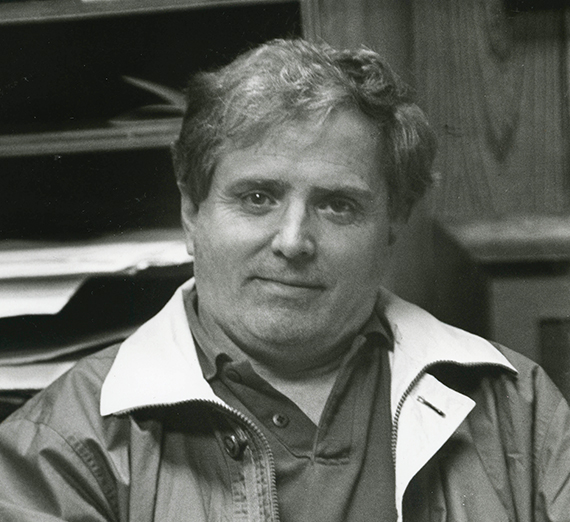 ---
Robert Gilmore
1935-2016
Bob Gilmore used to say he does two things: "I teach and I paint. My painting makes me a better teacher." The longtime Kreielsheimer Professor of Art spent 49 years on Gonzaga's campus before he passed away in 2016. But not before his love of the masters, attention to detail and precise focus rubbed off on many students.
Reader Reflections
"Mr. Gilmore was a painter. That's what he did. Why? Because one day he walked into Boston University where he met the man who would become his beloved mentor, the man who would change his life, Walter Tandy Murch. Whether he was in his studio or on the second floor of Jundt surrounded by his paintings, he would often say that without Murch none of this, waving towards his canvases, would have been possible."
- Kathleen Delaney Carr ('99), Priest River, Idaho
"Bob Gilmore was one of a kind. Bob was a friend of Mark Wilson and Jeff Hartje, law profs. They would often meet at the Bulldog and many students, myself included, joined them for drinks and lots of conversation. Bob became a dear friend and I have two of his beautiful paintings in my home. The last time I saw Bob was when I returned for a law school reunion in the early 2000s. He was as cantankerous and funny as ever – that Boston accent still in full bloom. What a guy; what an artist. I'd give anything to get my hands on another one of his beautiful works of art. A true genius!"
- Susan E. Voss ('81), Des Moines, Iowa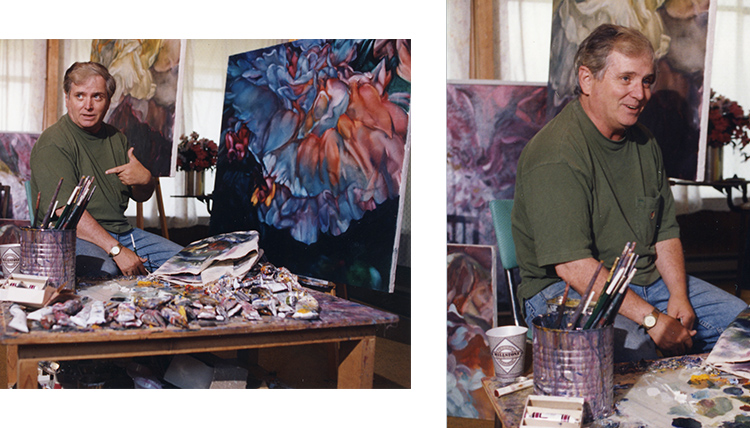 "I studied painting and figure drawing under Bob when I was a fine art major. The figure drawing classes were long and Bob would play jazz CDs; he was particularly fond of saxophonist Lester Young. Several times I asked him if I could bring some of my music and once he relented and let me play some grunge CDs. He didn't care much for it and the next week it was back to Lester Young. When Bob critiqued our work he would gesture with a circling motion over some part of the drawing or painting where he saw something that worked, and simply say, "You've got something here," and challenge us to figure out what that something was. I carry a sketch book on me at all times and draw at least once a day. I'm deeply grateful for the time I had learning from him."
- Christian Helfrich ('94), Seattle
"The relationship I had with Gilmore was one of my most important at Gonzaga. I started taking classes in the old art building until the Jundt Art Center was finished. I have fond memories and still remember Gilmore's advice to make every line count. He wouldn't sugarcoat anything and that's one of the reasons I respected him as a teacher. His art is amazing as well and a real inspiration. I feel lucky to have had the opportunity to attend Gonzaga and be a part of Gilmore's classes."
- Marvin Augustyn ('96), Portland, Ore.
"Robert Gilmore had been my mentor since I was 17 years old. My high school art teacher, Claudia Halseth (also a student of Mr. Gilmore), encouraged me to study under him at Gonzaga. I will always have very fond memories of nightly lectures, figure drawing to classic jazz tunes, and the sense of greatness to be learning from a man who truly loved making art and respected hard work and draughtsmanship. While at GU, I wrote a paper on the definition of beauty for Philosophy of Art class using his painting "Back to the Future." As a thank you he gave me a print of the painting which hangs in my home. He was always very generous and invited many of his past students to continue to paint and draw with him."
- Stephani Carlton ('91, '13), Spokane
Mr. Gilmore, always pleasant and searching for academic advice or mentoring a student in the College of Arts and Sciences. I especially admired his style of art and told him this. In 1992, a few of his 5x7 prints were available for the taking. I was the recipient of two of them. I told Bob they were beautiful and he asked me which one I liked best. Imagine my excitement when, the next day he brought me a large signed print as beautiful as his original. Bob's painting, entitled "Galaxy" has hung in my home for years; and now it is on loan to my daughter, Tami Jones Ressa who graduated with me in the Class of 1993. I often wondered if he gave the painting to me to celebrate the fact that I was one of the eldest graduates in the class. He knew I had accomplished a long-time goal at the age of 55.
- Trudy Jones ('93), Spokane (former assistant to the deans, College of Arts and Sciences, 1986-1996)

Beloved Bob Gilmore! Well acquainted with paint, canvas, the foibles of students and JAZZ. He knew the Gallery system and chose to be true to himself; leaving behind work that reflected elegance and beauty. His tender, yet tough, personal yet aloof personality will be missed by many. I did love him as a friend and confidant and know he makes heaven a more colorful place!
- Janet Rudnick ('98), Gig Harbor, Wash.