Mystery Zag: Francoise Kuester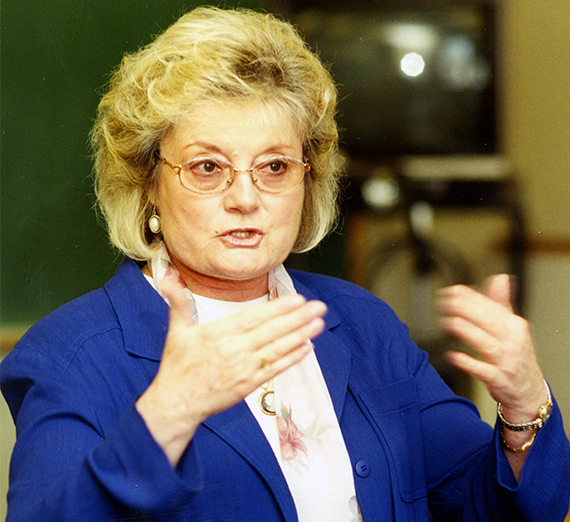 ---
Retired French Professor
She taught French for more than two decades and led summer tours to France. This French native grew up during World War II. She drew inspiration from her mother, a strong and giving woman, even when they had nothing. Kuester is remembered for demanding classes, heartfelt care for students, serving others, and her gourmet cooking. She still makes her home in Spokane.
Reader Reflections
One day we were talking about food and rabbit came up. I had never had rabbit before. Next thing I knew Francoise was having a group of the teachers for dinner at her house so we could taste her favorite recipe. I have wonderful memories of that event. Francoise was the warmest, kindest department head. She believed in me and pushed me to become a better teacher. Thank you, Francoise, for those early teaching experiences. I treasure the memories of the years I worked with you.
-Felix Harrington ('73), Phoenix
She was both demanding and caring. She met her students with high expectations and pushed them to succeed. Because of her support and confidence, I was able to study in Paris for a year, the first male student from Gonzaga to do so. Others followed, thanks to her belief in our abilities and the conviction that immersion in another culture can be transformative. The greater gift was to return as an adjunct a few years later to teach alongside her. And I can attest that her boeuf bourgignon was better than gourmet.
-Scott Cooper ('89), Spokane
To this day, my strongest memories include the sound of her high heels rapidly approaching the classroom door. The door would open and class would start. She was always prepared, always ready to wage war on weak thinking or low engagement. Slipping by unnoticed was simply not possible in her class. Her presence demanded that we think and act with purpose. Thinking about her today reminds me of what a gift my years at Gonzaga were.
-Alison Thompson ('95), Spokane
I was a French major and had many upper-level classes with Mme. Kuester. Although she paved the way for me to obtain a master's in French at EWU, I decided to go to medical school instead and became a radiologist. She was demanding yet understanding and accessible at the same time. A wonderful educator. I remember her dry sense of humor. Her classes were truly a joy!
-Steven Picerne ('84), Satellite Beach, Fla.
I got to take my first trip to France a few weeks ago. It was the first time I spoke French in a French-speaking nation, none the less France itself! I remember her telling me the French won't like it if I slaughter their language. Despite not having spoken French in years I was still able to do a pretty good job. She was one of the most challenging and demanding language teachers I have ever had, but she also was one of the best professors I ever had. When she came in on the first day and spoke only French for the first 30 minutes, and then addressed me only in French at first, I thought, "Oh my gosh, what have I got myself into." I'm glad I stuck with French. Merci beaucoup!
-Brandon Hogan ('10), Phoenix
I was tickled pink to see Françoise Kuester as the Mystery Zag. I have many memories of her classroom, exhorting me to "ouvre la bouche," to improve my accent. Later, she helped me study in Paris. When I returned, she marched me straight into the office of "Le Père Ely" to show off my fluent French. When we were in Spokane last fall for our 30th reunion, I had the chance to speak with Françoise again. She seemed the same ball of fire she's always been. I can still hear her heels clicking down the hall of the Ad building, ready to bring her joie de vivre to her next class.
-Deanna G. Vizurraga ('87), Centennial, Colo.