Driscoll is Gonzaga Women's Basketball Team's No. 1 Fan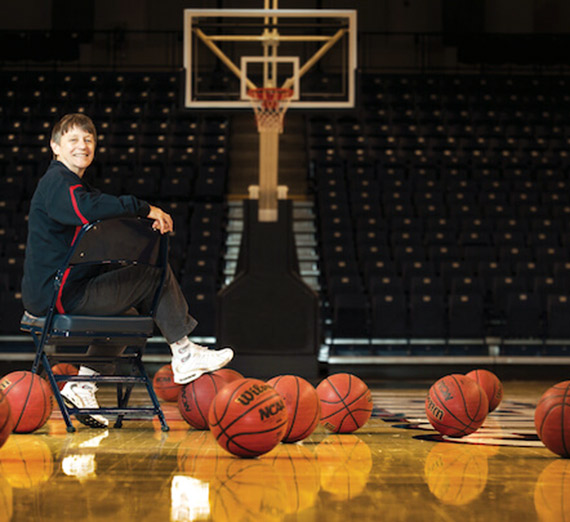 ---
Nancy Driscoll's life was changed by Gonzaga University more than five decades ago, so she feels the least she can do is repay the favor for future generations of students.
The former women's basketball player from the early '60s is an iconic member of Zag Nation: loyal supporter of the university's broader mission and No. 1 fan of the women's basketball fan. Driscoll has been a constant figure with the current program for most of the last decade and will be along for the ride during the upcoming NCAA women's basketball tournament.
Driscoll's story isn't a traditional one.
She describes herself as a handful for her parents while growing up in the Bay Area and says her former high school principal promised to provide her a good reference if she promised to leave the Golden State. She soon found herself looking at colleges in the Pacific Northwest, including Gonzaga, which made an indelible impression on a family visit to Spokane.
"Looking out my hotel window, I thought this place has such great energy. Then I walked around the campus and said, 'This is where I want to be.' It just felt right," said Driscoll.
Driscoll would end up playing basketball at Gonzaga, but didn't graduate from the university. Yet the sense of community she experienced stuck with her. She remained fond of GU and now gives back from a core belief that gifts are meant to be shared.
"You get more back than you give," she said. "I'm in a position now that I can do something, whereas in earlier years I didn't have any money. It just makes you feel good."
She started giving of herself to the women's program around the same time she started supporting the university financially. Then, when Kelly Graves left for the University of Oregon after building Gonzaga's program, Driscoll supported Fortier during the selection process.
"I said, 'It has to be Lisa.' She's had to learn, but it's going to get better and better. She's already broken all kinds of records," said Driscoll. Fortier was initially unsure of herself as a new coach and says Driscoll's support meant a lot.
"From the beginning, she's been an advocate for me," said Fortier. "There were a lot of people who were quick to make the comment about how I had such big shoes to fill. Nancy has been very supportive of me, personally, and of Gonzaga basketball. … It feels good when people believe in you."
Driscoll has continued to be a loyal supporter the women's basketball family, including a generation of players who have impressed her with their character as much as their talents.
"It's just really fun to be with them, just watching them grow as people, as students, and as players," says Driscoll. "I think when we recruit, we recruit quality people, first of all. We recruit good students and caring people. It's part of the chemistry."
Fortier says Driscoll's concern for the players has been appreciated by them over the years.
"She loves the players and they always think of her as an extension of the team, because she's around so much," said Fortier. "She's kind of like the fun, crazy aunt."
Driscoll has been steadily alongside the women's team through the good times and the challenging ones. She attends nearly every game, accompanies the team to the West Coast Conference and NCAA Tournaments, and is continually trying to recruit more fans.
Driscoll was present at this year's WCC tournament, where she witnessed a series of events which revealed the fortitude and resiliency of the Zags. Gonzaga entered the tournament at the top seed and a top-20 team after completing one of its best seasons.
The team survived a dramatic double-overtime challenge in its first game, winning on a late shot after losing two key players to devastating, season-ending injuries. The shorthanded Zags came up shy in the finale, when Fortier had to leave the court during the final minutes to be by her brother's side before he eventually passed at a local hospital.
The events were a reminder that life is about more than basketball — and that it keeps moving on. The Zags still received an NCAA bid and were assigned to Corvallis, Oregon. Fortier said Driscoll was present to support them when the team returned to practice in Spokane.
"Knowing that we had taken a hit basketball-wise, and personally, it was good to have someone there who still thought we could do everything we set out to do at the beginning of the year and (was) ready to give a hug," said Fortier.
Driscoll admits "it was really tough (in Vegas)," but believes the Zags will make a good showing in the postseason. A goal of the seniors, which includes the injured Laura Stockton, is to win an NCAA tournament game. "I think they'll win (at least) their first game. I think they'll do that for their teammates, for themselves and the school."
Driscoll will continue to support the team and the university regardless of the outcome because Gonzaga women's basketball is clearly her passion. "It is. I just love it," she said with a smile.
Gonzaga University is an exemplary learning community that educates students for lives of leadership and service for the common good.