Hawk at Forefront of GU Women's Basketball Turn-Around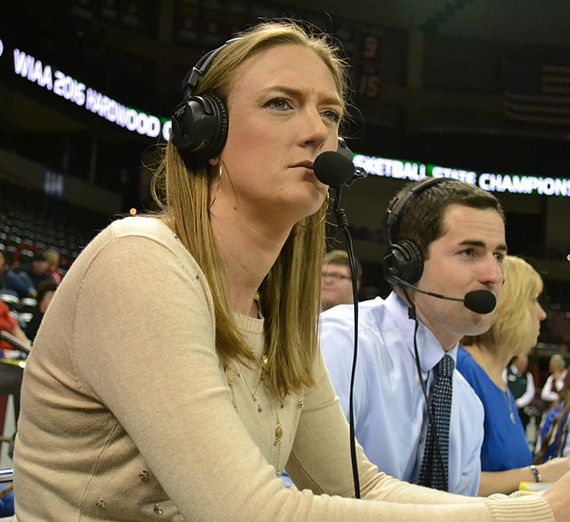 ---
13th Zag Inducted into WCC Hall of Honor
Stephanie Hawk Freeman couldn't talk when our interview was initially scheduled. She had broadcast four basketball games on TV in four days and her voice was done. Silenced. Needed a rest.
"But my kids didn't mind," this quick-witted announcer said.
Nevertheless, she had plenty to say when she became the 13th Gonzaga University student-athlete inducted into the West Coast Conference Hall of Honor March 4 in Las Vegas as part of the WCC women's and men's basketball tournaments at the Orleans Arena.
"I was completely surprised when I got a text message from (Associate Athletic Director) Chris Johnson and had an ensuing conversation with he and (Athletic Director) Chris Standiford telling me I was Gonzaga's choice for induction this year. The list of athletes from Gonzaga who preceded me in this honor makes it even more special," she said.
NBA players John Stockton, Adam Morrison and Dan Dickau, her former basketball teammate and career scoring leader Heather Bowman, basketball legend Frank Burgess and volleyball's Kelley Cunningham Spink, to name a few.
Part of Hawk's lore is playing on three post-season tournament teams in her four years at Gonzaga, including the school's first NCAA women's basketball tournament team in 2007, earning WCC Player of the Year honors that senior year.
"When Kelly Graves was recruiting me, I could see the investment Gonzaga was putting into basketball," Hawk said. "The McCarthey Center was under construction, and the classes above us started posting winning seasons. Nothing was much of a surprise as we knew what we were capable of accomplishing.
"Every step was part of the process, working together to make this thing bigger and bigger. My first year we went to the NIT. My sophomore year we went 14-0 in league and earned another trip to the NIT, winning a first-round game. The next year we won the regular-season title. My senior year we won the WCC tournament and finally got that automatic berth into the NCAAs. And this was just the start. Since, the Zags have been a postseason mainstay," Hawk remembered.
She recalls that first WCC championship game, defeating Loyola Marymount. The first shot I took and made was a trailing three off the fast break. I remember thinking, 'If you're not going to guard me on the trail, we're going to win this game."
"The monkey was off our back."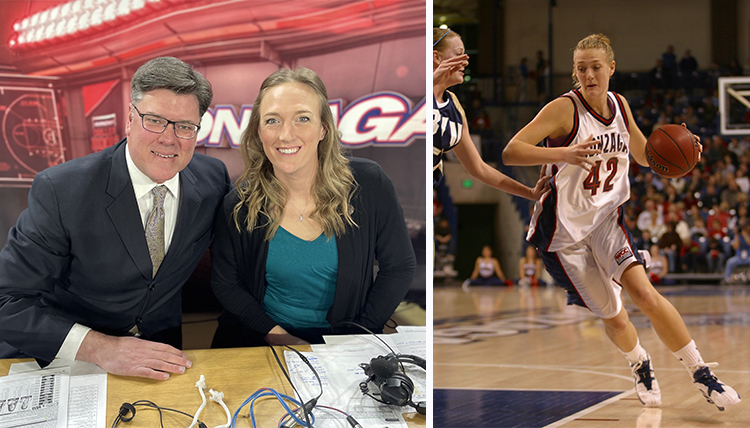 (Left) Hawk Freeman with SWX broadcast partner Greg Heister. (Right) Hawk driving to the basket en route to a post-season bid.
The Early Days
Hawk grew up in Ontario, Oregon, with her parents and younger sister, AJ, who now serves Gonzaga as the School of Business Administration's marketing and special events manager. They enjoyed summers on the lake, water skiing and taking family vacations.
AJ was a player, too, but "we didn't dare have driveway battles," Stephanie says. "It was in the best interest of both our health."
Stephanie will forever be grateful that Gonzaga Coach Kelly Graves chose to take a chance on this skinny kid from a small Oregon town. Not only did she make her mark on Gonzaga athletics, but her Gonzaga experience led to dual careers – as a business teacher for Spokane Falls Community College, and as a color commentator for SWX and Pac-12 Network basketball broadcasts. She has worked 15 seasons on SWX's broadcasts of women's basketball games for Gonzaga, Whitworth and SFCC, State B tournament boys' and girls' games, and for the last two years, a number of Hoopfest games in the elite men's, women's and coed divisions.
She had not seen herself getting involved in broadcasting, holding a bachelor's and a pair of master's degrees in business administration and teaching. But two years after graduating from GU, she got a call from SWX and was invited in for an audition.
"They put a game up on the big screen to see how I would call it. I left the studios thinking my performance was subpar," Hawk said. But she got one game that first year, and more as the women's broadcast schedule expanded.
Later, her broadcast partner at SWX, Greg Heister, encouraged Hawk to prepare an audition tape for the Pac-12 Network. They liked what they heard, and few weeks later Hawk was continuing her broadcasting career for their network, as well.

(Left) Stephanie and Tucker with kids Lane and Evelynn. (Right) Hawk (third from left) with GU teammates Katie Prichard Bousley, Tatriana Lorenzo Muravez and Elaina Renius Rankin
Family and Team
However, she had to step aside from her work calling games at the State B tournament as her Hall of Honor induction ran simultaneous to the small-town classic this year. Her TV viewers undoubtedly missed this highly intelligent and thoughtful communicator.
But Hawk certainly wouldn't be without ample support. She and her husband, Tucker, their two kids, Lane 5 and Evelynn 3, parents, in-laws, her 89-year-old grandfather, numerous aunts, uncles and cousins, plus four former GU teammates (and their husbands) – Katie Prichard Bousley, Tatriana Lorenzo Muravez, Elaina Renius Rankin and Ashley Shearer Vaughn – were all there in Las Vegas to celebrate Hawk's milestone.
She has found her own family, and the Gonzaga community, a source of great support.
"My teammates and I hung out together on the court and off it, as well. We created a lot of lifetime memories on and off the court," Hawk said of her playing days. "We recently had alumni weekend for women's basketball at Gonzaga, our former teammates showed up and it was as if we hadn't missed a beat. It was so much fun, great laughter, supporting each other and so proud of one another."
She credits the Gonzaga community as well as the culture developed by recent coaches Graves and Lisa Fortier, the 2023 WCC Coach of the Year, for this "family."
"For Lisa to be able to build and then maintain this program at such a high level is an incredible contribution to the university and its players by Lisa, her coaching staff, and the athletic department," Hawk said. "Lisa and her staff have been together for nine years. Despite the multiple injuries to key players this year, they still won the league championship. And now, the seniors are all coming back for a fifth "Covid" year because of how special this place is.
"My freshman year (2003-04) we played in Martin Centre while the McCarthey Athletic Center was under construction. The facilities and perks have changed, but the one thing that has not changed is the specialness that is Gonzaga," Hawk said.
And she's not afraid to speak that truth loud and clear.
The Hawk Record Book
Played for Gonzaga 2003-2007
Teams won three WCC regular-season championships
Led Zags to two NIT tournaments 2004 and 2005
Led GU to first-ever NCAA tournament in 2007
AP All-America Honorable Mention 2007
WCC Player of the Year 2007
WCC All-Tournament Team 2007
Twice 1st Team All WCC
Twice WCC All-Academic Team
WCC 25th Anniversary Women's Athletic Team 2010
Gonzaga career:
• 167 blocks (3rd)
• 684 rebounds (9th)
• 1,231 points (16th)
• 77 blocks in 2007 a single-season record