The Secret Sauce of Mike Roth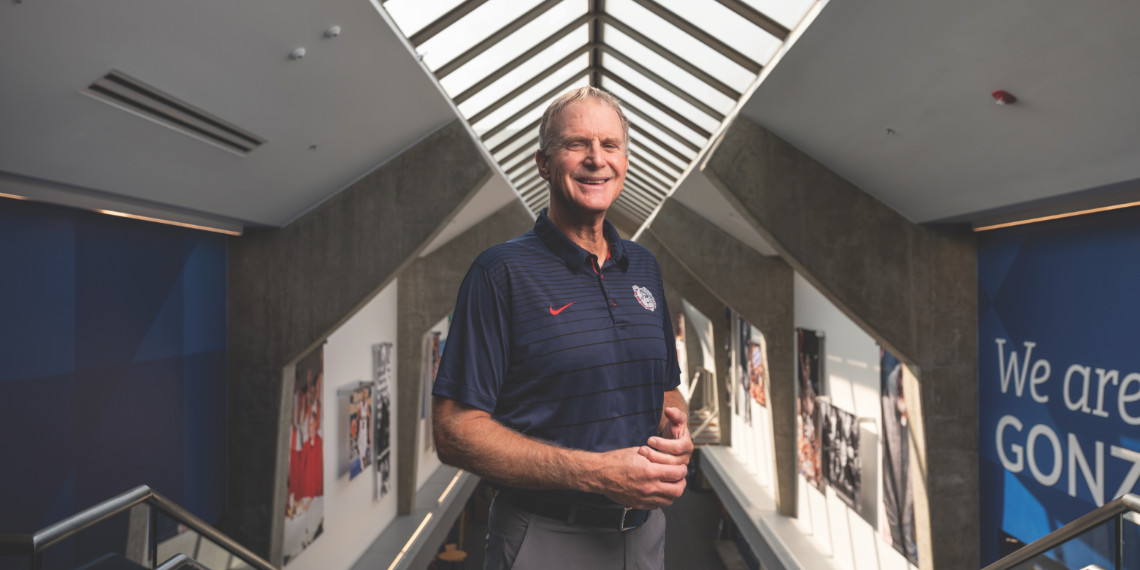 Mike Roth walked on at Gonzaga in fall 1975, hoping to be the next Frank Burgess, as probably every young Zag basketball player did at that time.
Roth remembers Coach Adrian Buoncristiani telling him, "Mike, I like you. You'll help us in practice. But you won't play much." He didn't like it at the time, but says he's always been grateful for hearing the truth.
Roth played one year at Big Bend Community College in his hometown of Moses Lake, Wash., and two at Willamette University in Salem, Ore. He wasn't sure what he wanted to do next, but he likes to quote Yogi Berra: "When you come to a fork in the road, take it."
Big Bend coach Jim Grant offered him an assistant role and he took it. The salary was $0 but the benefits were remarkable: He met a young faculty member who became his wife and convinced him to get a master's degree.
Roth enrolled in a Master of Physical Education program at GU where he played noon basketball every day, often with assistant coach Bruce Wilson and some of the players. When Coach Jay Hillock needed a graduate assistant coach, Wilson recommended Roth.
"I told him I'd only be here for one year. Jay said the job pays $200 a month. I took it." Roth appreciates the favor given to him by Buoncristiani and the opportunity offered by Hillock, both of whom have been honored at men's basketball games. "I wouldn't be where I am today if it wasn't for those two."
Roth went back to Big Bend to coach for two years, then returned to Spokane in 1985 to coach with Sam Brasch at Spokane Community College. In 1987, Gonzaga was looking for a director to manage the newly built Martin Centre Fieldhouse. Roth was an easy pick. He was kindhearted and hardworking. He never left GU again, until his retirement Aug. 31. However, he has been retained as a consultant to the University. Roth excelled as Martin Centre director and soon took on other assignments – overseeing several sports, student-athlete compliance and the budget.
Acting President Harry Sladich chose Roth as interim athletic director in 1997 following GU's self-reported departmental NCA A violations. In addition to the NCA A investigation and corresponding issues, Roth had a new head basketball coach in Dan Monson, an interim president, and budget reductions as part of an overall university effort to whittle debt.
"Things that come hard generate greater rewards. I wouldn't trade any of the hard times for the success we've had over the past 20-plus years because it defines us as a department, with our feet firmly planted on the ground."
In 1998, his interim title was removed and Roth addressed budget concerns with a bold decision to change the Athletic Department's whole image. Beyond painting all summer to update the colors and logo, Roth impelled Monson and assistant Mark Few to schedule tougher and recruit higher-caliber players, while not losing sight of finding young men and women who are good fits in the Gonzaga community.
"We realized that if we are going to make a move in basketball, we needed to play games that put us in a position to win big games, which we knew also put us in a position to lose more games. These had to put us on the map, against opponents like Kansas, Arizona and Illinois. Our controller, Rick Jones, called me between the Florida (Sweet 16 win) and UConn (5-point loss to eventual national champion) games and said, 'I get it now,' realizing the public platform that successful Division I basketball can bring to a university," Roth says.
Although the budget was smaller in 1998-99 than it was the year before, Roth and his crew moved money in key places. They bought their way onto four Fox Sports Northwest games for $25,000 each.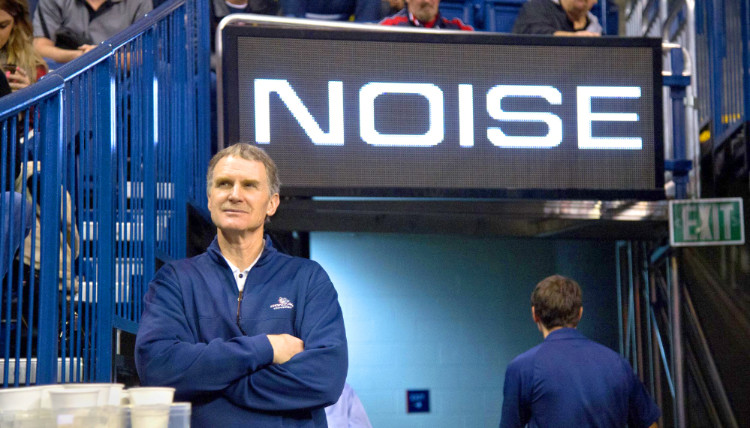 Longtime Athletic Director Mike Roth quietly watched games from the tunnel with space to pace.
That evolved into 12-13 games a year with KHQ-TV at no cost to Gonzaga. Athletics also revamped its season ticket program, requiring fans to hold a Bulldog Club membership. A trip to the Elite Eight eliminated any fan grousing.
Roth recalls then-President Father Robert Spitzer's glee following Gonzaga's wins over Minnesota and Stanford in the first two rounds of the 1999 NCAA Tournament in Seattle, exclaiming, "This is great! We've got to do this every year." Coach Monson had to slow him down. These were Gonzaga's first two NCAA wins in its history.
Not that President Spitzer's comments scared him off, but Monson left that summer for an offer at Minnesota. Roth recalls sharing the news with Fr. Spitzer, who asked what was next. "I told him Mark Few is our next head coach. He said, 'Great. Which one is he?' "
The basketball saga continued for the next 22 years, and Roth continued promoting assistants who have earned the positions: Mark Machtolf in baseball, Lisa Fortier in women's basketball and now, recommending to the president the elevation of Athletic Director Chris Standiford and Deputy AD Shannon Strahl, who Roth mentored for 32 and 23 years, respectively.
"The complexity of what we do has grown significantly," Roth explains. "And none of this was accomplished without a lot of hard work by our staff and coaches. We have the No. 1 men's basketball team in the country all last year, and then we get the No. 1 high school recruit in the country. Baseball, women's rowing and basketball, and track and field all go to the NCAAs in 2021. We had a male runner who qualified for the Olympic trials. Student-athletes have been ranked No. 1 in the country for graduation rate and academic success. We've brought in better student-athletes without sacrificing the quality of individuals. Mark Few has been head coach here for 22 years, and all but one of his players who wore the uniform as a senior have graduated. That's mind boggling."


A Respected Voice in the WCC
When Roth became AD, Gonzaga's athletic budget was the lowest in the West Coast Conference. Since then, Athletics has been able to grow its budget without taking any bigger percentage of the University's budget. "Men's basketball put us on the map before our budget began to increase. Same with women's basketball, baseball and other programs," Roth says. "Everything we have, we have earned."
For many years, revenue produced from NCA A basketball appearances went to the league, which divvied equal shares to each league member. After several years of Gonzaga earning extra revenue without appropriate return from the WCC, Roth and President Thayne McCulloh contemplated a move to the Mountain West Conference. The WCC then agreed to a better share of earnings, including back payment for six previous years.
Roth says the initial influx of money was used for university improvements outside of athletics. "I think we helped elevate the entire conference. We are not going to limit ourselves or be satisfied with being mediocre. We got league members to think bigger."
For years, Roth believed the WCC basketball tournament needed to be played at a neutral site. Too often, good Gonzaga teams were matched against lower-seeded opponents on the foes' home floor. Roth did a little research, then asked his assistants to book the Orleans Arena in Las Vegas for the WCC tournament without asking first. Fortunately, WCC Commissioner Mike Gilleran and the other ADs agreed.


Athletics 1998 vs. 2021
Athletic Budget
1998: $3 Million | 2021: $22.7 Million

Full-time employees
1998: 12 | 2021: 100+

Student-athletes
1998: 200 | 2021: 350

Revenue
1998: $250,000 | 2021: $8.6 Million
The Fit
Gonzaga's athletic exposure has made Gonzaga a well-known brand in the U.S. and around the globe. "People want to watch our kids and listen to them on the post-game interviews. It's another example of having the right student-athletes who are a good fit at Gonzaga," Roth says.
In 2016, HBO was so enthralled with Gonzaga's team that it produced three episodes for a series called "Hard Knocks." GU was the first basketball team featured. Roth characterizes the traits he looked for in his staff: honesty, genuineness, care for each other. And he couldn't be more pleased that President McCulloh elevated Standiford to be the next AD, and Strahl to be his deputy.
"We have collectively built this thing," Roth says. "Chris and Shannon understand the family atmosphere, the culture, how we do what we do, the secret formula."
Over the years, numerous athletic directors and college presidents have visited with Roth, trying to uncover the formula for Gonzaga's secret sauce. But it's hard for someone who hasn't experienced the Zag community to fully understand it.

"Things that come hard generate greater rewards"

Roth learned it early and has long epitomized what it is to be a Zag. He encourages his staff to be genuine with their praise and truthful when a colleague asks, "How are you doing today?" "Care about the custodian who cleans your office and the bathrooms you use and say hi every chance you get." "I hope I have treated the folks in the top row as well as I have those in the front row."

Mike Roth at a Glance

-Two-time national Athletic Director of the Year
-34 years at Gonzaga, 24 as athletic director
-Second-longest-tenured AD at one school in the country. The other nine schools in the WCC have had 29 ADs during Roth's time at the helm.
-Watched basketball games from the tunnel, where he could pace during tense battles.
-Proud family members are his wife, Linda, and sons, Brad and Matt.
Gonzaga announced Chris Standiford as Roth's replacement.
Alumni
Alumni
Gonzaga Magazine