Athletic Grace: Living Large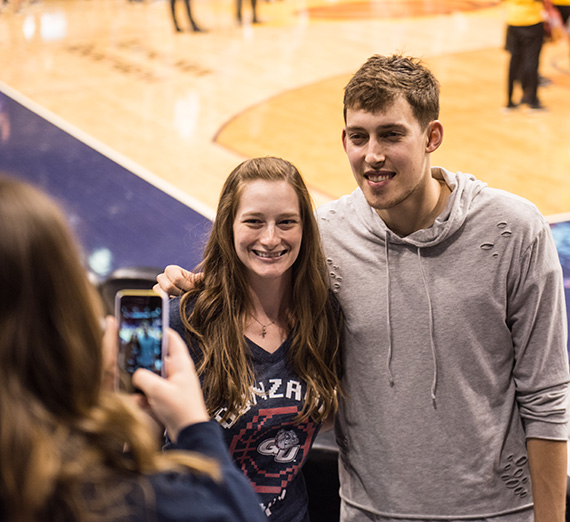 ---
What's left when the Kennel goes quiet? Weeks after March Madness ends, Kyle Wiltjer's breathing cuts the early morning silence. He's doing lunges, a black strap wrapped around his left thigh.
Every time he steps forward, bending his right knee, the band tightens, pulling him back. He's sweating and it's not even 7 a.m. on a Tuesday in April. Nearby, Przemek Karnowski is finagling his 7-foot-1, 290-pound body underneath a 4-foot hurdle. There isn't a basketball in sight.
Wiltjer, a redshirt junior, has been doing these hourlong workouts for the past four months. Five days a week, often twice a day. Afterward he'll grab breakfast and head to his 8 o'clock class. Karnowski is newer to the routine. After losing to Arizona in the third round of the NCAA tournament, he took two weeks off. This is his first day back.
Their strength and conditioning coach, Travis Knight, 5-foot-8, holds court over these towering men. He doesn't yell, and he doesn't pace. But when he speaks, they listen. They listen because Knight has something they need. Knight has grace.
"On the basketball court, control is such a big deal. To execute offensively you have to be balanced," Knight said. "Karnowski is a perfect example. If you watch film of him his freshman year, he was out of control and falling down all the time. The same way Kelly Olynyk was."
Olynyk's story is entrenched in Gonzaga basketball lore: a dominant junior campaign prefaced by an improbable midcareer redshirt season. All made possible by personalized training methods.
Olynyk's story is special, but, it's not unique.
Every year, Gonzaga's training staff works tirelessly with "bigs" like Olynyk to help develop the flexibility, agility and strength necessary to compete on the Division I stage.
A Workout for the Brain
A "big" for women usually ranges between 6-foot-1 and 6-5, and between 6-9 and 7-1 for men (although Will Foster was 7-4), said head women's strength coach Mike Nilson ('00). "Bigs" generally play close to the basket. That size, while a huge asset, can also be a weakness. Also known as post players, "bigs" are often less coordinated and their aerobic conditioning is usually not on par with their smaller teammates.
"I think the first challenge when coaching post players, especially young ones, is understanding that it's a process," said men's assistant coach Tommy Lloyd. "They might not be as advanced as some of the guards because they probably haven't worked as much on their game, or their body wasn't ready to do the things it needs to do."
That's a fact of life, said Knight. Post players often have a late growth spurt. "Every time you have that change you have to reacclimatize to the neurological communication between your body and your mind," he said. That was the case for Olynyk, who grew 7 inches during one year of high school.
To build their athletic control, Gonzaga's post players work on coordination, flexibility, speed and strength. They do yoga, stretching, agility drills and traditional strength-building exercises with medicine balls and weights. There is no single formula. Some players are big and slow; others are tall and skinny. Some are natural athletes lacking discipline, while others aren't as athletic. Knight has different approaches for each type.
Post player Sam Dower came to Gonzaga with a fairly polished set of offensive skills, Knight said. However, his defense, much of which comes down to balance, was lacking.
"Balance is a big key to being an efficient post," Dower said. "The more balanced you are the more you're able to make a move to the basket."
Olynyk focused on speeding up his reaction time, while maintaining control. To accomplish that, Knight threw numbered tennis balls at Olynyk. Each number represented a move Kelly needed to make. As he caught the balls he'd execute the move, thus remapping his neurological pathways.
Karnowski is similar in his needs, but he works more on endurance, flexibility and balance. Wiltjer, on the other hand, is rehabilitating. Knight said the university that Wiltjer transferred from emphasized endurance and mental toughness. In essence Wiltjer's body was in constant pain, which inhibited him from peak performance.
"A lot of Kyle's improved athleticism can be attributed to more freedom of movement and not being limited by that cycle of pain and injury," Knight said. When Wiltjer came to Gonzaga he had tendinitis and sore knees. That's cleared up, thanks in large part to Knight's and Nilson's unusual training techniques.
"(My former coach) is old school," Wiltjer said. "Here at Gonzaga it's very innovative. Stuff you wouldn't think of on your own. It's not like a traditional lift. A lot of times we don't even use weights."

Stronger, Not (Necessarily) Bigger
A conversation Nilson once overheard cemented for him the importance of smart training. As he tells it, John Stockton heard some of the strength coaches talking about a player needing to put on weight. Stockton stopped them and said, "Why do they have to put on weight? I understand that they need to get stronger, but why do they need to put on weight?"
That message stuck with Nilson. "I really believe as much as we're training the body, we're training the mind," he said. "You can be really strong in the weight room, but weak on the court if your mind isn't right."
When Nilson started training the women's team eight years ago, he saw lots of mental blocks. Women were afraid of "getting big." Over the years, Nilson has worked to get the women more comfortable with gaining muscle, as added strength is essential.
Concurrent with his efforts, there's been a cultural shift around women's basketball, Nilson said. When he was in college, and first working at Gonzaga, the end-goal for most women was playing in college. There was no future beyond that. Now, more often than not, the aspiration is playing professionally. With more ambitious goals comes more ambitious training.
Head women's coach Lisa Fortier agrees. She said that for women, strength is the biggest issue transitioning from high school to college. Center Shelby Cheslek knows this well. "In high school people just lobbed the ball to me all the time," said the 6-5 Cheslek. "I would just score easily. It wasn't like I had to fight to get position." Since graduating from high school in 2011 she has put on 20 pounds of muscle and increased her vertical jump by more than an inch. Dunking is her goal.
Going the Extra Minutes
The success stories are inspiring, but they gloss over the reality: Early morning workouts are tough.
"They have to be driven for themselves," Knight said. "I don't make them do these things. They come asking for my help." That's why Olynyk's story is powerful – both for the athlete and for Knight. Olynyk worked harder than any player Knight ever coached. During his redshirt season he worked out twice a day with Knight, one or two times daily with the coaches plus regular team practice and evening shoot-around.
"I think Kelly was really that turning point. He showed me what was possible. I'd never had anybody that driven," Knight said. "It helps me encourage other players not to be limited by people's expectations."
Over the years Knight says his understanding of what's possible for "bigs" has developed, as have his skills as a trainer. Perhaps more could have been done for players like Foster and Josh Heytvelt. "If I was doing with them what I'm doing now it could have been a different story," Knight said. "Those were definitely guys who had a lot of potential that we didn't fully achieve."
Like Olynyk, Wiltjer's been putting in the time, and he's noticing changes. After more than a year of focused training, he's more flexible, balanced and stronger. The months of early mornings are paying off.

"Obviously there were tough times," Wiltjer said. "But when you're doing new workouts every day you get lost in the process. And when you see results you start to get hungry."