Santangelo Reflects on Legacy, Gonzaga Basketball's Success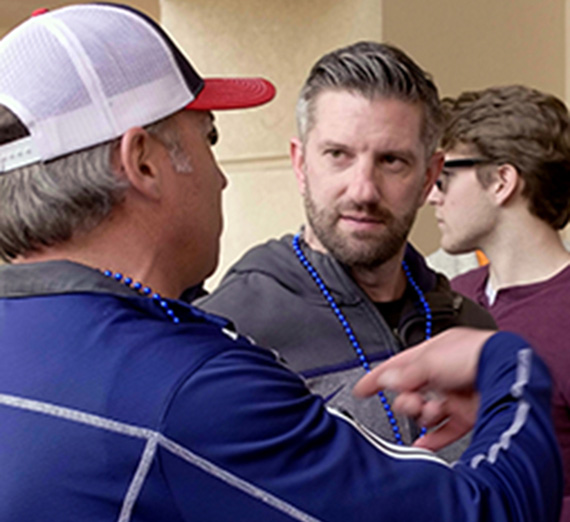 ---
Matt Santangelo ('00) was there "when it all started," the 20-year run of consecutive NCAA men's basketball tournament appearances for the Gonzaga Bulldogs.
The standout guard from the legendary 1999 Sweet Sixteen team found himself regularly surrounded by Zag fans during socials at the recent West Coast Conference tournament in Las Vegas. Most wanted to talk to him about his old squad; others asked about the current team.
Santangelo cheerfully greeted all-comers on both topics, but admitted his playing days feel more distant by the year and was reflective on the arc of his life after basketball.
"It seems like someone else lived that life and it seems like lifetimes ago," Santangelo said at a packed Zag Up gathering outside the Orleans Arena. "You look around here and you see the support and how Gonzaga travels, and how the university's changed; you never could have foreseen it. Even with the success we had (in 1999), how the university has continued to climb and climb has been remarkable."
Life has been good for Santangelo since he stepped onto the Gonzaga campus as a recruit from Portland, Oregon. He met his wife, Cathy ('99) at GU. They surprised themselves by settling in Spokane to raise a family after he finished his professional playing days in Europe.
"When I left Gonzaga, I was never going to come back to Spokane," said Santangelo, who now runs Spokane Hoopfest. "Famous last words. My wife and I have now been back for 12 years and being part of Hoopfest ties me even stronger to the community."
The part of the Gonzaga experience that remains most with him is what happens off the court.
"Being a Zag is a true character quality," said Santangelo. "We give it a lot of lip service and it captures a lot of emotions. However, there's a certain quality that permeates through it all … There's something that connects all of us. I think that's really special, that sense of being part of something larger than yourself."
Santangelo has remained connected to the university, his former teammates, and the program. He was formerly part of the broadcast radio team that followed the Zags through their evolution to a Final Four title game run and had a front-row seat nightly to the process.
"I was still part of the program and felt like I was still in the locker room," he said. "The fact that you got to see them progress, finally getting back to the Elite Eight (in 2015), then the Final Four (in 2017), you saw everyone's eyes open to what is really possible. I think that experience will lend itself to this group, no matter how far they go this March, or the next group(s). They're setting the standard higher and higher every time."
He feels this year's team has the ingredients to make a deep NCAA tournament run, but cautions against putting too many expectations on any team involved in March Madness.
"I think the sky's the limit. Without question, they're a national championship contender," he said. "I'm always one to temper expectations. I feel like in Spokane we put a lot of pressure on this program to entertain us this time of year; some years (the expectations) are deserved and some years they aren't. I think with this group it's fair. They have the experience, they know what it feels like to play in April, and they have the talent. … We'll see soon enough."