Gonzaga Basketball Reflects Passion of Zag Nation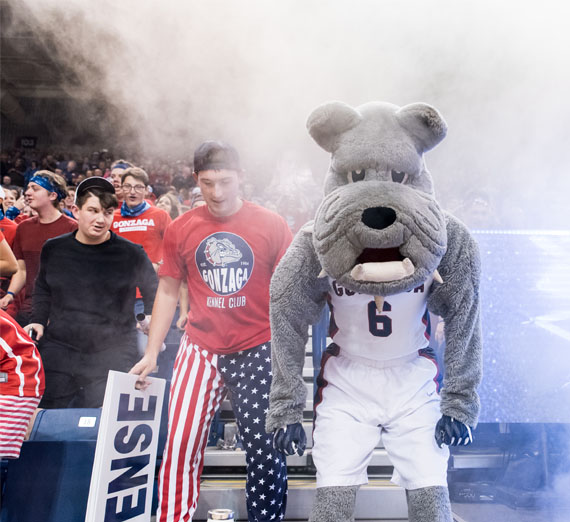 ---
Now that the Gonzaga men's and women's basketball teams have completed some of their best respective regular seasons in history, it's amazing to pause and reflect on a 20-year run of unprecedented success.
In a span of eight days at home, each program finished accomplishments which are becoming habit – but which should not be taken for granted. The current success started with an unforgettable run by the 1999 men's team who didn't presume West Coast Conference titles and NCAA Tournament berths were a given.
Men's coach Mark Few and women's coach Lisa Fortier are both national coach of the year finalists. The men's team is again ranked No. 1 and boasts player of the year candidates. The women's team reached its national highest ranking this season and is celebrating one of its most loved and talented trio of seniors.
The electricity in the McCarthey Athletic Center is universal for both teams. While each offers a unique gameday experience, both are memorable and largely unequaled on a national level. The number of sellouts, season ticket holders, and the decibel levels speak volumes about the passion of Zag Nation.
The 2019 men's team wrapped up yet another WCC regular-season title with a celebratory win, then completed an unbeaten home season with an emotional senior night win over rival BYU. The women's team followed with its dramatic senior day win in the regular-season home finale against Loyola Marymount.
Those special experiences, which celebrate the people who play the game and their families, display why there is something different about the Gonzaga community. To a person, the word used by Gonzaga alumni is "family." It's the mantra of the basketball teams as well; so omnipresent that it's printed on the front of the teams' new WCC Tournament warmup gear.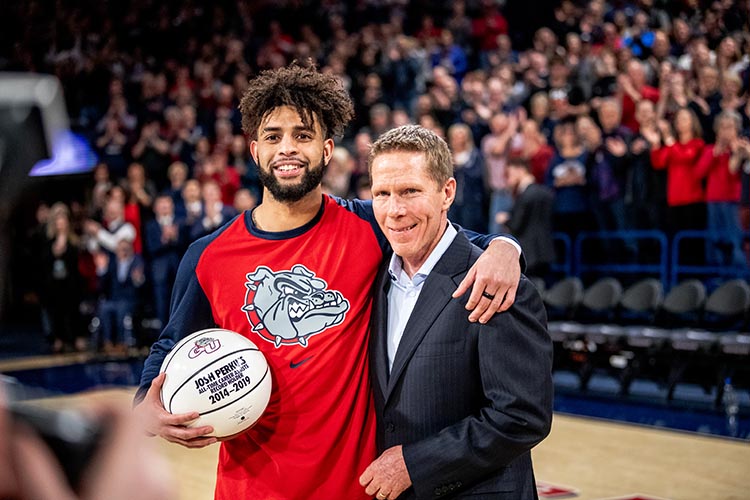 Yes, in many ways the past two decades have marked a new era for Gonzaga Athletics. Yet there is a continuity of the legacy back to the early days of GU basketball that is authentic and heartfelt. When senior Josh Perkins broke the men's basketball all-time assist record at home he was hugged by Matt Santangelo, the man whose record he broke. It was just as it occurred for Santangelo.
It's not insignificant that the most accomplished GU basketball alumnus, John Stockton, was in the house for both senior nights. The Spokane native, Hall of Famer and the NBA's all-time assist leader remains a fixture in the Gonzaga community. He's seen two children play at the school, including women's senior Laura Stockton.
It seems all the great names in Gonzaga basketball have a way of staying around or coming back to visit and celebrate an authentic culture that keeps pulling you back. The 2017 men's Final Four was the ultimate time-bending, spirited reunion of the Gonzaga basketball community.
As the 2019 men's and women's teams enter their current postseason journeys, each of them know they are loved and appreciated — just as it was during that magical 1999 journey.