The 1999 Zag Basketball Team - Where Are They Now?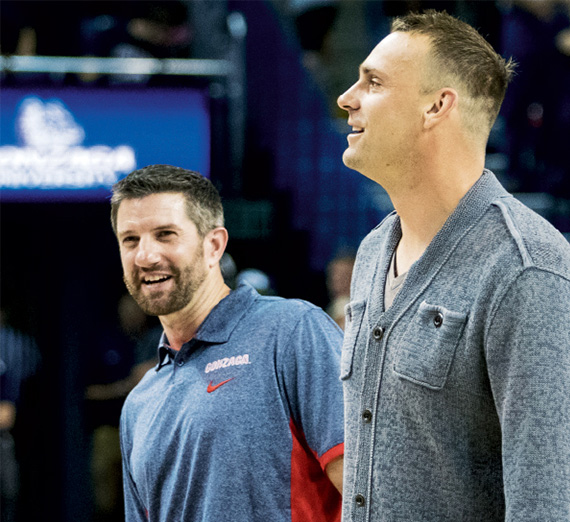 ---
For four seconds in March 1999, the incubative Zag Nation held its collective breath after Casey Calvary tipped in a missed shot by Quentin Hall for the go-ahead basket in a Sweet 16 showdown against Florida.
"I felt absolute joy … until I realized there was still time on the clock," says Mike Nilson, owner of U-District Physical Therapy in Spokane. "I'm pretty sure I didn't breathe until Florida's last shot rimmed out."
Axel Dench, a senior brand strategist in Melbourne, Australia, says he and a few friends were out celebrating, perhaps a little later than they should have been that night, and came back to their hotel room to find the next morning's USA Today at their door. On the cover was a picture of Dench lifting Richie Frahm in celebration. "Right then, the realization of what we were a part of really hit home to me," Dench says.
(See what USA Today had to say about the team 18 years later in 2017)
Times were simpler back in 1999.
"There were no huge expectations placed on us. We were having a lot of fun, playing our hearts out. It was a time of great innocence," says Mike Leasure, a Portland police sergeant and supervisor to a unit of patrol officers.
This was the team that put Gonzaga basketball – and, some would argue, Gonzaga University – on the national map. Beginning in '99, GU has made 17 straight trips to the NCAA tournament. Only Kansas, Duke and Michigan State have longer streaks.
"I still like to think of this group as a team of overachieving local boys," says Frahm, who played three-and-a-half years in the NBA and is now a real estate investor and licensed broker in Spokane. "Outside of Quentin Hall, (Bahamas), and Axel, we were all from the Northwest. This enabled our families to attend the games and create lifelong bonds with each other, as well. And our families adopted Axel and Q."
Hall is teaching junior high and coaching the Bahama's Junior Cadet team.
But for fans, Calvary's tip will always be remembered as the shot that elevated the program.
"I remember coming to school on a Sunday my freshman year and the bookstore was closed," recalls Calvary, a medical device sales rep in Spokane. "So I went to NorthTown to buy a Gonzaga hat. After hours of looking, no one had a Zag hat, shirt or anything with Gonzaga on it. "After my senior year I bought a Gonzaga hat in Tokyo."
My, how things changed over the past 17 years.
"What impresses me is how these guys have gone on to create their own, successful identities, and have the same focus and discipline I saw in them back in the day," Dench says. "It shows me their measure as people, husbands and fathers."
Members of the 1999 team also included: Matt Santangelo (executive director of Hoopfest), Ryan Floyd (technology manager at Stryker Medical, Spokane), Jeremy Eaton (CEO, Northwest Hispanic Yellow Pages, Kennewick) and Mark Spink (internal audit manager, Knowledge Universe, Portland).