Science Wiz Chad Hicks: Alumnus for Others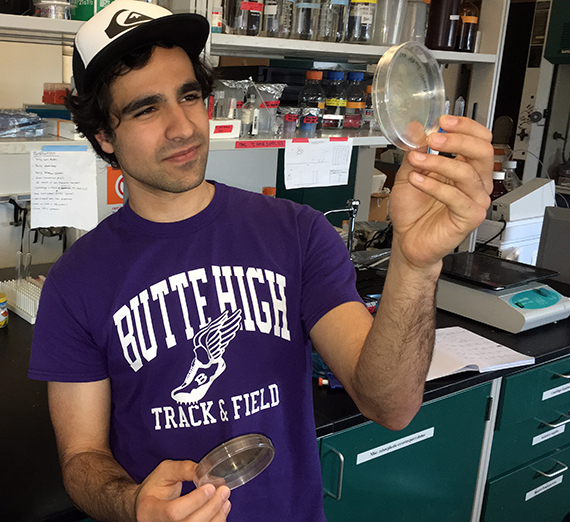 ---
SPOKANE, Wash. — Gonzaga University alumnus Chad Hicks ('18), a gifted science scholar, is helping to introduce the magic of science to youngsters while he pursues a Ph.D. in biochemistry, cell and molecular biology at Johns Hopkins University in Baltimore.
Hicks, who came to Gonzaga from Butte, Montana, has launched a Science in Action! program with fellow graduate students to introduce science to elementary school children and inspire them to pursue it later in life. Hicks, who earned a bachelor's degree in biochemistry at Gonzaga, became involved in the volunteer community outreach program through GU biology Professor Nancy Staub, Ph.D., who started
Science in Action!
12 years ago. Since then, 825 Gonzaga students have volunteered in the program that has served 6,697 elementary school students and 299 local teachers for a total of 16,500 service hours.
"I believe that much of the success of
GU SIA!
can be credited to Nancy Staub's inspirational and creative leadership," Hicks said. "She has a keen ability to sense untapped potential to strengthen the scientific community and develop ideas that work really well on paper and in practice."
Hicks said his experiences with the Gonzaga program were transformative — noting how seeing students' faces light up with excitement with each new activity was always the best part of his week. His time in the program also increased his confidence to teach K-6 students and communicate science in an engaging and understandable way.
Hicks volunteered in the spring semester of his freshman year at Gonzaga and remained involved through his junior year.
Hicks said he was inspired to start a SIA! program after seeing a strong need for additional science outreach in Baltimore. Drawing upon the GU program, Hicks set his plan into action and launched the volunteer effort with students at William Paca Elementary School.
Among the experiments the program has used is one involving strawberry DNA and another in which students put eggs in different solutions to learn about density. Hicks said the students have had fun with the experiments, shown leadership, and have shared their joy and excitement about science with others.
"It's less about what they learn right now and more about the impact and excitement that they have for science," said Hicks, who aims to become a research professor and knows firsthand the value of experience. Before his senior year at GU, Hicks earned a prestigious internship at Emory University in Atlanta through the Howard Hughes Medical Institute.
Moving forward, Hicks said that the lessons SIA! teaches to the young students in Baltimore are focused around affordable experiments that are more exciting for students.
The Johns Hopkins SIA! team includes first-year graduate students Christine Youn, who is studying cellular and molecular medicine, and pharmacology students Joe Varriale and Abigail Wheeler.
"Whatever my ideas are they wouldn't be able to materialize if I didn't have an amazing team to help make it happen," Hicks said. "And the thing about (Johns) Hopkins is you've got all of these people who are all so motivated and inspired that it's just really fun to work with them on something like this."
Hicks said that SIA! is an excellent model that is effective and transferrable to different communities — providing the flexibility to best suit communities.
"The Science in Action! model is effective not only in Spokane but in other schools and in other cities," he said. "I think some of the biggest impacts from what I'm trying to do here is proving that it is a very robust model and that it can be transferred to other schools and other communities."
Hicks said Baltimore needs more science education opportunities for youth.
"I just want these kids to see that science is a lot of fun," he said. "I want to help inspire the next generation of scientists by giving them the motivation and willpower to solve scientific problems that may seem daunting."
The program recently obtained official group status at Johns Hopkins, and Hicks and friends aim to scale up the program to serve three elementary school classrooms later this spring.