Science in Action!: Combining Service and Education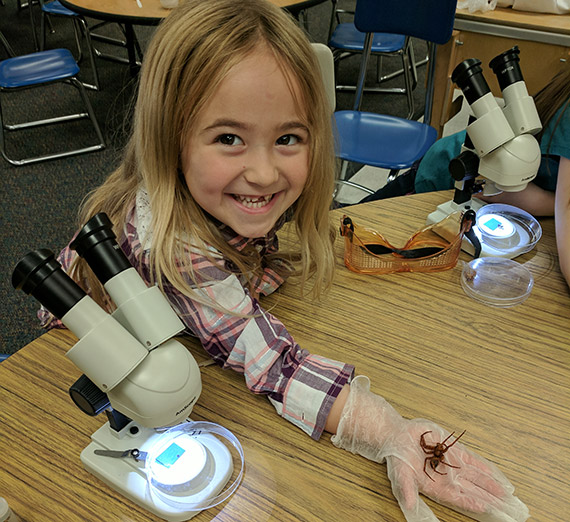 ---
Every passion starts somewhere. Perhaps from a particularly intriguing lesson, maybe from an idolized mentor. Especially in elementary school aged children, developing these passions plays an impactful role in the inspiration of a great future—and Gonzaga University's
Science in Action!
program seeks to inspire youth in the Spokane community to fall in love with science and critical thinking.
One day every week for eight weeks of both semesters, K-8 students around the community eagerly await this week's science lesson. For over 12 years, Gonzaga students with an interest in science and majoring in disciplines across the College have greeted these eager faces with equal excitement and a willingness to ignite the desire of the next generation of scientists.
Sophia Troeh (Biology, '20) has worked as both an employee of
Science in Action!
and as a volunteer. Troeh's most valuable takeaway from her time serving the program has been witnessing the evolution of kids' attitudes toward science. Some begin the program unsure of what to expect, perhaps weighed down by preconceived notions that science is "boring" or "too hard." Seeing her work transform this wary attitude into one of excitement and enthusiasm has proved very rewarding. "Students are much more excited about science," Troeh explains. "[Providing students with] exposure to hands on experience familiarizes them with the idea of going to college or continuing their education after high school."
Not only does Troeh recognize the value of her work in the community, but she sees it as an asset to her own education as well. "Because part of Gonzaga's mission statement is to 'develop the whole person,' service learning helps take what you've learned at the university and apply it to the real world through service," Troeh explains. Engaging in the greater Spokane community has allowed her to use her education to positively impact the lives of others and build connections outside the confines of the university.
Some students who have graduated from Gonzaga have chosen to pursue a continuation of their service through education.
Chad Hicks
(Biochemistry '18) is working to establish a similar program in Baltimore, Maryland, as he pursues his Ph.D. in biochemistry, cell, and molecular biology at Johns Hopkins. Hicks was inspired to become a scientist at an early age because of the engaging science lessons available to him. He recalls the excitement of the hands-on nature of science experiments and the amazement he felt watching new demonstrations. "These experiences left a lasting impression on me and inspired me to work hard in school," Hicks claims.
Not only does
Science in Action!
boost science curriculums, but it also changes students' attitude toward learning as a whole. "By teaching students that learning can be both educational and enjoyable, the students will be more excited and willing to learn in their other subjects," Hicks posits. He hopes to foster a similar eagerness to learn in the Baltimore community through his work furthering the science outreach program.
As a volunteer, Hicks finds he enjoys the community outreach just as much as the people he serves. Inspired by Gonzaga's call to serve others, he found that the day spent volunteering with
Science in Action!
was often the highlight of his week. He carries that enthusiasm to Baltimore, where he recalls a touching moment with one of his students. "We let the students take home microcentrifuge tube samples of the DNA they extracted, and one student asked if we could let them take something home from every lesson. He told me that he cleared some space on his shelf and is going to put keepsakes on it from every lesson," Hicks recalls. Though establishing a science outreach program is not an easy feat in tandem with the pursuit a doctoral degree, seeing evidence of his impact on these kids' education is worth the effort.
Gonzaga University strives to create men and women for others via a Jesuit education.
Science in Action!
is an excellent avenue for Arts & Sciences students to live out this mission in the surrounding community as they pursue their undergraduate degree. The ability for students to marry their educational endeavors with community service provides unique benefit to both the kids participating in the program and the Gonzaga students helping to lead them.