Immersed in the Healing Field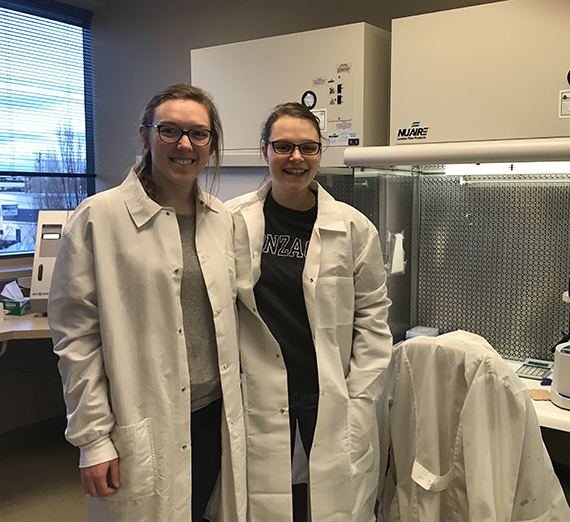 ---
by Emma Morris ('19)
When thinking of summer vacation, many students conjure images of sun-filled days full of relaxation, part-time jobs, and a break from the demands and responsibilities of a rigorous Gonzaga course load.
But some Gonzaga undergraduates considering a career in the medical field take this time to build their resumes in advance of applying to graduate or professional schools, or to simply explore potential career options through hands-on experience. Gonzaga now offers three different opportunities for GU students to extend their knowledge beyond classroom theory and practice their skills through autonomous research projects guided by distinguished mentors.
These internships provide students with unparalleled access to the medical community, and an indisputable edge over their peers. Not only do they provide meaningful application that cements course work and lab skills learned through the university, but they also provide insights that may influence their future career paths. Interns forge connections with experts at the top of the medical field and are blessed with the opportunity to flourish under such expertise. These opportunities stretch highly capable students to learn flexibly and creatively in a professional environment, rendering the transition from college to post-grad and the professional world much smoother.
Gonzaga Biomedical Internship
Emma Kar ('18) describes her days as an intern with the Gonzaga Biomedical Internship (GBI) as anything but predictable. "Some days I'm in the office doing research, whereas others I may be at a completely different healthcare facility observing a simulation," she says. "I always leave with a great new insight into the medical field, whether it's some interesting fact about the history of anesthesia or advice regarding applying to medical school."
Launched in 2014 as the Seattle Summer Biomedical Internship (SSBI) at Swedish Medical Center in Seattle, the Gonzaga Biomedical Internship combines a clinical research focus with extensive diverse shadowing opportunities and a lecture series given by experts in their respective fields, paying great dividends for students applying to post-grad programs. The students undergo a highly selective application process and are matched with projects and mentors based on their particular academic backgrounds.
Although all the students have a strong base in science, some major in fields not typically associated with the health science field, such as economics, math, or psychology. Kar, a math major, notes that, "As a mathematics major on the pre-med track, this internship gave me an invaluable hands-on opportunity to apply my math knowledge to the field of medicine. I was able to combine my two passions for the very first time. This in itself gave me great hope for how I might be able to use my unconventional major as a doctor one day."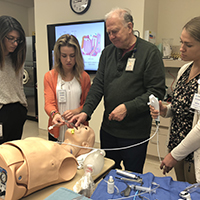 Biology major
Claire Henson
('18), who also took part in the Inland Northwest Blood Center internship highlighted below, shared a similar insight. "Practically every medical professional I spoke with, from laboratory technician to physician, took a twisty path to get to where they are today. They also impressed upon me that your major doesn't define your career path, and there are so many options open to each of us."
The shadowing experiences offer an especially unique benefit to interns, enabling them to get a better feel for specific professions in the healthcare field. Although most hospitals allow minimal shadowing opportunities—if any at all—many top-tier med schools require 40 hours of shadowing experience to apply. GBI interns take full advantage of this opportunity, with some students accruing well over 150 hours of shadowing.
For Kar, the opportunity to shadow different physicians was critical. "While the research is interesting to me, I've found that the most valuable aspect about my internship has been interacting with the medical community. Our office is full of knowledgeable nurses, technicians, and doctors who bring years of clinical experience to the table."
Tara Cristallo, a 2017 intern who published a manuscript from her research in the Gossman Simulation Center, was so strongly impacted by the internship experience that she returned this summer as the program coordinator.
This program is truly unlike any other internship opportunity available to pre-health students," says Cristallo. "The breadth of experience and exposure students achieve is invaluable in the process of deciding which career to pursue within healthcare."
University of Washington School of Medicine
Now in its third year of collaboration, Gonzaga and the University of Washington School of Medicine (UWSOM) continue to leverage resources that advance medical education in the Spokane region. UWSOM has offered GU undergraduates opportunities to work with med school students in ways that include a joint project about the local food bank and workshops for pre-health students, and this summer, they offered an added benefit by inviting a handful of undergrads to Seattle to work with top researchers at UW as research assistants.
Successful applicants for the assistantships had a specific research focus in mind and were matched with graduate students, faculty researchers, or postdoctoral fellows at the University of Washington who would serve as valuable mentors as they applied their research skills to the challenging environment of a large research university. Over the course of the summer, the students explored their fields of interest, made important contacts, and experienced how it felt to be part of a research group.
Biochemistry major Sam Schrader ('19) focused his research on how genetically modified bacteria compare to fully-functioning bacteria to develop new antibiotic treatments. "UW is definitely much closer to what working in a lab as a professional might entail," Schrader explains. "I work full-time and there is a stronger expectation to be able to run multiple experiments [simultaneously] and yield meaningful results."
Having worked in undergraduate research labs at Gonzaga, Schrader had a good feel for what to expect out of his time at UW, but he also walked away with new skills and perspectives. "Wherever you do research, there are always going to be different ways of accomplishing a similar goal, and so the more techniques you have at your disposal, the likelihood that you can problem-solve increases," he says. "That's why being able to perform research at GU and UW has been so impactful for me; I learn different ways of accomplishing a goal, and it allows me to tackle tricky situations later on."
The students will showcase their work during a poster session this Fall alongside second-year UW medical students who will be reporting on their summer research projects in communities across the Pacific Northwest and abroad.
Inland Northwest Blood Center
Although internships at the Inland Northwest Blood Center (INBC) take place during the academic year, they provide a similar opportunity for meaningful research in a supervised environment.
Unlike the experiences with GBI and UWSOM, however, these internships are designed to familiarize undergraduates with laboratory medicine and expose students to the operations of a lab facility. "[The INBC internship] broadens the horizons of career options for Gonzaga students pursuing degrees in biology, chemistry, or biochemistry," says program director Ellen Klohe.
This exposure resonated with 2016 intern Hailey Sieverding ('16), who went on to pursue a career at a Human Leukocyte Antigen (HLA) lab in Seattle. "I was on the road to going to dental school senior year, but something didn't feel right when I could not get myself to finish applications … This internship showed me how many other things I could do with my biology degree."
Sieverding was especially moved by the meaningful nature of laboratory work. She says, "[The paid internship at the HLA lab] was the perfect combination of immunology and genetics (my two favorite school subjects), and I got to help save lives!" The guided research students conduct with epitope-based HLA antibody matching allows for virtual cross-matching that improves success rates in organ transplants—an experience that could never be achieved within the confines of classroom learning.
For 2018 intern Megan Saathoff ('18), who now works for Paw Print Genetics doing genetic diagnostics for dogs, the internship solidified her interest in laboratory sciences. "In the college setting, my entire experience with science both in the classroom and in the lab had been purely research or academically oriented," she says.
"Exposure to a clinical laboratory setting, being able to tour the med-tech program at Sacred Heart, interacting with those students, as well as touring the graduate programs over at WSU opened a window into the vast array of opportunities out there for science graduates. For me it was having fun with people in the lab, making those connections, and being able to explore the career opportunities that really made this internship invaluable to me."
The INBC internship is funded by the Blood Center Foundation of the Inland Northwest.
Academics
College of Arts & Sciences
Biology
Mathematics
Philosophy
Chemistry
Biochemistry