"Lift as You Climb"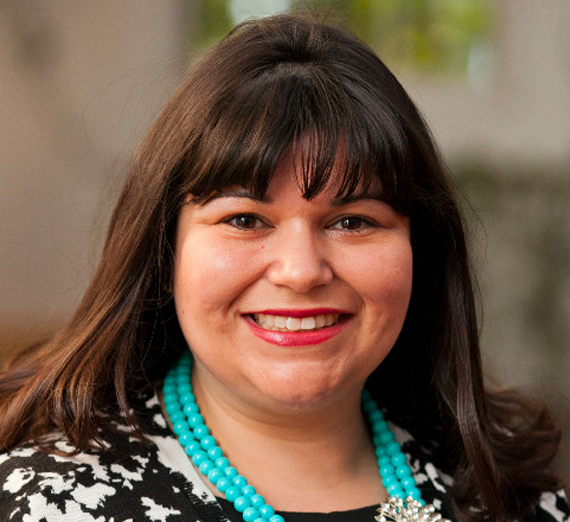 ---
For a first-year political science student at Gonzaga University, the fall of 2000 was an exciting time. Danielle Cendejas ('04) remembers the vibe on campus well. She'd just moved from where she grew up around Los Angeles, California, trading the near year-round Southern California sunshine for the four distinct seasons of Spokane.
"Not too many kids leave L.A. because they think it's paradise," she recalled with a laugh. "I was like, 'I want something different.'"
And that's exactly what she got — a distinctive experience chock full of memories to last a lifetime, and a valuable network of Zags both up- and downstream of her own class who have played integral roles in her life and career as a political consultant. On May 5, 2023, Danielle came back to campus to help celebrate the 25th anniversary of Gonzaga's Unity Multicultural Center and the unveiling of the new UMEC mural in the John J. Hemmingson Center. She shared her reflections in a keynote address that resonated with a room full of Zags just like her — dedicated people for others who help others see just how much they belong in the Gonzaga family.
In addition to the whole new climatological experience waiting for Danielle in Washington, she found familiarity at Gonzaga in its Catholic, Jesuit roots — she had attended Catholic schools growing up — but the faces of many of her classmates were different from the Latinx woman she saw in the mirror.
"My family was staying at a nearby hotel the weekend they moved me into the dorms," she explained, "and at breakfast, all the other families were being asked by the waitstaff about their connection to Gonzaga. When they got to our table, it was, 'what brings you to Spokane?' as if we somehow didn't belong."
But her family found reassurance when they'd toured campus the previous year. Despite Danielle's little sister getting stung by a bee as soon as she set foot on campus, the Cendejas family had a great time, discovering personal connections to staff who hailed from their hometown, which convinced them this was exactly the right place for their daughter to pursue her future in the field of political science.
2000 was an election year unlike any other, with things like "hanging chads" joining the cultural lexicon and, for the first time since 1888, the candidate who had won the popular vote lost the election.
"The tone on campus at the time was politically apathetic," said Danielle, "but for those of us who were into it, we followed the election like others followed sports."
A little less than a year later, that atmosphere changed drastically, and fast.
"I got a call from my friend who told me 'Turn on the news,' super early in the morning. The second plane crashed into the building. I remember there was an emergency mass, and students filled the pews holding hands. We turned to faith, and we went to prayer—there were a lot of candlelight vigils. American flags popped up everywhere and suddenly everybody was ready to rally around the country and the president. There wasn't a lot of room for discerning that there might be people who were hurting."
Danielle remembered the leader of Gonzaga's Muslim Student Association after September 11, 2001, using her voice to educate in a thoughtful way that helped Danielle and others find the centering force they sought. She and others expanded their experience and understandings with people of other cultures and views during their time together at Gonzaga in Florence.
"Being in Florence at a time of such political import gave us a very global perspective that extended beyond the conversations having in America," Danielle said, recalling the anti-American graffiti in town and how she had been assumed to be a Turkish woman in the way she was treated at the bazaar. "I was like, 'I don't understand why you'd think that because [my classmates] are blonde, you have permission to cat call and then with me, you're on your best behavior.'"
After graduating, Danielle worked for a congressional campaign in Eastern Washington. The opposing candidate won the race, and Danielle recognized how valuable her network was going to be to her career. She tapped her network to help secure interviews for jobs in Washington, D.C., and back in California with her state senator — Danielle elected to return to Los Angeles, and it wouldn't be the first time.
"It always seemed like when I had the choice to go to DC or back to L.A., L.A. won," she chuckled.
As a delegate to the 2004 Democratic National Convention, Danielle became inspired by the keynote speaker — a State Senator who later became the nation's first Black president — Barack Obama. She met him in 2006 by activating her network once again. Colleagues who were also alumni of Jesuit institutions, people who'd taken their kids to tour her Alma Mater, and her Latinx community showed up for her to create the conditions that would lead to an elevator ride with the future President and the future Vice President, Kamala Harris.
Danielle's political journey was off to a roaring start. Expertly navigating with her ever-expanding network by her side, she played critical roles in the 2008 election across the country, culminating with a brief stint on the inaugural committee as talent coordinator for the youth ball.
"We had Fall Out Boy, Kid Rock, and Kanye West," she listed, "and MTV was the producer."
Since then, Danielle has continued to excel, making her way into political consulting, where she is now a partner in a political advertising firm. Her enthusiasm about her role in influencing the political process is infectious and infused with gratitude. Danielle recognizes how critical relationships have been to her career and is committed to paying it forward by creating opportunities for and mentoring others.
"Like the Vice President said, 'I may be the first, but I'm not going to be the last,'" Danielle mused. "Who are the people you are bringing up behind you? Being mindful of the people you are bringing along with you and how you are expanding the pool of people is important to remember. It's all relationships, and you cannot be transactional about it."
And Danielle is keeping her Gonzaga relationships close, too — serving in leadership roles for Gonzaga's Los Angeles Alumni Chapter and Alumni of Color Community, and creating opportunities for fellow politically inclined Zags. Former Gonzaga Student Body Association President Johnny Draxler ('14), political fundraiser Megan Yee ('10), and CEO of the Voter Participation Center and Center for Voter Information Tom Lopach ('96) are three fellow Gonzaga Political Science alumni she is proud to have in her network.
"He helped lead the campaign to select Senator Cortez Masto — another Zag — and that motivated me to travel to Nevada to knock on doors for her. Zags help each other out whenever there's a need," said Danielle.
In her keynote address during the UMEC 25th anniversary celebration, she said, "Every aspect of an organization benefits when leaders are committed to diversity, equity, and inclusion. Any time you enter a traditionally white space, you disrupt structures not built for you. It's a lonely journey, so when you are the first to achieve, you must lift as you climb."
And that's exactly what she's done in her 14 years working at The Strategy Group and 19 years as a Gonzaga alumnus. She ended her speech by saying, "I hope you continue to use your voice. Stay engaged with UMEC and Gonzaga; I encourage you to go out into the world an make an impact. And when you make your money, give back to your roots that UMEC helped nurture as part of your legacy. Let's start investing in the next 25 years, today."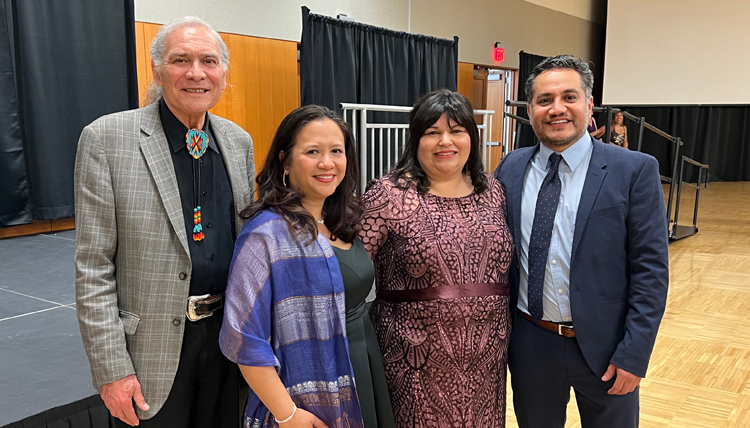 (Left to right: Raymond Reyes, Ph.D., Joan Iva Fawcett, Danielle Cendejas, and Jessie Mancilla at the UMEC 25th Anniversary celebration on May 5, 2023)
Answer Danielle's call to support UMEC with a donation today