Bing Crosby's Legacy Alive and Well Here
SPOKANE, Wash. — On a clear and sunny Monday, Nov. 4, the last of the 2019 tour buses rolled up to the Bing Crosby House museum on the Gonzaga University campus. Eighty-six tourists arrived, raising the total to 3,617 visitors this year to the boyhood home of the legendary singer, actor and Gonzaga alumnus.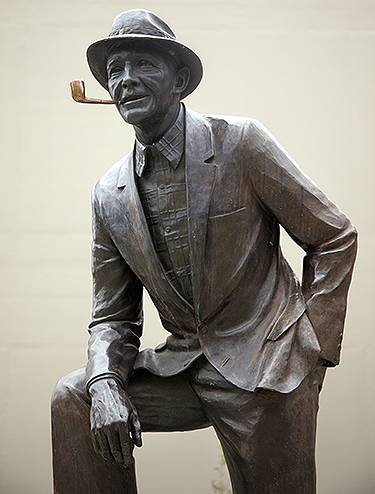 The Craftsman-style Crosby House, located at the main entrance to Gonzaga, was built in 1911. Harry Lillis "Bing" Crosby lived there from a young age until 1925 when he departed for Hollywood fame and fortune. The Crosby family sold the house, built by Bing's father and uncles, in 1936 to a neighbor who lived there until 1978 when the Gonzaga Alumni Association purchased it. In 2008, the University acquired the home that now serves as the public museum for the world's largest public collection of Bing Crosby memorabilia.
Fans from all 50 states and at least 20 countries visit Gonzaga's campus each year to see the Crosby Collection — recognizing Spokane as his hometown and Gonzaga as his alma mater.
Bing Crosby began donating items to Gonzaga in 1957, including gold and platinum records, trophies, plaques, photographs and more. In 1993, the University received the entire collection from the Bing Crosby Historical Society in Tacoma, Washington, where he was born. Additionally, several collectors have given Gonzaga major donations of Crosby recordings.
Mike Schmeltzer, a member of the Advocates for Bing Crosby — a nonprofit organization dedicated to maintaining his legacy — volunteers for the Crosby House and has met countless folks from near and far with personal connections to Bing.
"People from all over the world come to the Crosby House because they still love Bing. They love his music and his movies," said Schmeltzer, noting this year marks a special 75th anniversary celebration of the film "Going My Way," for which Bing won the 1944 Academy Award for Best Actor.

Visitors can see approximately 200 items, including the duplicate Oscar he won for "Going My Way." There are 22 gold and two platinum records from such titles as "White Christmas," "Silent Night," and "Swinging on a Star." Also displayed are movie stills and photographs, record albums, books, and sheet music. There are many trophies and awards he received over the years from various organizations.

"From the 1930s through the 1950s, he was the biggest thing in Hollywood — topping the recording industry, radio, movies and television," Schmeltzer says.

What's on display in the Crosby House represents just a portion of the total Crosby Collection materials. What is not on display is housed in the University Archives and Special Collections vault in the Foley Center Library. This vault also houses the University's Rare Book Collection, the Gerard Manley Hopkins Collection and many other manuscript collections.

"The Bing Crosby House and all of the memorabilia found inside are tangible reminders of the man and his amazing career," said Schmeltzer. "Bing was an American pop culture colossus."
Schmeltzer reflected on why he enjoys being a member of the Bing Crosby Advocates.

"Our mission is to celebrate Bing and keep his memory alive in his hometown," Schmeltzer says. "Beyond that, I think we're celebrating the arts, especially music and film, as well as the history of Spokane and Gonzaga, even how a family and a neighborhood shape a person."
Academics
Alumni
Arts & Culture
Alumni
News Center