Bing Crosby Helped GU Celebrate at 1937 Golden Jubilee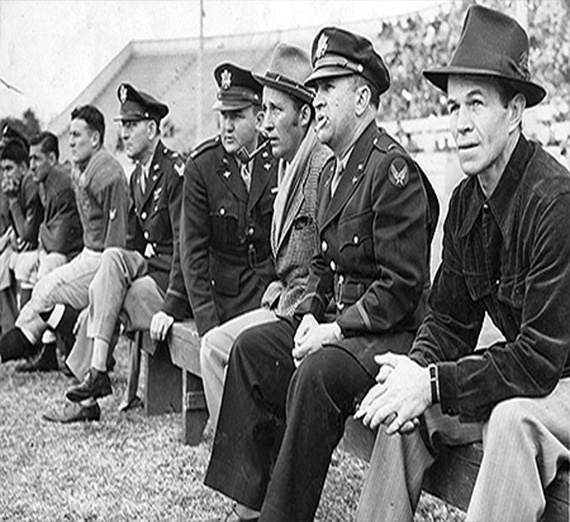 ---
(Above) Bing Crosby sits on the sidelines to watch the Gonzaga vs. University of San Francisco game during "Bing's Homecoming," part of the University's 1937 Golden Jubilee Celebration. Photo courtesy Gonzaga University Archives.
By Stephanie Plowman
Gonzaga Special Collections Librarian
SPOKANE, Wash. — Commencement week of 1937 launched Gonzaga's Golden Jubilee, its 50th Anniversary. The first event was a philosophical debate May 25, followed the next day by the awarding of special honors to alumni. Spokane radio station KHQ broadcast a special Golden Jubilee program that included music and speeches. Fifteen members of the class of 1912, which celebrated its Silver Jubilee, attended the alumni reunion.
Most Rev. Charles D. White, Bishop of the Catholic Diocese of Spokane, celebrated Baccalaureate Mass on May 27 in St. Aloysius Church at the Golden Jubilee Mass. Fifty altar boys representing each year of Gonzaga's history served, while the choir of Mount St. Michel's and the Gonzaga Glee Club lifted their voices. Alumni from all classes since the University's founding marched in procession and occupied places of honor with the 40-member graduating class. Bing Crosby, one of the graduates, was unable to attend but sent a telegram of best wishes, which was read to the assembly.
Approximately 700 attended the alumni banquet at the Davenport Hotel. Washington Gov. Clarence Martin and Mayor Arthur Burch represented their constituents. Delegates from regional colleges and universities, state legislators and civic leaders also attended. Gonzaga President Leo Robinson S.J. said, "Gonzaga is grateful for the loyal cooperation of this community which has made possible our 50 years of service to the city and to youth. We are grateful for the cooperation of our loyal alumni."
In commencement exercises on Thursday, May 28, 22 students received Bachelor of Arts degrees, 18 earned Bachelor of Laws degrees and six received honorary degrees.
Three historic anniversary celebrations marked the school year that followed: the first diocesan Eucharistic Congress was held Sept. 29 in Gonzaga's football stadium; Bing Crosby brought his Kraft Music Hall radio show to Spokane in October; and Rev. Daniel Lord of St. Louis conducted a Youth Leadership Conference on campus Feb. 26-28, 1938.
Bing's Homecoming, as it was called, on Oct. 21, 1937 marked his first visit to Spokane since he departed for Hollywood in 1925. He received a warm welcome from his hometown and alma mater. During his four-day visit, Crosby brought much to Spokane and Gonzaga. After arriving by train on a Thursday morning, he went straight to Gonzaga for Mass. Afterward, Gonzaga awarded him an honorary doctoral degree. Then Spokane Mayor Frank Sutherlin presented Crosby with the key to the city, and made him honorary mayor during his stay. That night the Kraft Music Hall Radio Show was broadcast from the Masonic Temple in downtown Spokane.
The following night, Friday, Bing performed for more than 3,500 at the Spokane Armory, and judged a talent contest at the Fox Theater. On Saturday night, Crosby and his co-stars participated in a dance at Natatorium Park. All of the events were well attended and raised some $10,000 for Gonzaga.
On Sunday Bing attended the football game at Gonzaga against San Francisco. Mike Pecarovich, his former classmate and Gonzaga's football coach, made him an assistant coach. Before the game, Bing gave the team a $1,000 steel water cart with a galvanized pressure tank and eight spray showers. The cart was painted blue with a big white "G" on each side. The newspaper reported the University of Oregon was the only other college team in the Northwest to have such a fine cart.
Bing and his entourage of celebrities watched the game, attended by more 12,000 people — all eager to get a glimpse of Gonzaga's famous alumnus. At halftime, the Gonzaga G Club made him an honorary three-year letterman, awarding a blanket for the distinction. Then, Bing led the Glee Club in singing the new Gonzaga Fight Song. Unfortunately, Gonzaga lost 7- 0. After the game, Bing left by rail for Hollywood. At his insistence and without fanfare, Bing paid all of the trip's expenses, totaling approximately $5,000.
After the yearlong Golden Jubilee celebration, Gonzaga changed and began offering more athletic programs, including hockey, bowling, and boxing. The Glee Club began its rise to national fame, and Gonzaga's debate teams made long national tours. The first western chapter of Alpha Sigma Nu, a national Jesuit honor society, was established. After its first 50 years, Gonzaga continued its transformation to meet the needs of its students and the community.