Road to GU's 125th Anniversary: A Look Back at 1938-39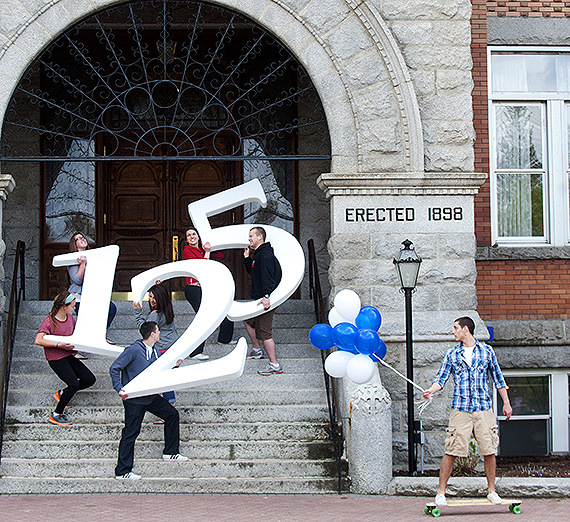 ---
1938-39
By Catherine Van
Class of 2012
SPOKANE, Wash. — It took Gonzaga University and the City of Spokane some time to calm down after alumnus Bing Crosby brought his Kraft Music Hall to campus Oct. 21, 1937 for four consecutive days of festivities called "Bing's Homecoming."
'A Golden Era of Minor Sports at Gonzaga'
Three months later, on Feb. 25, 1938, a less famous American celebrity arrived on campus, according to Rev. Wilfred P. Schoenberg, S.J., in his book "Gonzaga University: Seventy-five Years, 1887-1962." Rev. Daniel Lord of St. Louis, director of "Queen's Work," brought his staff to Gonzaga and the largest Catholic youth convention in the history of the West (to date) unfolded on campus for two days. Fr. Lord was considered the "Pied Piper of twentieth-century Catholic youth," Fr. Schoenberg noted. Some 1,800 hundred clerics, nuns and other youth leaders attended. Fr. Lord urged the youth to oppose Hitler's demands on German youth. The convention led to Gonzaga taking on a new role as a center of organized youth activity, which Fr. Schoenberg described as "a golden era of minor sports at Gonzaga."
Gonzaga's first ski team competed in its first tournament in spring 1939, the Gonzaga Bulletin noted. Gonzaga's boxing team achieved national honors within a few years. The hockey team, starring Frank McCool, challenged boxing's popularity, and Gonzaga's first tennis and fencing teams also organized. Gonzaga's bowling team defeated six collegiate teams in a tournament, and the debate teams made their longest tours to date, traveling more than 5,000 miles through 14 states in spring 1939, Fr. Schoenberg noted.
The surge of sports interest also coincided chronologically with the Glee Club's rise to fame. The 18th Annual National Convention of the Catholic Rural Life Conference was held in Spokane in fall 1939, and Gonzaga President Rev. Leo Robinson, S.J., promoted its Youth Section and brought Fr. Lord back to direct. The final general session of adults and youth was held at Gonzaga. Fourteen archbishops and bishops attended, bringing hundreds of priests and thousands of laity to campus from across the nation. The first western chapter of Alpha Sigma Nu, the national Jesuit honor society, was established at Gonzaga in April 1939.
A New Spirit of Group Excellence Emerges
A new spirit was born at Gonzaga as a previous emphasis on personal development gave way to a desire for group excellence, Fr. Schoenberg noted:
"The seeds for Catholic Action on a group level had been planted and, though a later generation would reap the harvest, Gonzaga's energetic and far-sighted president had the happiness of seeing his seeds sprout and grow, a field of tender green shoots which gave promise of a hundred-fold increase."
'Narrow Road to Economic Security'
Meantime, bond debt threatened Gonzaga until spring 1939 when James McCarthy, president of Hecla Mining Company in Wallace, Idaho, requested a dinner with President Robinson. McCarthy gave Fr. Robinson a check for $11,000 and promised another $14,000 within a month. Due to the market value of the bonds, Fr. Robinson was able to buy almost $100,000 worth. "James McCarthey undoubtedly had saved the day," wrote Fr. Schoenberg.
While the generous $25,000 gift was a turning point, steps remained to ease Gonzaga's financial pressures. For the first time in its history, Gonzaga's ordinary revenues for fiscal year 1940-41 exceeded operating costs.
While Gonzaga was not debt-free, it was, as Fr. Schoenberg noted, "at last on the narrow road to economic security."