Road to GU's 125th Anniversary: A Look Back at 1920-21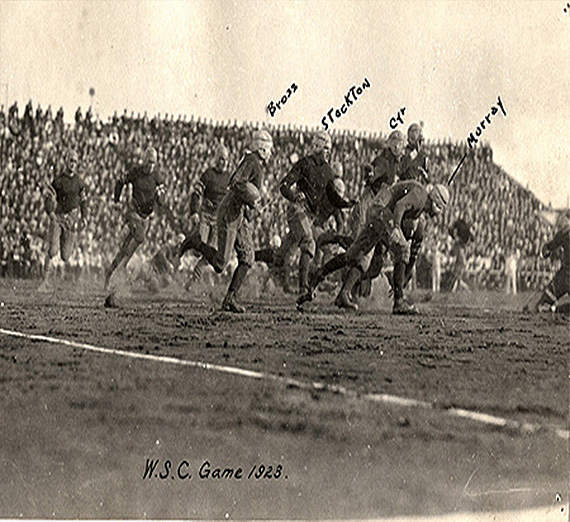 ---
1920-21
By Stephanie Plowman
Special Collections Librarian
SPOKANE, Wash. — In May 1920, Gonzaga University announced the hiring of Charles "Gus" Dorais as head football coach and athletic director. By hiring Dorais, a famed Notre Dame University quarterback and coach, Gonzaga indicated its plans to compete at a very high level in intercollegiate athletics, especially football.
Dorais instituted the Notre Dame system of football, which included the forward pass. According to the local newspaper from May 30, 1920, Dorais was then considered "one of the greatest hurlers of the pigskin the grid-iron ever developed." Gonzaga's hiring of a nationally recognized coach, even though its (college) student body totaled only 100, was not unique. Other universities across the country were beginning to emphasize athletics.
Gonzaga lost 35-0 to Washington State College (now Washington State University) in Dorais' first game as coach. Following is the student writer's take on that game in the Gonzaga Quarterly of October 1920:
"We were beaten by a better team. Why better? Weight, experience, and five years of training under the same system of coaching. . . . We lost our first game, but let us remember that we have six more. So members of the student body and members of the team, let us get in and fight and not just a little harder but our very best. With this rule carried out we could ask no more."
In Dorais' first year as coach, Gonzaga finished 4-3, beating Bremerton Navy Yard, Camp Lewis, Multnomah Athletic Club, and Montana Mines and losing to WSC, Idaho and Montana State College. The Bulldogs outscored their opponents 164-55.
The 1920s marked the beginning of a football rivalry began between Gonzaga and WSC. Before the arrival of Dorais, Gonzaga had lost to Washington State four times — all shutouts. The football rivalry with Washington State included 26 games; 18 won by Washington State, five won by Gonzaga, and three ties. Washington State scored 493 points to Gonzaga's 120. Though WSC outnumbered GU in student enrollment, Gonzaga fought hard to win and had plenty of spirit — knowing they were competing against a much bigger school.
In addition to hiring an excellent football coach, Gonzaga saw a need to improve facilities. A new stadium, completed in 1922, was filled to its 11,000-seat capacity for the Washington State games. Students created massive bonfires and aligned in a giant serpentine formation before the games.
Coach Dorais left Gonzaga in 1925 to become head coach at University of Detroit. During his five seasons at Gonzaga, he accumulated a record of 20-13-3. Gonzaga gained national attention in 1922 when it met University of West Virginia, among the nation's best teams, on Christmas Day in San Diego. Although Gonzaga lost the game 21-13, the University discovered it was no longer difficult to schedule big-name opponents. The 1924 team was considered Gonzaga's best ever with four players who advanced to play professional football: Houston Stockton (John Stockton's grandfather and David Stockton's great-grandfather), Ray Flaherty, Ivan Cahoon, and Hector Cyre.
Gonzaga football ended in 1941 at the beginning of World War II and did not return. T-shirts sold in the Zag Shop depict the legacy of Gonzaga football: "Gonzaga Football — Unbeaten Since 1941."