CURCI Provides Research Opportunities to CAS Students from all Disciplines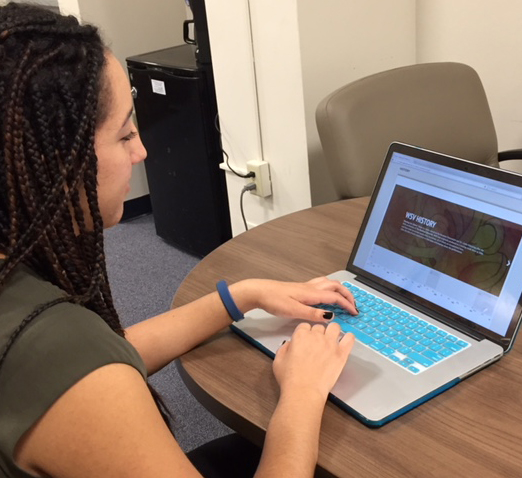 ---
Research isn't just about STEM; the arts, humanities, and social sciences also provide a wealth of opportunities to explore the human experience, and the College of Arts & Sciences' Center for Undergraduate Research and Creative Inquiry (CURCI) serves as an essential resource for students seeking to enrich their undergraduate learning experiences in all areas of the College.

Stressing collaborative learning and problem-solving, CURCI promotes, publicizes, facilitates, and celebrates the transformative educational experiences that occur through student-faculty collaborations. Here are a few examples of projects being conducted under CURCI's mentorship during the 2017-18 academic year.
Analee Scott
"Investigating Multilingual Theory and Practice in Spokane Public Schools"
Scott enrolled in GU's Teaching English to Speakers of Other Languages (TESOL) class in July 2017, taking a language-teaching methodologies class in the mornings and teaching in the first-grade class for the Spokane Public Schools' Summer Language Program in the afternoons. Scott has taken particular interest in refugee and immigrant students, whom she has interviewed to determine how teaching strategies impacted their experiences and how those strategies might be improved. Scott will present her project at the Pacific Sociological Association Conference in Long Beach this Spring.
Grace Muljadi and Danielle Forrest
"Walk Gonzaga"
Forrest and Muljadi worked together to create a prototype for an augmented reality app that takes users on a historical walking tour of campus and features a narrative of Gonzaga University's housing and its development over 100 years. Their work centers on the patterns GU's housing offerings went through, with a focus on who the different buildings were meant to house past and present; how housing has evolved and the status of various residences; and what the future might bring. It serves as a tour of the campus while also analyzing the housing system at Gonzaga and offering suggestions on what may help in the future.
Cole Fairbairn
"A Christmas Classic: Bing, Berlin, and the Story of 'White Christmas'"
Fairbairn's project focused on how, as social and cultural icons during the mid-20th century, Bing Crosby and Irving Berlin's Christmas music and movies were a driving force in the expansion of a deep-rooted Americanization of the Christmas tradition. He researched, designed, and ultimately curated an exhibit for the Bing Crosby Childhood Home that exemplified these findings. Says Fairbairn, "This project has been rewarding both academically and creatively. It has helped me hone my writing and researching skills, but more importantly it forced me to tap into a creative side that I believe will help with my professional career moving forward."
Mitch Davey
"Dancing in Harmony: A Documentation of the Traditions & Practices of Choral Music in Zambia"
This project examined Zambian choral music from an ethnomusicologist's perspective. As part of the Gonzaga University Chamber Singers' global engagement tour to Zambia and Zimbabwe, Davey collected data that included recordings of choral music, interviews with Zambian musicians, copies of written music and musical literature, and a large traditional drum he purchased. Using this data, Davey wrote a paper on his findings and arranged two Zambian choral works to accompany the paper.

Annica Balentine
"Sterilization Discourse in Medical Textbooks"
Balentine's research centered around her interest in contraceptive discourse. Through the process of coding and analyzing five chapters from five OB/GYN textbooks, she observed that the risk paradigm used today when describing the side effects of contraception mimics that of OB/GYN textbooks from the 1960s, when contraception was much more difficult to access and maternal mortality rates were much higher. She thus poses the question, how does this risk framework fit into today's society?

Jessica Albinson
"Navigating Gender and Sexual Identity in a 'Straight' World: A Study of How College Students Talk About Romantic Relationships"
This study focuses on how social norms regarding sexual and gender identities affect how LGBTQ+ and heterosexual college students converse about romantic relationships. Albinson is conducting in-depth interviews and keeping a personal journal throughout this study to document her own experiences in this context as a member of the LGBTQ+ community.