Undergraduate Research at Gonzaga Includes more than STEM Disciplines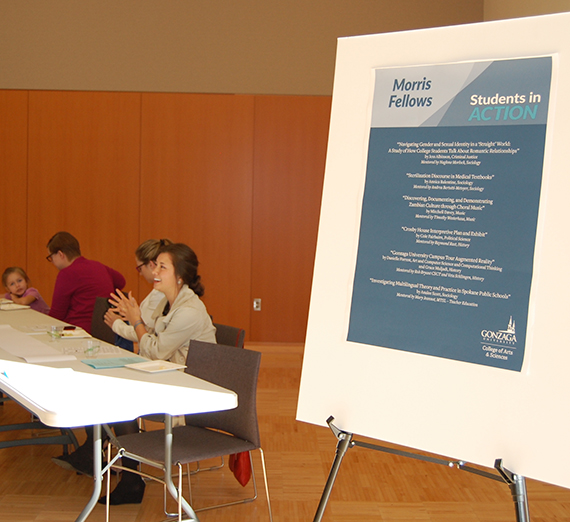 ---
For most people, the word "research" conjures an image of a biology or chemistry lab—but research isn't restricted to the natural sciences.
The skills an undergraduate can develop while conducting research are many: writing proficiency, critical thinking, quantitative analysis, the ability to better comprehend scholarly publications, collaboration skills, co-authorship of published papers, conference attendance and networking; the list goes on and on.
Research opportunities in STEM disciplines at Gonzaga abound, and similar opportunities in the humanities are on the rise, with the establishment during the 2016-17 academic year of both the Center for Undergraduate Research and Creative Inquiry (CURCI) and the Morris Undergraduate Research Fellowship program. The latter is funded by Scott and Liz Morris and provides a prime opportunity to conduct research in the areas of the arts, humanities, and social sciences.
With an application deadline of early March, the Morris Fellowship projects are conducted during the summer term and include a stipend to help support students' faculty-mentored projects. The first year's cohort included students majoring in disciplines including music (with a pre-med concentration), history, international studies, criminal justice, political science, and art.
The 2017 Morris Fellows realized great success. Music student
Mitch Davey
, for example, set the text of a traditional Zulu song to a choral arrangement after studying the musical, sociological, and ethical implications of choral music in Zambia. Not only did Gonzaga's Concert Choir perform the piece at multiple venues during Fall Semester, but the piece has also been picked up by choirs such as the Pacific Youth Choir, the major youth choral organization in Portland.
Analee Scott
, too, took her research experience to another level. By enrolling in GU's Teaching English to Speakers of Other Languages (TESOL) Summer Institute certification program and connecting with students in the English Language Learner program in Spokane Public Schools, she refined her research question and discovered a passion for working with international students, immigrants, and refugees.
That was just the beginning of Scott's research experience. Entering Fall semester, she signed on with a sociology group for course credit and began working towards answering her research question. "I had never done research before and didn't really know what I myself was getting into," she says.
Throughout the year, though, the group continued to work together, presenting their findings to one another and soliciting input on how to overcome challenges. The group ultimately applied to present at the Pacific Sociological Association Conference in March, and despite being a double major in International Studies and Spanish, Scott presented her research, too.
"The huge value for me was meeting so many other academics who were interested in what I was studying," she says. "Speaking with other presenters before and after, and really asking questions about their research and exploring different methods and interests we could use to build off of each other's work and determine how we would move forward."
Scott's experience inspired her to accelerate her educational goals by graduating a year early and staying on at Gonzaga to pursue a Master's degree in Teaching English as a Second Language (TESL). After completing this phase of her education, she'll apply for a Fulbright Critical Language Enhancement Award and other opportunities that will enable her to live overseas and teach English to non-native speakers prior to continuing on with a Ph.D. program.
After such a robust learning experience, Scott can't sing the praises of the Morris Fellowship enough. "I'm surprised that Humanities research hasn't been really big at Gonzaga, and actually still isn't, compared to chemistry, biology, and the other sciences—the students who usually get to stay around during the summer to do funded research. I talk about the Morris Fellowship as much as possible, and hopefully it will gain momentum moving forward."
The 2018 cohort of Morris Fellows was recently announced, and includes Madison Hendricks, '18, Theatre Arts ("Foundations of Silhouette: A Study of 19th Century Undergarments"); Andrew Kelley, '18, Music ("In the Wake of Tragedy: Examining the Function of Music as a Response to Disaster"); Katherine Laco, '19, Psychology and Religious Studies ("Teaching Participation: Vatican II's Liturgical Reforms and Parish Catechesis in the Diocese of Spokane"); Audrey Parks, '20, Communication Studies ("Professional Dance Performance Preparation"); Nick Simmons, '19, Latin American Studies, Spanish ("Indigenous Resistance Case Studies"); and Annie Stanger, '19, Music Education ("Introducing Contemporary Women Art Song Composers to Teachers and Performers").