Embracing the Breadth of a Liberal Arts Education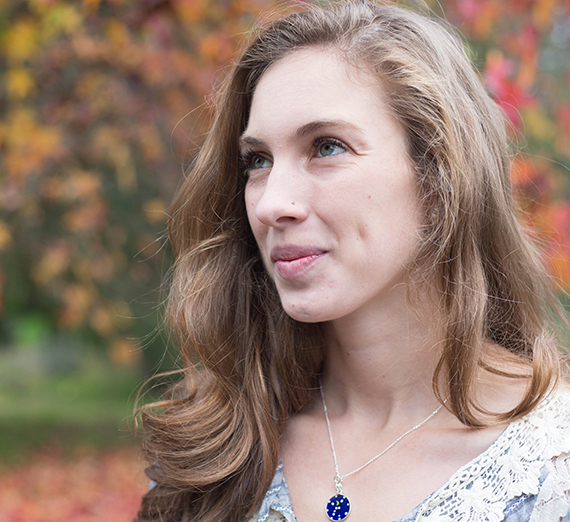 ---
You may have seen her around campus. A girl with curly hair and two backpacks holding her dance bag dashing from class to class. Molly Foster ('19) is a student-athlete transfer on track to graduate this spring with Bachelor of Arts degrees in history and English, plus a trio of minors—Spanish, classical civilizations, and dance—representing well the College's commitment to developing "women and men for others, ready to face the intellectual, vocational and spiritual challenges of today and tomorrow."
Originally a student at the University of Washington, it was the liberal arts focus that attracted Foster to Gonzaga's smaller campus east of the Cascades. "The class size, accessibility of professors, and variety of academic resources drew me to Gonzaga," Foster explains. "I knew Gonzaga would have more opportunities that related to my majors and minors."
Though diverse in scope, the distinct way in which each discipline integrates critical thinking and creative analysis is what attracted Foster to them. Learning through these unique lenses has helped her to think and process more effectively, more critically, and the challenge of mastering each of her passions appeals to her as an academic, a competitor, and a life-long learner. Taking advantage of these many opportunities has proved to be a rewarding, albeit sometimes daunting, undertaking.
Foster recognizes the timeless benefits of a liberal arts education for lifelong learners. "A liberal arts education allows for creativity, critical thinking, and curiosity about things that do not have a single answer," Foster explains. She is drawn to the subjectivity of discussion-based classes that seek thoughtful answers to questions with no clear yes or no answer. As the world becomes more technology based, she believes that a liberal arts education provides an important ground for the expansion of one's mental capacity as well as the development of written and verbal communication skills.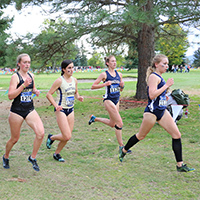 Pursuing multiple undergraduate degrees is challenging for any student, but doing so while also competing year-round as a Division I athlete on the track and cross-country teams speaks highly to Foster's determination. Because she must work her classes around practice times and occasionally miss class for competition, Foster cites scheduling as one of her greatest challenges. She is grateful for the support of the professors and mentors who have helped her balance her academic ambitions with her athletic aspirations.
Two of her greatest mentors, Suzanne Ostersmith and Dave Oosterhuis have been integral to her academic success. Ostersmith helped guide her through one of her toughest courses, Interdisciplinary Arts, and helped her come to love the challenge and solidify her passion for dance. "I have learned so much about leadership, creativity, education, dance, and passion from Suzanne," Foster reflects. "I am eternally grateful for the lessons she has taught me."
And Oosterhuis contributed to Foster's decision to add a classical civilizations minor to her repertoire. "Dr. O made Greek more than just a language class. It was history and classics and linguistics and English and Greek all wrapped in one," she explains. As she crafts her thesis, she still calls upon lessons and information she learned from Oosterhuis.
Foster is just as driven in everyday life as she is in the classroom and plans to put her education to work following graduation. An academic at heart, her ideal future would mean moving to Spain, France, or Italy to acquire a master's degree in history while becoming fluent in another language. Eventually, she would like to pursue a career as a travel writer, a perfect marriage of her historical knowledge and writing skills.
Inspired by her liberal arts education, Foster credits Gonzaga for her academic drive, claiming it "has given me an amazing perspective on our world, and has given me a great deal of curiosity about parts of the world that I know little about."
As Foster approaches graduation, she looks back fondly on her experience as a Zag. One of her favorite moments was the Student Choreography Concert of Spring 2018. A requirement for dance minors, this course includes a semester of choreographing and teaching a three- to four-minute dance performed at the concert. "As I watched my dancers beautifully execute the dance I had choreographed, I was overwhelmed with a sense of fulfillment and gratitude. I was so grateful that I had this opportunity, and if I ever want to choreograph in the future, I have the experience to support me."
Gonzaga's College of Arts & Sciences has proved to be a home of growth and learning for Molly Foster these past four years, and she relates well to the transformative aspect of the College of Arts & Sciences mission statement. "Having transferred from a massive school focused on research, the College of Arts & Sciences and its mission were welcome changes for me. Every class I have taken at Gonzaga so far has changed my perspective on something, and many have changed how I view the world altogether." She is grateful to Gonzaga for the holistic education of her mind, body, and spirit and looks forward to setting the world on fire after graduation with her critical thinking skills and passion for learning.
Our new core animates our Catholic, Jesuit, humanistic heritage and enriches students' education through interdisciplinary learning as well as through the breadth of the traditional liberal arts. Our new First-Year Seminar, in particular, engages students' imaginations around particular topics approached from multi-disciplinary perspectives. We expect that these courses will renew students' interests in the arts and humanities and may lead them to consider second majors or minors within the College of Arts & Sciences.