Introducing Laura Sims: Director of the Myrtle Woldson Performing Arts Center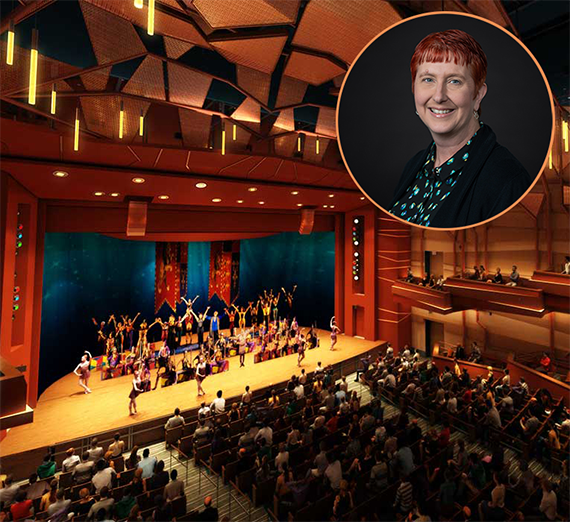 ---
Not everyone is cut out for creating something from nothing, but the director of the Myrtle Woldson Performing Arts Center (MWPAC), Laura Sims, most definitely is. And while Sims came into her new role after construction began, she is literally building the facility from the ground up.
With the opening performance of the ambitious A New Season scheduled for April 25th, Gonzaga is fortunate to have landed a director who has experience opening a new facility. On top of her previous position as production manager at the Clarence Brown Theatre in Knoxville, Tennessee, Sims' decade as founding director of the 61,000 square-foot Francis Marion University Performing Arts Center provided her with expertise in the structural and technical needs required for such a facility, as well as embedding the university-based performing arts center in the community.
The finished MWPAC will be similar in size to the FMU Performing Arts Center, coming in at 58,000 square feet and boasting three performance areas including the outdoor plaza. The mainstage area will hold 759 people and feature a counterweight system to fly in scenery, lighting, and soft goods; a flexible orchestra shell to yield exceptional acoustics; and an orchestra pit that will accommodate various stage configurations. The second, smaller, Martin and Edwidge Woldson Recital Hall will have a capacity of 168, providing a more intimate performance space.
Gonzaga's commitment to providing service to the Spokane community surrounding us is one of the aspects of the director position that attracted Sims, and she's excited to combine community involvement with Gonzaga's tradition of accessible educational opportunities.
"The new Performing Arts Center opens up so many possibilities for Gonzaga performances, local events, and national productions," says Sims. "It won't be long before audiences have a full menu of shows to enjoy in our beautiful new performance spaces."
In addition to serving as a venue for Gonzaga events, the space will also be available to community organizations wishing to hold events. On top of that, the calendar will include nationally recognized acts, and Sims is currently working on the 2019-2020 schedule.
What do you have to look forward to in the short term? A New Season will feature the Gonzaga Repertory Dance Company, Acting and Dance Ensembles, Concert Choir, and Chamber Orchestra performing the choral cantata, "A Time to Dance" by Alec Roth, along with works by regional poets—a truly collaborative celebration of the grand opening!
For more information, visit gonzaga.edu/mwpac.