Professor Bertagnolli Co-Directs $1 Million NSF Grant Supporting Women in STEM
Advancing Women in Science, Technology, Engineering & Math
Professor Bertagnolli (right) discusses the grant.
Play Video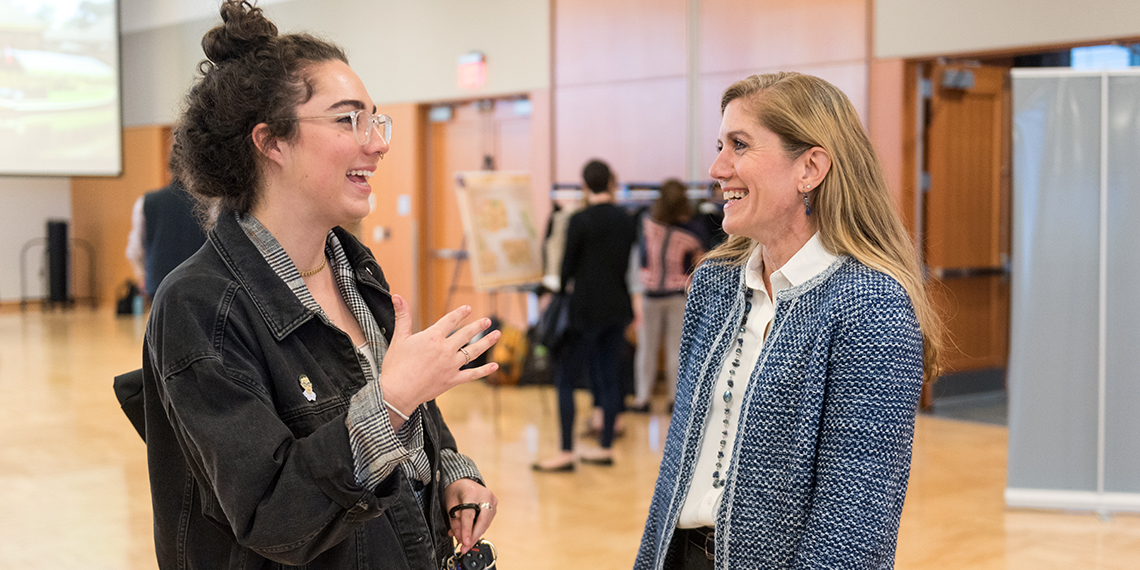 SPOKANE, Wash. — Mia Bertagnolli, Ph.D., Gonzaga University professor of biology and chair of the chemistry and biochemistry department, has been named co-director for a five-year, $999,899 National Science Foundation ADVANCE Partnership grant that supports the advancement of mid-career STEM women faculty across colleges and universities in three U.S. regions.
The Advancing STEM Careers by Empowering Network Development (ASCEND) collaboration involves six partner institutions and up to 75 participants from primarily undergraduate colleges and universities across the Northwest, the Midwest and the Southeast.
The grant has three main objectives:
Increase the advancement of mid-career women in STEM (science, technology, engineering and math) fields through participation in regional peer-to-peer professional networks;
Create agents of change through education, training and professional support focused on equipping women faculty for promotion and leadership roles, and assisting administrative leaders in developing more inclusive campus policies and cultures;
Drive institutional transformation by identifying, developing and pursuing goals that reduce obstacles and increase the retention and advancement of a diverse faculty in STEM.
The women selected to participate are all mid-career and will meet monthly online and annually in-person to cultivate barrier-breaking communities that promote diversity in STEM faculty within their campuses with special emphasis on peer-to-peer mentoring.
"The co-directors of this grant have all been empowered by peer mentoring and have seen the impact that this kind of professional support can have on career advancement and the pursuit of leadership positions," Bertagnolli said. "We are excited to expand this peer-mentoring model to support even more mid-career women in STEM fields and involve administrative allies in developing policies and practices at primarily undergraduate institutions that promote diversity and inclusivity."

As a co-director, Bertagnolli will be a part of the steering committee tasked with recruiting participants and creating the inter-institutional mentor networks that consist of administrative alliances and discipline-specific faculty alliances in the Northwest, Midwest and Southeast. In addition, the committee will develop the annual meetings for participants to network, train and collaborate, and help each alliance with its professional advancement and leadership goals while propelling change within their institutions.

In efforts to further impact positive change, project members aim to spread what they learn to other institutions that are not participating in the grant. At the conclusion of the five-year project period, leaders plan to follow up with participants and their institutions to assess the extent to which policies and cultures were positively impacted by the grant.

Alongside Bertagnolli, the project's other co-directors are: Chrystal Bruce of John Carroll University; Patricia Flatt of Western Oregon University; Sarah Kirk of Willamette University; Elizabeth Roberts-Kirchhoff of University of Detroit Mercy; and Hala Schepmann of Southern Oregon University. Project leadership from the Southeast includes Cheryl Swanier from Claflin University, Victoria Turgeon from Furman University and Mary Katherine Watson from the Citadel.

For more information, including forthcoming instructions on applying to be a faculty or administrative participant, please visit the project website at visit: http://www.wou.edu/ascend/ or contact Professor Bertagnolli directly at (509) 313-6687 or at bertagnolli@gonzaga.edu. For more information about the National Science Foundation, visit: https://www.nsf.gov/.
Academics
Careers & Outcomes
College of Arts & Sciences
Academic Vice President
University Advancement
Sponsored Research and Programs Office
Biochemistry
Biology
Chemistry
Computer Engineering
Computer Science
Computer Science & Computational Thinking
Electrical Engineering
Engineering Management
Human Physiology
News Center