Murdock Grants Fuel Student Research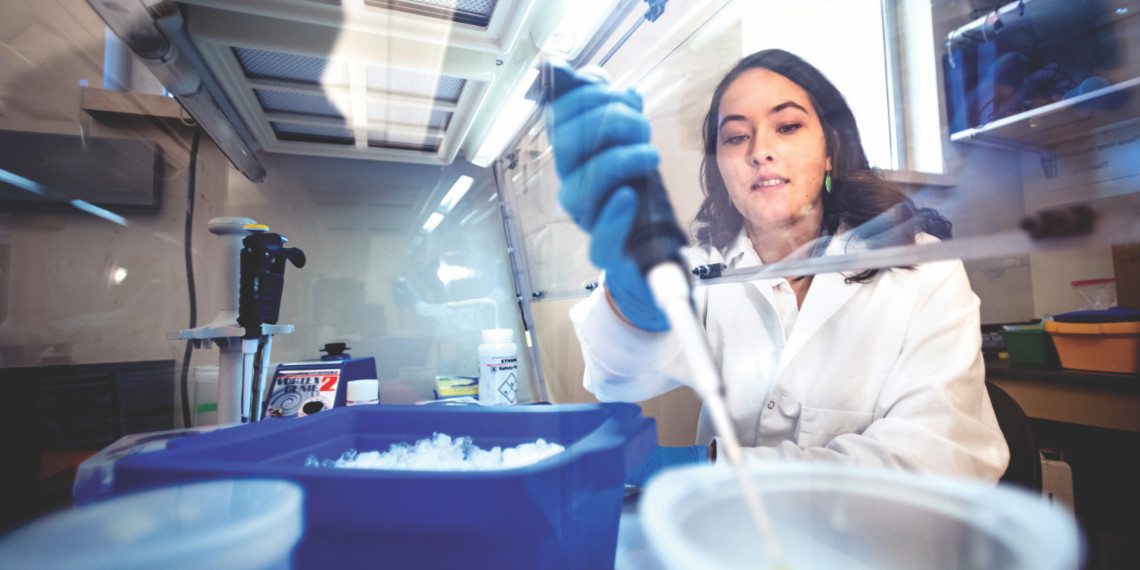 Be it molecules, medical devices, beetles or crabs, faculty and students at Gonzaga spent their summer discovering new possibilities and knowledge through scientific research. Professors Brook Swanson, Jennifer Shepherd, Mia Bertagnolli and many other faculty members continue to inspire students in the sciences to take their scholastic inquiry to greater heights.
These efforts are made possible through the M.J. Murdock Charitable Trust, which has supported learning at Gonzaga for more than 30 years, often helping faculty members generate preliminary data needed to be successful in securing federal grants to assist them in bringing their research to life with creativity and vigor.

With the help of funds from the Trust, for example, Shepherd launched an outreach program with the Spokane Indian Reservation, bringing students from the Wellpinit School District into the research lab to work on summer projects. Murdock grants enabled Swanson to get innovative, too. He demonstrated his finding on fiddler crabs through dance, which found its way to the stage of a TEDx Talk.

Both Shepherd and Swanson have since established collaborations with leading scientists in their field, attracting international attention and bringing the University's science programs more exposure. Murdock funding of Gonzaga's research labs has infused life into specific projects, manifested new opportunities through capital investments in facilities and equipment, and given the University the means to attract experienced faculty members and students eager to dig right in.
The Appeal of Research
More students than ever are attracted to studying the sciences at Gonzaga, transforming campus into a busy research center during the otherwise quiet summer months. When Bertagnolli was a student in the '80s, just a small handful of undergraduate students worked in research labs in the summer. Now, student researchers and their mentors have outgrown the classroom, filling an entire auditorium in weekly lunch-and-learn sessions that give these teams a platform to share their work with their peers and build excitement for science programs. The collaborative, firsthand nature of this work is especially important for students who might not otherwise see themselves in a laboratory.
"Studies have shown that underrepresented students and those from under-resourced backgrounds do much better if given opportunities to do this hands-on learning. They find community in the lab and feel a sense of belonging, and that helps them persist as well," Bertagnolli says.
Based in Vancouver, Wash., the M. J. Murdock Charitable Trust has been supporting the growth of Pacific Northwest nonprofits and communities since 1975. GU received its first gift from the Trust in 1987 (for business studies) and the science partnership began in 1990, under Biology Chair and Professor Robert Prusch. Gonzaga submitted one of the first proposals to Murdock's new College Science Research Program and earned funding.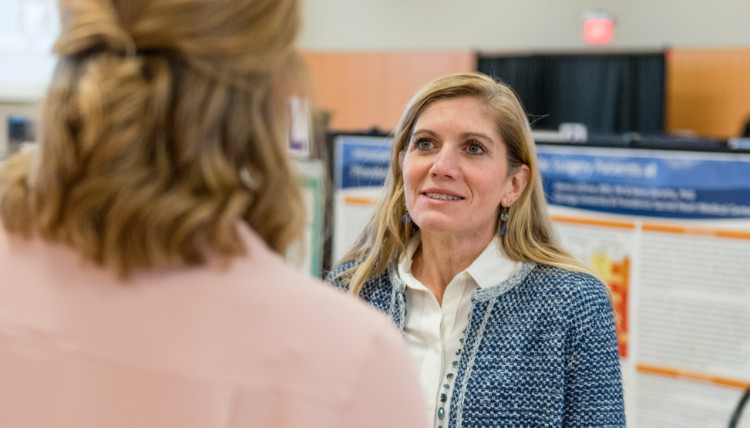 Mia Bertagnolli, Ph.D., Professor of Biology, has served as a scientific consultant and partner for many health care institutions.
The ongoing support of science research has fed a burgeoning program that elevates Gonzaga's profile on a national level and increases the opportunities available to students, which is crucial for success, Bertagnolli says.
"When you think about what students need in order to develop not only their skills, but also their passion to pursue a particular career, there's nothing like being in a research lab to get a sense of what the job entails."
Gonzaga has received 49 grants for a total of $6.6 million from the Murdock Trust, and faculty members supported by those funds have secured more than $4.5 million of additional research funds, which has allowed them to make significant contributions to the field of science. This kind of external funding, Bertagnolli says, helps GU "improve our infrastructure and stay competitive in recruiting faculty and students."
Bolder and Better
Today, the sciences are thriving with 47 full-time faculty members overseeing as many as 70 students actively engaged in research at any given time.
Support from the Trust has revolutionized the study of science at GU, leading to the creation of the Gonzaga Science Research Program, allowing for renovations of Hughes Hall to expand research space, and supporting the professional development of science teachers on and off campus. Murdock funding also has played a role in other Gonzaga strategies, such as developing the Health Partnership with the University of Washington School of Medicine. Gonzaga President Thayne McCulloh says: "I am so appreciative of the relationship we have had with the Murdock Charitable Trust over the past 30 years. To have a partner such as this allows an institution to be bolder and better in what they do. The Trust's support has ensured that Gonzaga faculty and students have contemporary opportunities to advance the sciences through research and learning. This helps set the Gonzaga experience apart."
Students would agree, Bertagnolli says. "In order to understand science, you have to start doing it. There's a lot of failure in this process, there's a lot of dead ends and mistakes, and the students learn a lot, and their confidence grows and grows. It's unmatched in terms of what they would get sitting in a classroom, listening to a lecture." Murdock support has not only helped Gonzaga faculty become leaders in the sciences, but it has also expanded the footprint of science facilities on campus.
Opening spring 2022 is the John and Joan Bollier Family Center for Integrated Science and Engineering, increasing the physical space available for scientific work.
Explore the Sciences at Gonzaga
Academics
College of Arts & Sciences
School of Engineering & Applied Sciences
Academic Vice President
Biochemistry
Biology
Civil Engineering
Gonzaga Magazine