Joy on the Margins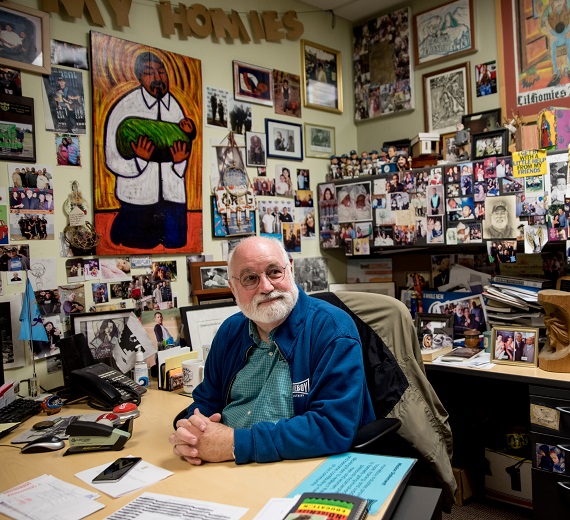 ---
By Jeff Bunch ('92)
Father Greg Boyle has a long history of standing by those in the margins – sometimes even as bullets were flying past him in the neighborhoods of East Los Angeles.
Fr. Boyle ('77) is a Jesuit who founded Homeboy Industries 30 years ago near his childhood home. The innovative nonprofit provides wrap-around services for former gang members and ex-felons with an 18-month program that has provided life skills, jobs and hope to thousands.
Fr. Boyle started it all as parish priest at Dolores Mission Catholic Church, boldly commandeering resources and raising funds by asking forgiveness, not permission, which often put him at odds with leaders of the church and the Jesuits. Yet he persisted with unapologetic aplomb.
Tired of seeing residents kill each other in gang violence and presiding over their funerals, he rode his bike through the streets late at night, waging peace and brokering truces, sometimes stepping between gunfights. When someone was shot and rushed to the hospital, Fr. Boyle was at their side. To attack the underlying social issues, he tried to keep the "homies" on the payroll and off the streets.
"Everything was sort of an evolution where we would grow into where we are today. However, not once did I say, 'Here's what I envision.' Everything just kind of felt like an outgrowth of where we were," explains Fr. Boyle, whom the "homies" call "Father G" or "G-Dog." "As long as you listen to folks, they'll tell you exactly what they need. I think in 30 years we've allowed ourselves to be reached by this population and have received their suggestions. Everything is building on that."
Countless men and women speak about how Fr. Boyle has personally changed their trajectories and saved their lives through his boundless compassion.
The Homeboy Industries of today is a mature entity, emulated worldwide. It provides services such as tattoo removal, vocational counseling and in-house jobs. Homeboy's viability now seems secure and not a week seems to go by without Fr. Boyle's leadership being honored with a prominent award.
He dismisses the accolades, saying this is work he's been called to do by God and his Jesuit provincial leaders. While that may be true, the personal legend of the iconic priest continues to grow every day.
Seeking Kinship
Fr. Boyle's story will be indelibly tied to Gonzaga. He came to Spokane in the 1970s, like many of his fellow Jesuit-in-training colleagues of the era, to study philosophy. He's been a proud Zag since then and the feeling is mutual.
"Those were two of my happiest years, going to Spokane. I loved the people. I loved the Jesuits I lived with. I loved everything about it," said Fr. Boyle. "I love Gonzaga."
Fr. Boyle has come back to GU several times and was the University's 2015 commencement speaker, when he was presented with the prestigious DeSmet Medal. On that day, he said about his ministry:
"It's the privilege of my life to have worked at Homeboy Industries and, for 30 years, to have accompanied men and women, thousands upon thousands of gang members. The day won't ever come when I have more courage or I am more noble or I am closer to God than these folks."
Fr. Boyle often shares a story from his 2011 visit to Gonzaga as go-to material while traveling around the country in his endless work to promote Homeboy. He brought two "homies" with him on that particular trip. It was the first time either of them had left L.A. or had flown. The kindness displayed to them by the GU community, which gave the men a standing ovation after an on-campus event, brings Fr. Boyle to tears.
Gonzaga remains directly connected to Fr. Boyle and his work in a variety of ways, through student immersions and the first L.A. alumni "trek," which made a stop at Homeboy last June.
"I think what they're building there is a microcosm of what they want for the homeboys who come out. I love watching the way Father Greg touches people. It's a place that has grace and deep love as part of its central core."
Josh Armstrong, director of GU's Comprehensive Leadership Program, has taken students to Homeboy for immersion experiences annually for the last decade. He amplified the studies last spring with a for-credit class in the heart of the neighborhood where Fr. Boyle has focused decades of work.
Armstrong believes the dynamic leadership style of Fr. Boyle and his work at Homeboy are worthy of study.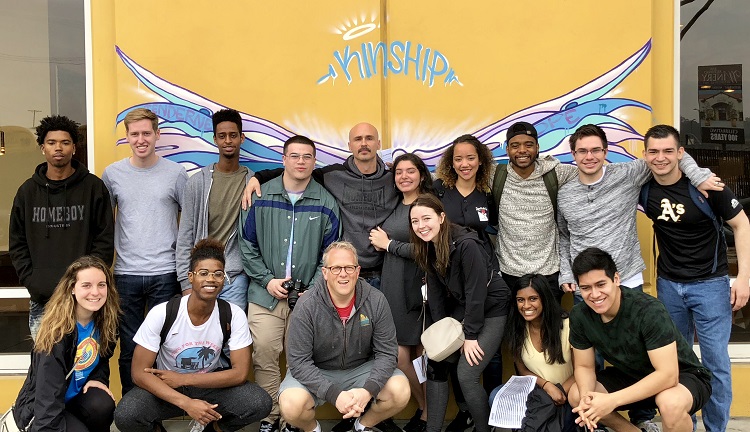 Armstrong and Larry Spears co-authored an academic piece in the International Journal on Servant Leadership that cites Fr. Boyle's kinship style as a case study for the servant-leader model. Fr. Boyle's newest book is appropriately titled, "Barking to the Choir: The Power of Radical Kinship."
Armstrong and Spears say Fr. Boyle takes service as a foundational concept of servant-leadership to a higher plane of accompaniment:
Fr. Boyle distinguishes service from kinship – service as a relationship in which 'haves' help 'have-nots' to 'kinship – not serving the other, but being one with the other.' "
Fr. Boyle says he's merely doing what Jesus would do if He were on Earth today. The goal, he says, is to "Imagine God in a circle of compassion; then you imagine no one standing outside that circle."
His admittedly idealistic vision of completely erasing the lines that create margins is influencing groups of Gonzaga students who make the trek to Los Angeles.
Armstrong's students stayed in the Dolores Mission School, side-by-side with neighborhood residents. The students documented the stories of the neighbors as part of their studies and Armstrong saw how his students were deeply impacted. The group also spent time at Homeboy, seeing its success up close and studying it as an evolving organization.
Secret Sauce
Homeboy, a nonprofit, has its first chief executive officer and is retooling for the future. Its leaders openly share its "secret sauce" with organizations around the world that want to emulate it. Fr. Boyle spends most of his time on the road, raising money to keep Homeboy thriving. He says the place runs seamlessly when he's gone, as a core of trusted program graduates oversee operations.
Still, the pace of Fr. Boyle's schedule has some people close to him worried about his long-term health, as he's battled leukemia for a decade. He told the Los Angeles Times in 2015 he was slowing down, but it's hard to see that in practice. Boyle insists it's not a concern: "It's perfectly fine to be exhausted, but if you're depleted you're doing it incorrectly. When it's about you, you can get depleted. If you can keep it about other people, then exhaustion comes, but not depletion."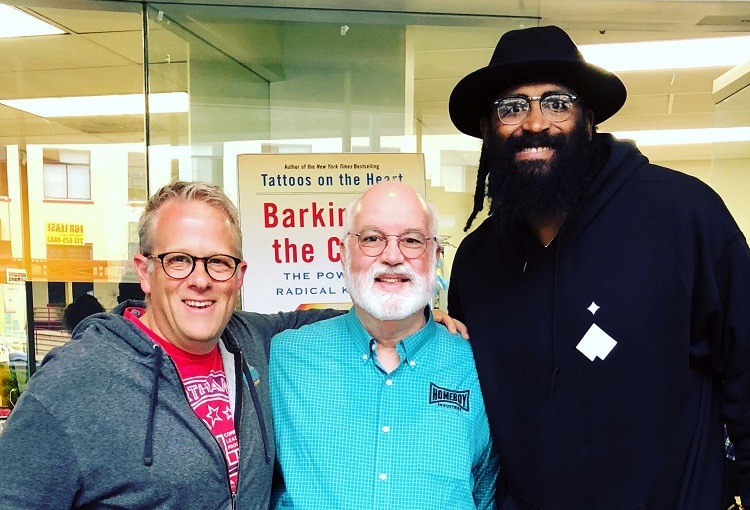 As a servant-leader, Fr. Boyle is simply living out the message he regularly delivers to students at commencements, including the one at GU:
"You brace yourselves as you stand on the margins – and then you cease to care that people will accuse you of wasting your time."
That's what Fr. Boyle has done himself. "I kind of knew where the joy was, so you walk in that general direction," he said. "Now, trying to stay where the joy is, is a challenge, (but) standing at the margins is where happiness is."