A Divine Path to Homeboy Industries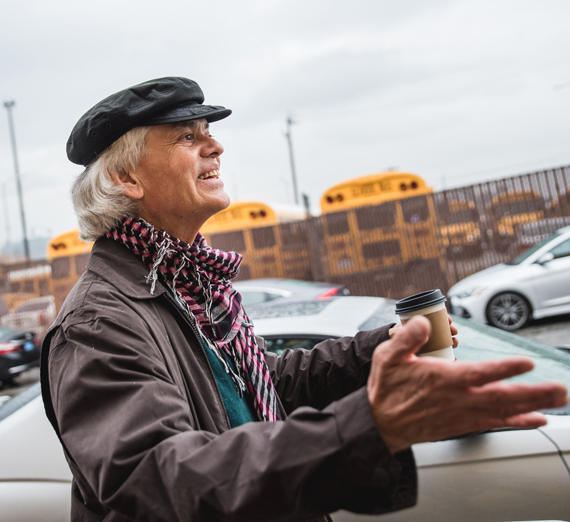 ---
By Jeff Bunch ('92)
As you walk around Homeboy Industries, a slightly built middle-aged man with grey hair seems to magically appear at times.
You might see that man, Father Mark Torres, S.J., having coffee at Homegirl Café, offering discernment to someone just released from prison. At the daily morning meeting, you might turn around and notice him behind you offering a comforting hug to a former gang member. His constant, strong, peaceful demeanor is an expression of connection and unconditional love for those who frequent the iconic Los Angeles nonprofit.
Torres has taken a nontraditional path to Homeboy, but his journey has turned out divinely. Along the way, he became connected to Gonzaga University and Homeboy founder Father Greg Boyle, S.J. Torres has been a counselor and spiritual advisor at Homeboy for more than two decades.
He was 35 when he entered the Jesuit Novitiate in 1990. Two years later, he took his vows and moved to Spokane's Saint Michaels Institute and Gonzaga to pursue a master's degree in Philosophy. But Torres already had advanced philosophy training and didn't need more education in the field. That's when God's path for Torres took a serendipitous turn.
"I was in Spokane and my new formation director was looking at my curriculum vitae and he called me. He said, 'Why are you there? I want you to think about moving on to the next stage (Regency).' He said he'd call me in a week and asked me to pray and think about it. A week later, he called and I said, 'I like philosophy. I think I'll stay,' " Torres recalls.
So, Torres remained at Gonzaga instead of leaving to teach at a high school in California. The dean of Saint Michaels recommended him as an adjunct at Gonzaga, where he taught French, Philosophy and Theology for two years.
"I just really feel a connection (to Gonzaga) and I loved my experience there: the students, the faculty, and I loved Spokane. It's such a great city," says Torres.
He moved on to Boston College to further his studies as a therapist before becoming ordained. Then, in 1999, he moved to Los Angeles to complete his certification and become a therapist at Catholic Charities. That's when God stepped in again, housing him in a Jesuit community that included Fr. Boyle.
He recalls, "In 2002, Greg said, 'Why don't you come do counseling therapy at Homeboy?" Torres agreed and took the formal steps to set up Homeboy's counseling services and has run them since. "I've kind of evolved in that time and Homeboy has grown very organically."
Homeboy offers wrap-around social services, including mental health and spiritual counseling. Torres runs many of those services at Homeboy, including yearly men's and women's retreats that he developed with Father Boyle. Torres says they're impactful for everyone involved.
"We have these amazing, generous benefactors who pay for us to go with 12 or 13 people'" he explains. "We gather every day for sharing. It's a way of really discovering the sacred within. We so easily judge people, but when you start hearing their narrative you make all kinds of connections that transcend any cultural, racial differences. We all have the same experiences, often painful experiences. So, they grow closer as a result."
Then, with fitting punctuation, he points out that most of the people who go on the retreats have never left L.A. as free people. "Usually, they leave L.A. on the prison busses," he said.
It's just one of the many moving experiences that Torres experiences daily at Homeboy. In his humble office in a single-wide mobile home next to the main building, Torres says there is no doubt in his mind this is the kind of work he and the Jesuits are called to do.