Kirk Besmer Named Arnold Distinguished Professor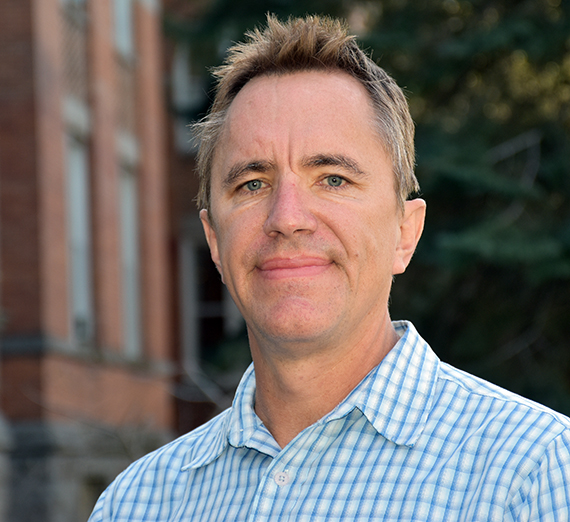 ---
Gonzaga News Service
SPOKANE, Wash. — Kirk Besmer, Ph.D., associate professor of philosophy, has been named to a three-year term as Gonzaga University's Alphonse A. and Geraldine F. Arnold Distinguished Professor, effective Sept. 1. History Professor Andrew Goldman currently holds the position.
The Arnold Professor is a seasoned teacher and scholar who is recognized for his or her contribution to liberal arts education, said Patricia Terry, interim dean of Gonzaga's College of Arts and Sciences. "Kirk is enthusiastic about creating courses that inspire a wide cross-section of students, and his interest in the philosophy of technology has translated to both publication in academic journals and the development of courses," Terry noted.
Theme: 'Technology and the Human Condition'
Besmer, who earned his doctorate at the University of Notre Dame, said studying the liberal arts and humanities is valuable for developing both the self and one's understanding of the world today. The theme Besmer has selected for the annual Arnold Lectures for the next three years is "Technology and the Human Condition." Each of the talks will explore how liberal arts-based perspectives help us better understand the impact of technology on society.
Besmer said his research and teaching in the philosophy of technology has taught him one crucial lesson: "Understanding our technologically saturated world requires a multidisciplinary approach," he noted. "Academic study of technology from a humanities-based perspective cannot be limited to a single disciplinary perspective, for no single disciplinary perspective can adequately address the full impact of technology on society."
For example, he said the coming wave of automation will bring profound human costs — both qualitative and quantitative.
"These costs cannot be fully tallied with economic or political approaches. The humanities are needed for a full account," Besmer said, noting how automation is altering other fundamentally human activities, even artistic creativity.
"Computer-generated art and music compositions are taken for granted these days, and we are witnessing the emergence of fully automated art and music," he said, noting how these developments raise important questions about human creativity when the human is "cut out of the loop" of artistic productions.
Besmer plans to bring a multidisciplinary approach to the selection of speakers for the annual lecture. The goal of each Arnold Lecture will be "to show how some perspective from within the liberal arts and humanities aids us in developing a fuller understanding of our current technological situation," he added.
Besmer, whose promotion to full professor is effective Sept. 1, has been a popular teacher since he began at Gonzaga in 2003. In addition to the philosophy of technology, his other interests include phenomenology and existentialism. His most recent publication is: "What Robotic Re-embodiment Reveals About Virtual Re-embodiment: A Note on the Extension Thesis" in Postphenomenological Investigations: Essays on Human-Technology Relations (55-71). Lexington Books 2015.
In addition, Besmer has brought many speakers to campus, serves on the advisory board for the Washington Consortium of the Liberal Arts, and leads the efforts for Gonzaga to establish a Phi Beta Kappa chapter. The appointment follows the recommendation of the College of Arts and Sciences Awards Committee.
The Arnold Professorship and the Arnold Lecture were established through a trust from the late Alphonse A. and Geraldine F. Arnold, who were married for six decades and were business partners as well. The Arnolds will long be remembered for their exceptional gift to Gonzaga of gold valued at $2 million. At the time, it was the largest single gift ever to the University. Their major gift established the Trinity Trust, an endowment that also supports scholarships for students, and many other Gonzaga endeavors.
For more information, please contact Professor Kirk Besmer at (509) 313-6746 or via email.