Briana Ortega and Ethan Vodde Win 2018 Linden Cup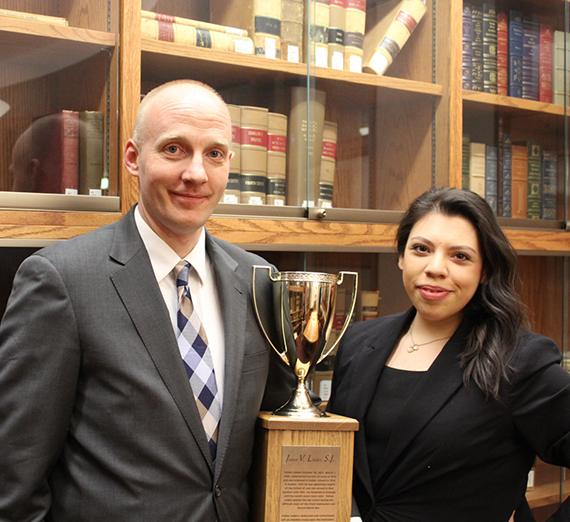 ---
On Saturday April 14, 2018, the Gonzaga Law community met for the 83rd time to celebrate the Linden Cup Appellate Advocacy Competition. This year, Justice Steven C. González and Justice Susan Owens of the Washington State Supreme Court and Justice G. Richard Bevan of the Idaho Supreme Court presided over the competition's final round.
After hard-fought preliminary rounds, the final two teams were 2L Kelli Cummings and 2L Norann Beidas who argued on behalf of the respondents and 2L Ethan Vodde and 2L Briana Ortega who represented the petitioners. The two teams faced a hot bench and fielded the justices' questions with grace, nuance, and clarity. But when the dust settled, Ethan Vodde and Briana Ortega had won.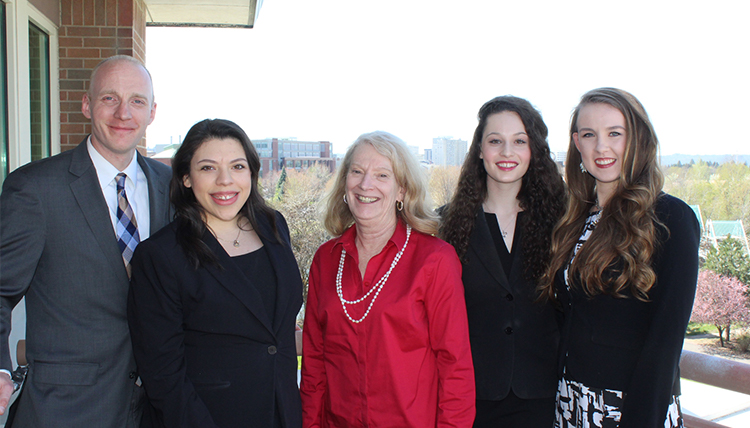 From Left: Ethan Vodde, Briana Ortega, Dean Korn, Norann Beidas, Kelli Cummings

About Linden Cup
Father James Linden, S.J., founded the Linden Cup, and Heidelberg Night which held the evening of the Cup's final round, and the Cup marks the conclusion of the moot court season at Gonzaga. The Linden Cup is a student-run intra-school moot court competition open to 2Ls and 3Ls that requires students to join into teams of two and research and prepare an oral argument to be presented before a mock Supreme Court panel.
In the competition's early rounds, faculty and local attorneys serve as the judicial panel. As the competition progresses, local judges officiate in the quarter and semifinals. In the final round, Supreme Court justices from Washington, Idaho, and Montana have sat on the panel. The Linden Cup is a Gonzaga Law institution and many of the volunteer judges competed in Linden Cup when they were Gonzaga law students.