Justice Steven González Spends Week with Gonzaga Law Community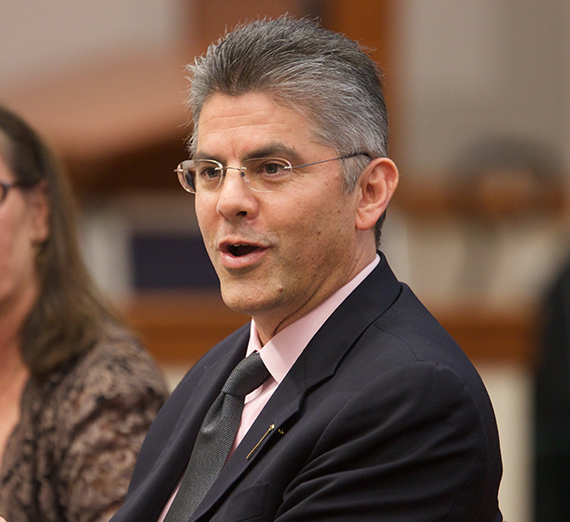 ---
The Center for Civil and Human Rights brought the Honorable Justice Steven C. González of the Washington State Supreme Court to the law school to teach a one-credit, one-week course on Washington State Constitutional Law. While he was here, Justice Gonzalez whole-heartedly became part of the Gonzaga community, teaching and mentoring students.

On Saturday, April 14, he participated as one of the judges in the final round of the Linden Cup Appellate Advocacy Competition, where finalists presented oral arguments to Justice González, as well as the Honorable Justice Susan Owens of the Washington State Supreme Court and the Honorable Justice G. Richard Bevan of the Idaho Supreme Court. The finalists consisted of two teams, Kelli Cummings with Norann Beidas, and Briana Ortega with Ethan Vodde. Ms. Ortega and Mr. Vodde were the victorious team.

On Monday, April 16, Justice González held a seminar open to all Gonzaga students interested in learning about social justice lawyering and other diversity leadership careers. He spoke candidly about challenges in his journey to the Washington State Supreme Court, as well as his role there now and the work that is yet to be done to accomplish true equal treatment of all people. Students received concrete suggestions to their questions about their role in achieving social justice. After the seminar, Justice González attended a networking reception sponsored by various minority business associations in Spokane. Students were able to speak one-on-one with González, as well as with many local business leaders who attended.

On Thursday, April 19, Justice González wrapped up his week-long stay at Gonzaga Law School with an appearance at a panel discussion on "Access to Justice as an Ethics Issue" at the Clarke Prize in Legal Ethics CLE. The panel addressed ethical questions regarding non-lawyer ownership of law practices, pro bono activities, community lawyering, and diversified legal services. Following the panel discussion, the winners of the Clarke Prize student writing competition were announced, with Angela O'Meara in first place, Carrie Lofts in second place, and Anthony Bandiero in third place.
Justice González says: "My week at Gonzaga made me question my career choice not to become a professor. The students were bright, prepared and fully engaged in the material." In the Washington State Constitutional Law class, the students "gained insights and struggled with judicial philosophy and statutory construction questions judges encounter regularly" and as an exercise, the class "attempted new state constitutional conventions in which the students grappled with deciding what rights to include, how to select judges and how to pay for government."

Justice González has now returned to his work at the Washington State Supreme Court refreshed and enthusiastic about the law. He looks forward to working with Gonzaga graduates at the court and to returning to the law school soon.

González speaking at the Clarke Prize in Legal Ethics CLE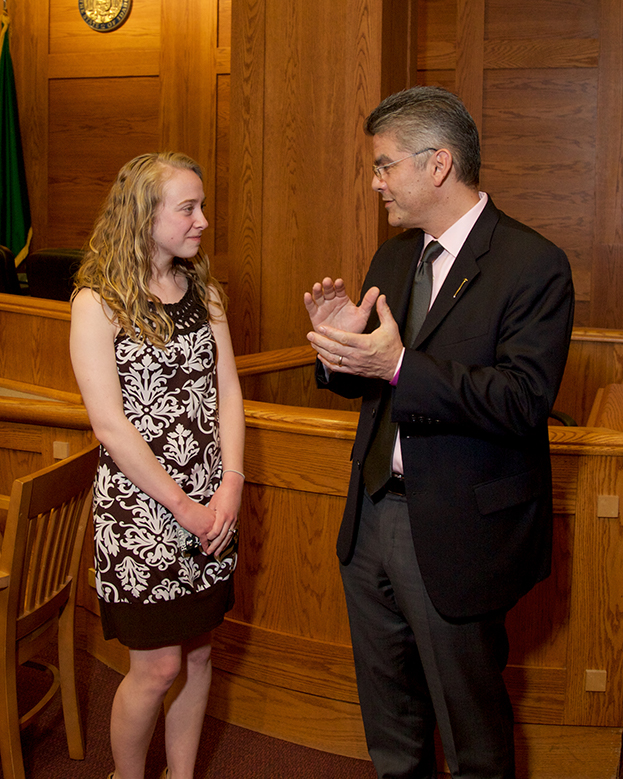 González meeting with Clarke Prize student writing competition first place winner, Angela O'Meara
Students share their experiences with Justice González:
"Justice González is a natural educator. He set a ground rule at the beginning of class: we were allowed to change our minds. And we did, often. I won't label Justice González's style as strictly Socratic, but his method was just as probing, teasing out our curiosities and implicit misunderstandings of the law. I hope he comes back to teach another course; I'd sign up faster than a western state incorporating an individual liberty." - Ethan Vodde, Law Student
"Hearing Justice González speak about the intersection between justice and history was a reminder of what public service is all about. Rather than shying away from America's history of racial discrimination, Justice González put in to context the reverberations of the past that continue to affect our legal system and society as a whole. However, he made sure to balance history with a sense of optimism that everyone can make a difference through education and action. The seminar Justice González gave was invigorating to the ones already fighting for social justice and my hope is that his words served as a gentle nudge for the ones who were newly educated by him. It was a wonderful experience and one that I will certainly always remember." – Francis dela Cruz, Law Student
"Justice González is an educational, engaging, humorous and down-to-earth speaker. I really enjoyed listening to his stories and getting a better understanding of our Justice system. Through the way he spoke about his experiences and passions, it was clear that he is passionate, driven and will continue to make positive change for Washington State (and beyond)." – Emily Crew, GU Junior, Psychology