Jesuit roots guided business leader, community servant Don Herak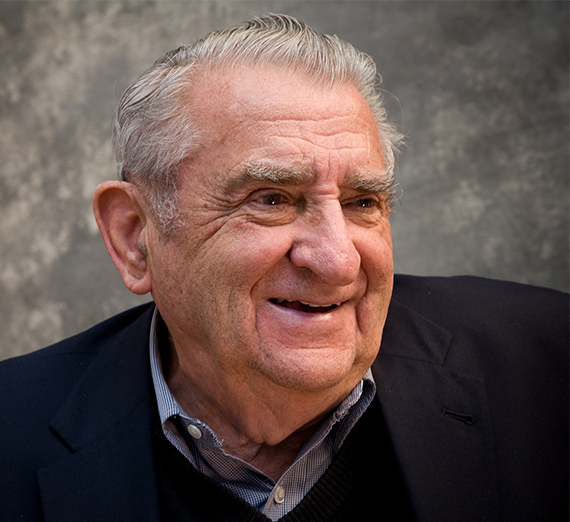 ---
By Dale Goodwin
He was a man of few words, but when he spoke, everyone listened. And he got things done.
"Anything Don Herak did, he did with great passion," says longtime friend and fellow Gonzaga Trustee Emeritus Thomas Tilford ('67). "And anything he said, he said with passion. Don was not one for lengthy debate or discussion. When he had something to say he wanted everyone to hear, he was not going to stop until he finished. He was never angry or argumentative. But he was always passionate."
Catholic Charities of Spokane Executive Director Rob McCann ('95 MOL, '06 Ph.D.) says Herak appreciated action. "It drove him crazy to create more committees and structure. He wanted to get things done, and not have analysis paralysis. That's why he loved Gonzaga and Catholic Charities. He saw us as getting things done."
Herak ('46) was a staunch Gonzaga basketball fan, and his persistence played a major role behind the construction of the McCarthey Athletic Center, where the Zags play, says Gonzaga President Thayne McCulloh.
Even so, McCann says, "I never heard Don talk about basketball. When we talked about Gonzaga, he wanted to talk about academic programs, professors, scholarships, new buildings to stay ahead of the curve, theater, music groups and student projects. We talked about what other Jesuit schools were doing versus what Gonzaga was doing. He was all about education of the whole person."
Certainly the Jesuit mantra, cura personalis, care for the whole person, was Herak's guiding light, first developed on the family farm and its Jesuit surroundings near St. Ignatius, Montana. Engrained in him by his father and the Jesuits, he was always about giving back. He had a special place in his heart for the poor and homeless, Catholic education, the arts and Gonzaga University, among others.
"Don called me down to his place one Saturday afternoon, and wanted to talk about a veteran he saw on a street corner with a sign. He asked me what we could do. I don't think I ever left his place without a check in my hand," McCann says.
Herak died March 9. He was 94. He served 1972-76 on Gonzaga's Board of Regents, and since 1983 on its Board of Trustees, earning emeritus distinction in 2011.
He had established himself as a man with tremendous business savvy, great character and an engineer's eye for potential. After receiving his engineering degree from Gonzaga in 1946 and working for the U.S. Bureau of Reclamation in Montana for five years, he and wife Carol moved to Spokane and in 1956 began a long career with Acme Concrete and Building Materials. He became president in 1960, and soon thereafter purchased the company.
"He was proud to have been a part of building the public infrastructure of our part of the world, constructing roads, bridges and dams," McCulloh says. But throughout his business endeavors, he was always giving back. In fact, he and late wife Carol had given time, insights and resource to many aspects of Gonzaga's educational enterprise every year since 1957. The Heraks supported more than 75 individual initiatives at Gonzaga including engineering equipment and faculty development endowments, building funds for Engineering, Law, the School of Business Administration, Foley Library, basketball and baseball, several endowed chairs and scholarships, The Great Teachers Fund and funds for art, music and many student-led projects, to name just a few. Herak was a steadfast supporter of Gonzaga athletics for more than 40 years.
Margot Stanfield, retired vice president for University Relations, recalls the early years when she was trying to finish fundraising for the School of Engineering. "Don came into my office and said, 'Margot, we've asked everyone I can possibly think of to support this building project and we just need to finish it off. So Carol and I have decided to do that with a gift of $1 million. It was only the first of many projects we worked on together. I loved him like a father."
But Gonzaga wasn't his only passion. He ardently supported Catholic education in Spokane and Arizona, where he owned a winter home. He cared deeply about the homeless, and believed Catholic education was the surest way to counter intergenerational poverty, says McCann.
Herak established the Nazareth Guild in Spokane to raise money to support the Catholic elementary and high schools in the area.
"Here's the deal," Herak told McCann. "I'm tired of helping our Catholic schools, one at a time. I want to create one group to help all Catholic schools. Because kids who we educate in Catholic schools are more likely to go to college, and are less likely to end up in poverty," Herak said.
Tilford recalls Herak "pouring a thousand free yards of concrete for outdoor playgrounds and basketball courts for Catholic schools throughout our area. He once joined forces with Central Pre Mix and poured the concrete for Gonzaga University's former tennis courts, west of Martin Centre. But he never talked about it. This is just one of many things he did for our community without recognition," Tilford says.
Stanfield remembers Don's great regard for the underdog and disadvantaged. He spent much of his energy recruiting students to Gonzaga from Hispanic quarters in Arizona. "He found them to be wonderful kids who simply lacked resources for a better education, and he wanted to help them achieve," Stanfield says.
Herak had other causes, too, Stanfield recalls. "He was adamant in helping (former GU President) Father Bernard Coughlin in his quest to build the Law School, when many others opposed it. And he was absolutely resolute that we raise the money for bonuses for our (basketball) coaches when our budget could never have supported it."
Herak also was supportive of the Spokane arts community, and the Spokane Symphony, in particular.
Herak was not all business and no play. He was part of what became known as the Train Gang, a group that enjoyed traveling to Gonzaga and other events on the West Coast by train. The group included Fr. Coughlin, Tilford, longtime Law Professor Gary Randall, Jim Workland ('64 J.D.) and Ed Ralph ('48). When Coughlin retired as president, Herak and others took him on a 54-day world adventure. However, Coughlin became ill while in the Bahamas, and Herak and his crew got Coughlin back to Florida where another GU alumni performed open heart surgery on Coughlin and helped restore him to good health.
In the end, Don Herak was a gentleman. "He was incredibly generous and loyal to his friends and acquaintances," Tilford says. "He would always remember a name and he always greeted people with genuine enthusiasm, and a very real interest in who they were and what they were doing . . . not noisy; just interested."
Gonzaga bestowed upon Herak its Distinguished Alumni Merit Award in 1982, an Honorary Doctor of Laws Degree in 2004 and in 2010 he and Carol received Gonzaga's Ignatian Spirit Award for their service and devotion to Gonzaga and its mission.
"He was the living embodiment of a man truly influenced by his Jesuit roots, empowered by his steadfast faith in God, and always appreciative of his many blessings," President McCulloh says.
In other words, he was a true Zag.