From Firefighter To Travis County's First Female Attorney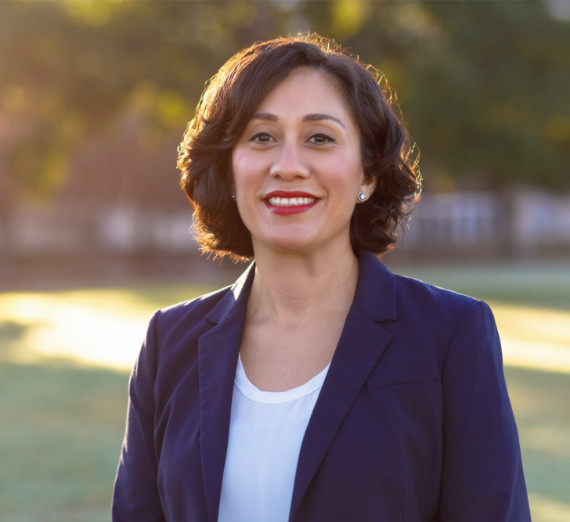 ---
Delia Garza ('10)
There are a lot of stereotypes about Texans. They only think about football. They ride horses everywhere. Everyone wears a cowboy hat. As children, all Texans aspire to sell propane and propane accessories. All Texans are the same.
But Delia Garza ('10) pokes more than a few holes in these cliches and shines a light on the diversity of Texans and the changes occurring in Texas' government and justice system.
Garza is a Texas native whose father retired from the San Antonio Fire Department after 36 years. He was active in his labor union and brought Garza along "to work on political campaigns for candidates who would advocate for better pay and more safety protections for firefighters." Garza admires her father's work as a firefighter and union man and knew that she wanted to continue that tradition of service. So she became a firefighter in Austin, Texas, in 2001 after earning her bachelor's degree in journalism from Texas A&M University.
A member of Austin Firefighters Association, Local 975, Garza also worked for her union to advocate for fair wages and safer working conditions for her fellow firefighters. She was the first woman to be appointed to chair the Local's political action committee. But by 2007, she wanted to expand the reach of her advocacy for working families. She knew "a law degree would make me a better and stronger advocate."
Embracing the Unknown
She had no ties to Washington state. She had never been to the Pacific Northwest. But Gonzaga Law was trying to fulfill its Jesuit vision by increasing the diversity of its student body. Garza received a letter from the Law School asking her to apply. In trying to decide whether to attend Gonzaga or start at a law school in Texas, she followed the advice of one of her mentors: "Go away. You have the rest of your life to live in Texas, go experience living in another part of the country."
The hardest part at Gonzaga Law? It wasn't that she was a 30-something student. It wasn't the classes. Nor was it the stress. "Sure, the workload and testing time was stressful, but walking into a burning building was pretty stressful too, so I knew while some law school situations were hard, I could get through them," Garza says.
It was winter. "Oh, my goodness, how do people get used to that gray sky for so long?!" she asks.
As for the Gonzaga Law student body, Garza found that even though there were few other Latino/a students in her class, she did have shared experiences with her fellow students. She says she "loved going to a law school where many of the students were like me, first-generation law students coming from working families." It was competitive, but Garza found a talented group of people with similar backgrounds to hers who cared about doing well but understood the importance of balancing a social life, too.
A Servant Leader Without Reservation
After graduation in 2010, Garza returned to Texas and served as an assistant attorney general in the Child Support Division of the Office of the Attorney General. She was also a member of a grassroots coalition that aimed to reform the way candidates were elected to the Austin City Council to ensure better representation. Because of redistricting and term limits, there was no incumbent in one of Austin's council districts in 2014. Garza ran and won. She was the first Latina to serve on the City Council.
She was re-elected in 2016 with more than 65 percent of the vote. As a council member, Garza held a range of committee assignments that underscore her commitment to community well-being and fair play. She chaired the Council's Public Utilities and Regional Affordability Committees and sat as vice-chair of the Open Space, Environment & Sustainability Committee. Garza led the effort to standardize findings of indigency in Austin's municipal court, which has resulted in fewer people being incarcerated for not being able to pay fines. She also fought to devote a larger share of Austin's budget to social services and has led the fight for criminal justice reform.
In January 2019, her colleagues selected her as Austin's mayor pro tem. In November 2020, Garza was elected Travis County attorney, both positions the first for a Latina. She ran on a platform of criminal justice reform, weapon forfeiture in domestic violence cases, and empowerment of county officials to push back against state overreach. "I will decline to prosecute quality of life offenses here," she said during her campaign. "These lead to over-criminalization of poor and largely Black and Brown communities, and there is no public safety benefit."
She is a servant leader without reservation, and fervently campaigns for equity for all. "She encourages Latinas to reach for the stars. "I have and do sometimes experience impostor syndrome, and I just move past it by reminding myself that I worked hard and have earned my position, that my voice matters, and that women of color should have a seat at every table."
Garza looks forward "to the day that younger Latinas don't have that impostor syndrome experience, and that can only happen by them seeing people that look like them in positions of power." As for her plans for Travis County, Garza doesn't hold back.
"Having represented a lower-income minority district while on the Austin City Council, I saw daily how racial bias and oppression has affected our communities of color, and we must include a lens of equity in all the work that we do as public servants if we are to fully represent all communities and properly advocate for them."
Meanwhile, Garza is savoring her life with her family. "As a new mom in my first year on the City Council, I was forced to slow down and concentrate on family, and then I just kept that priority on my family in the following years of public life," she says. "I always say, public service is like a family business: The only way I can be successful in my advocacy for my community and still be a good mom and wife is by having a great support system".