Engineering Alum Gives Back In Construction Lecture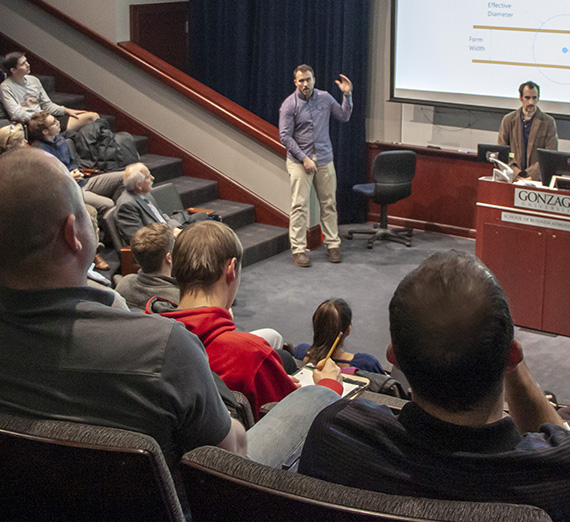 ---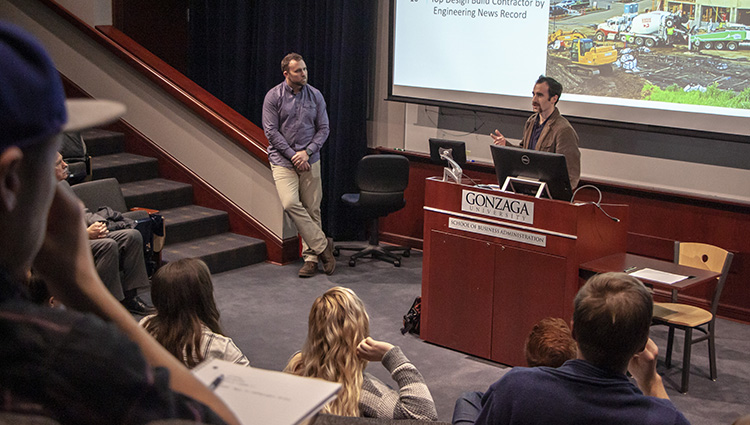 Zachary Brehm explains to Gonzaga engineering students some of what he does as a Swinerton project manager as colleague and GU alum John Ciepiela ('10) listens.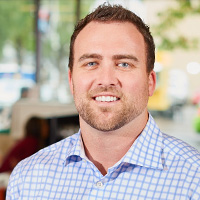 When imagining how to build a project, efforts can be clouded by the struggle to understand the science behind the design. Project administration can be as intensively technical as the design process itself. To show students real-world examples of construction project management, the Renouard Lecture series invited alum John Ciepiela ('10) to present on Nov. 29, 2018. Ciepiela is a project manager at Swinerton's Portland division.
Students and seasoned professionals mingled in the Jepson Center's Wolff Auditorium to see some of the latest building projects using cross-laminated timber, a sustainable material gaining popularity especially in the Pacific Northwest. Ciepiela and fellow project manager Zachary Brehm discussed how these alternating layers of wood are, combined with other building techniques, great environmental and economic choices for buildings from offices to parking garages.
Originally from Albuquerque, NM, Ciepiela received his degree in civil engineering and completed a finance MBA at Gonzaga in 2011. He hired on with Kiewit Infrastructure West working as a field engineer and later a superintendent. Since 2015, Ciepiela has helped Swinerton deliver projects such as the Ilani Casino, The First Tech Credit Union Corporate Office and later a parking structure on the FTCU corporate campus. He is currently the project manager on the new Washington County Event Center in Hillsboro, OR.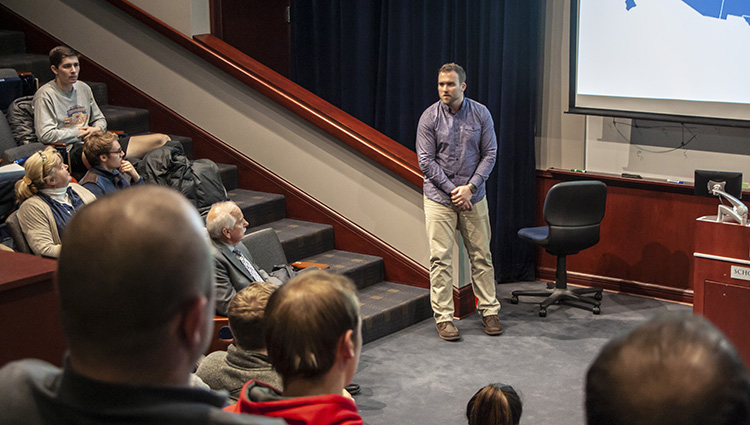 Civil Engineering alum John Ciepiela ('10) discusses some of his work with Swinerton Builders at a Renouard Lecture on Construction Innovations Nov. 29, 2018.

Ciepiela, a GU 2010 graduate, trades Gonzaga memories with engineering students during lunch and Dr. Joshua Schultz, a civil engineering assistant professor researching cross-laminated timber.
The Renouard Distinguished Lecture Series is made possible by a gift from Ed and Bunny Renouard, challenging students faculty and staff to consider the broad contributions made by engineers and computer scientists to society.
SEAS HOME PAGE
//
RENOUARD LECTURES
//
JOHN CIEPIELA