Renouard Speaker Seeks Success From Failures
---
Peter Veloo, Ph.D. loves 'impossible problems.' This, he told Gonzaga's engineering community on Oct. 25, is why he works with a company formerly named "Failure Analysis Associates."
Now called "Exponent," the specific department that Veloo works for specializes in pipelines carrying fossil fuels. Using state-of-the-art technology to identify defects, material properties, operating pressure data, and fracture and fatigue models, he and other engineers establish safe operating capacities of pipeline systems.
"It's an amazing feeling to go from a large issue that seems completely impossible to a series of pieces that each have individual solutions. Success is creating the process – people before hadn't thought about combining solutions in a specific way. That's what keeps me passionate about the challenges."
A mechanical and electrical engineer living and working in California's Bay Area, Veloo visited the School of Engineering and Applied Science for the first Renouard Lecture of the academic year, a series made possible by a gift from Mr. & Mrs. Edward Renouard.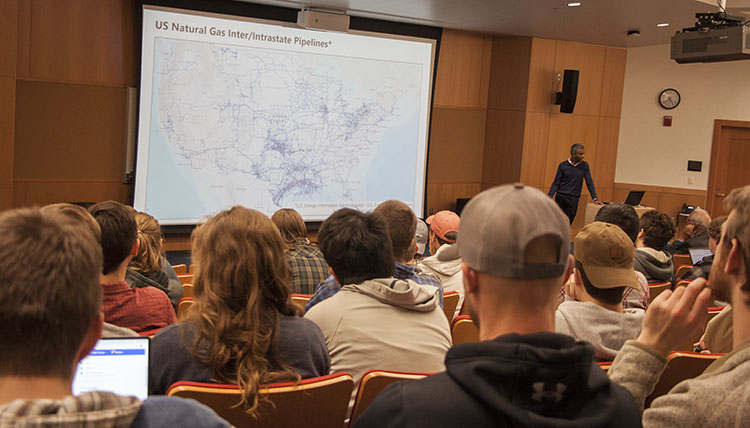 Students view a map showing the natural gas pipeline network in the United States.
Veloo took his listeners on a virtual tour of a petroleum product pipeline. While most pipelines built since the 1970s are made with highly-controlled manufacturing and construction practices, more than half of the North American infrastructure was built without those modern improvements. Engineers such as Veloo must use a variety of processes to inspect the integrity of each inch of pipe – hundreds of thousands of miles across North America, generally buried up to 3 feet underground.
Students and faculty alike were fascinated by his descriptions of "pigs," the tool that flows with the product inside pipelines and can inspect inner and outer pipe walls of petroleum and gas pipes. Ultrasonic probes can work inside liquid-carrying pipelines, using sonar techniques to locate imperfections or corrosion. Natural gas needs electromagnetic probes, vibrating the pipe so sensors can detect the same types of cracking or decomposition.
"It's not glamorous, but it's fun technology," Veloo told the audience. "We do fun things with data science, drones and inspection technologies that aren't intrusive. There's an appreciation for complexity in this industry."
"It's definitely more complex than I thought," said Patrick Jauregui, a mechanical engineering senior who takes one of Dr. Baumgardner's classes. "I was surprised how interesting the talk was. He explained it really well."
Even with new pipelines being built, Veloo says the existing older infrastructure will still be active for decades to come. The field of identifying specific pipeline risks is expanding, he says, and that presents opportunities for today's engineering students.
"There is no risk-free movement of energy. We are instead asking ourselves what is the acceptable risk," Valoo told the students. "Do we scale back [on fossil fuel use]? Until we do, we still need to move it from its source to the place where it will be consumed."
At a lunch earlier in the day with mechanical engineering students, Veloo acknowledged the connection between fossil fuels and climate change. The fact is, society still depends on those fuels for everything from food production to transport and will still be around in the forseeable future. "Until we change, we can do something to improve the way it's transported," he said.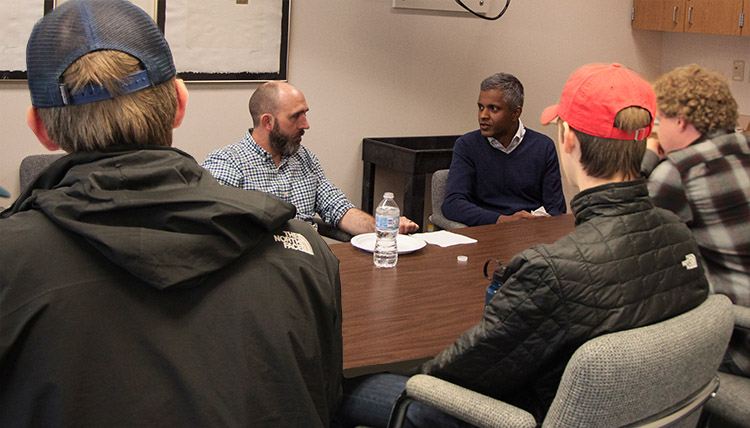 Dr. Peter Veloo and Dr. Marc Baumgardner with students meet over pizza.
SEAS HOME PAGE
//
RENOUARD LECTURES
//
DR. PETER VELOO