Honoring Dan Brajcich, Accounting Legend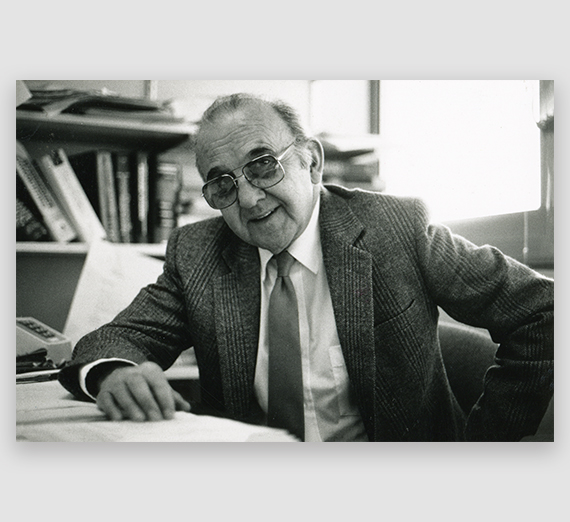 ---
By Dale Goodwin ('86)
Professor Dan Brajcich, who taught accounting at Gonzaga for 50 years, was an original. Profoundly so.
Students described him as gruff and disciplined, but underneath his imposing figure was a man with a heart of gold.
"He had a great sense of humor and was a faithful Catholic," says Becky Cates ('82).
He was a true Bulldog.
Paying Tribute to the Master
Former students and colleagues are his best ambassadors. They pay homage to their mentor on the occasion of the 100th anniversary of his birth this fall.
"He would always schedule class at 8 a.m. and come in a bit ruffled but with a twinkle in his eye," recalls Kevin Daniels ('79), alluding to the professor's passion for teaching and his students. "He really cared about who came to class no matter how late the previous night was at the Bulldog Tavern."
Or up at home all night with a new child.
One day Mike Scarpelli ('84) came to 8 a.m. class, sat in the back and fell asleep. He awoke when Brajcich slammed his book shut at the end. "I sat up and thought, 'Oh crap, had he seen me?' He was waiting for me at the door and just made a comment, 'Did you enjoy the lecture?' I was caught! He never mentioned it again. He only asked about our newborn and whether the baby was sleeping." Evidence of the professor's true care.
"I do feel lucky to have been able to have spent time with him," Scarpelli continues. "Mr. Brajcich influenced me more than any other professor that I had at GU."
He was always available to help those in need. Michael Fox ('76) says he struggled through a sophomore slump until Brajcich said to him, 'I have your back. I will not let you fail.' "All the stress I was feeling was relieved. I knew this guy cared about me.
"I had the misfortune of breaking my nose playing intramural football one weekend," Fox says. "The resulting bruising, nose splint and tape all over my face was hard to miss. Dan saw me in the hallway and said something to the effect: 'Mr. Fox, don't think for a second this gives you a pass. You will be the first person I call on. Have a seat.' He then smiled broadly and when he finally did call on me late in the class, it was a nondescript question."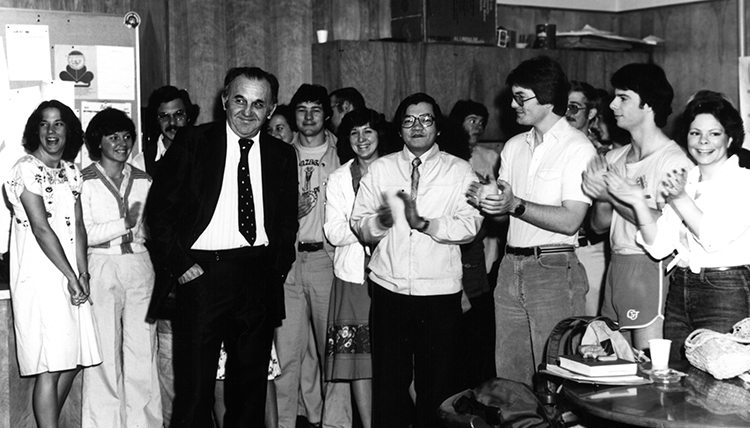 Dan Brajcich was revered by most, feared by some, but respected by all. The American business landscape is still dotted with alumni he educated and helped place in important jobs before his death in 2004.
Supporting Women Before it was the Norm
Margo O'Brien Shute ('69) recalls most vividly Brajcich's support of women in accounting.
"I was in the business school as a freshman and my accounting teacher, Bill Loeffler, told me I needed to major in accounting. My sophomore year I began taking classes from Dan. There were only a couple other women.
"Dan then mentored me. He told me to interview with the Big 8 accounting firms even though only three of them were even hiring women at that time. I was thinking of staying in Spokane and working, but he said, 'No, you need to step it up and go to Seattle and work for a Big 8 firm.' He was very insistent about this, for which I am very grateful," Shute says.
"Without his encouragement I would have never gone to work in Seattle, made manager at a Big 8 accounting firm, met my husband who was also a CPA or had our own accounting firm."
The Brajcich influence didn't stop with Shute. Because of her successes, she and her husband have funded a scholarship at GU to help women.
"Dan was way ahead of the times in encouraging women to do whatever they wanted to do," Shute says.
Keeping the connections alive
Brajcich loved staying in contact with, and helping his alumni and students connect with other alums.
"One morning, more than 15 years after I graduated, I answered the phone in my office to hear Professor Brajcich say, 'I have someone you need to talk to' (he didn't identify himself, but I easily recognized his voice)," recalls Cates. "I was working at Expeditors International and he was referring to Chuck Moore ('99). As it turned out, we hired Chuck into the Information Systems Department and he is still working at Expeditors. Chuck continues to be a key contact between Expeditors and Gonzaga."
Rise to Prominence
It was Brajcich who almost singlehandedly elevated Gonzaga's accounting program to a national level, recalls Accounting Professor Emeritus Eddy Birrer, who was a student of Brajcich and later recruited to be his colleague.
But as lofty as the program became over the years, Brajcich, always humble, liked to break theory and concepts down to their most simple forms.
Gerard Centioli ('76), for one, recalls his professor's ability to explain the complex in the simplest terms, making it understandable and unforgettable.
"Professor Brajcich explained from the first day of Intermediate Accounting that it wasn't possible to teach all the detail, so he would teach the theory and with that we could work our way through any detail. It was, like everything about him; genius in its simplicity," Centioli marvels.

"He wanted students to understand the 'how' and 'why' of accounting, not just the accounting itself," says Birrer, who also taught Dan's daughter Lori and grandchildren Ben, Tori and Andrew, who now teaches in GU's accounting program.
His ability to simplify accounting concepts was likely aided by his constant engagement in the field. And as a mentor, he easily connected Gonzaga accounting students and alumni with his vast network of professionals in the field.


Doing the Work
Brajcich was a man who worked CPA problems for fun. He had a list of excuses for students missing class, and when confronted by a sorrowful soul, he'd point to one of the excuses on his list and say, "This has been a popular excuse this week. How about that one?" Students often heard him say, "If I want a question I'll ask for one," and he often did when he had exhausted his lesson plan and class time remained. "Dan cared and he wanted each of us to care, as well," says Myrna Carroll ('96).
While Brajcich often told students, "Don't read the book, just listen to my lectures," he expected assignments from the textbook to be completed every day, but he rarely collected them.

"But you didn't want to NOT have them done on the rare occasions when he chose to collect those assignments," Cates acknowledges.

Helping students realize their potential, become contributing human beings and caring for them and their families were what truly made Brajcich stand out.

With his teaching accomplishments, Brajcich always cited his family as his greatest achievement. He and wife Dorothy raised six children, all Zags, five of whom were taught by their father. Daughter Holly Brajcich says, "Mom was his rock, and he would not have been the man that he was without her."
This author heard him say the same thing on numerous occasions.
Giving Back
Among the many heartfelt and endearing lessons Brajcich bestowed upon us was the gift of giving back. And those he inspired took note. Several members of the Board of Trustees created the Daniel G. Brajcich Endowed Scholarship fund in 1976, which today has grown to $3.1 million and has granted scholarship help to 629 students.
You may contribute at gonzaga.edu/brajcich100.