Brajcich Named Inaugural Jud Regis Chair of Accounting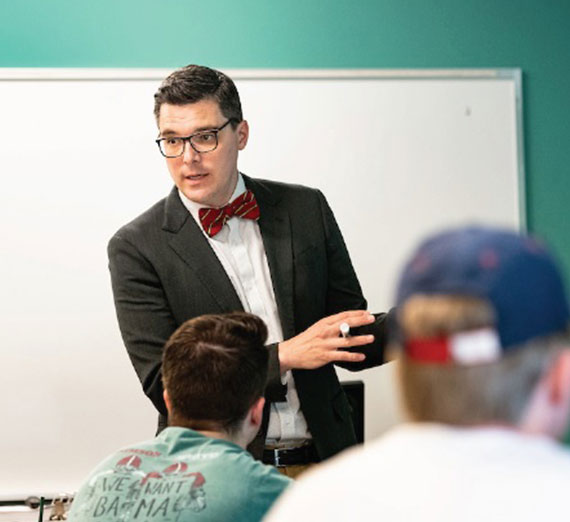 ---
SPOKANE, Wash. – The first Jud Regis Chair of Accounting at Gonzaga University will be associate professor Andrew Brajcich, currently director of graduate accounting.

Acting Dean Molly Pepper made the announcement as part of the 2022 Ignatian Gala celebrating 100 years of Gonzaga business education. The appointment is for four academic years.

As the Jud Regis Chair, Brajcich fits the profile that donors Dan and Cecelia Regis, of Bellevue, Washington, outlined when they made the $2 million gift to Gonzaga announced in October. The endowed position, named to honor Dan's father, Jud, received $1.75 million while $200,000 was designated for the accounting program itself and $50,000 for the Fund for Gonzaga in support of student scholarships.

His father was a family man in all that he undertook, Dan Regis said, and he and his wife wanted the Jud Regis Chair occupied by someone who would embody the values of faith, family and freedom in teaching, scholarly activities, advising and service to the university and the broader community.

"Andrew provided a strong vision for the chair that supports the three values," Pepper said. "He articulated a plan that meets the goals of the endowment, School of Business Administration and university. It was both big picture and heart-level work. We look forward to the positive impact this gift will make."
In his application, Brajcich presented ideas on a speaker series and a program to introduce the accounting profession to historically underrepresented groups and first-generation Americans.
"I have long believed accounting is one of the best tools for upward mobility," said Brajcich, who joined GU's faculty in 2012. "You don't need to be a rocket scientist; you just need to be willing to work hard. And once you acquire this much-needed skill set, you can plot your own career path.
"Accounting played that role in my family three generations ago and I hope to introduce the next generation to similar opportunities."
Accounting has long been a strength of Gonzaga's business school.
The program's 82.4% CPA pass rate is 10th in the nation and first on the West Coast for schools with at least 60 candidates taking the exam. The undergraduate accounting program is ranked 31st in U.S. News & World Report's 2022 business school rankings.
On the graduate school level, GU's master's of tax program has a 100% placement rate within three months, while the master's in accounting program has a 95% placement rate within three months.
Gonzaga's School of Business Administration was founded in 1921 to help stock a fledgling city with business leaders, bankers, accountants and professionals in economics, finance and trade. The first formal degree was a Bachelor of Science in Business Administration in 1930. The first master's degree came in 1961. This year, its part-time MBA program is ranked 46th by U.S. News and World Report.
Learn more about the School of Business Administration.