Zag Grads, Friends Succeed in School of Business and Beyond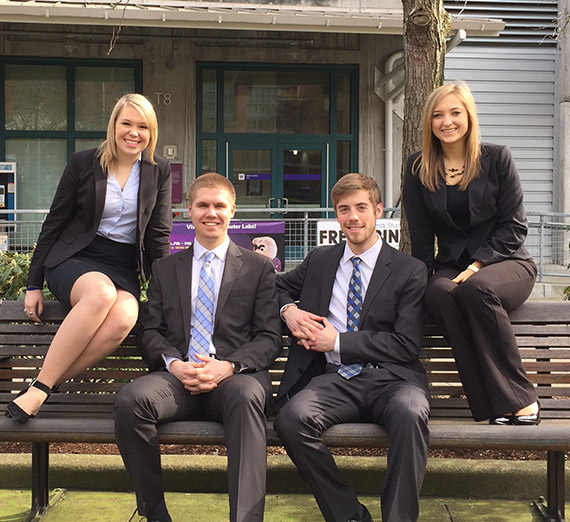 ---
By Megan Carroll
Class of 2018
SPOKANE, Wash. – Three close friends and May graduates of the Gonzaga University School of Business Administration have left legacies of leadership, tenacity and Zag pride throughout their undergraduate careers. Along the way, they also led efforts to help dozens of local entrepreneurs develop new products and businesses.
Emma Rabun, Denver, Jaclyn Zalesky, Corvallis, Oregon, and Josh Schacht, Bellingham, Washington, began working with Gonzaga's New Venture Lab – a business consulting firm launched in 2003 and led by GU students – as team members in 2014. As program managers this past year, the friends recruited more than 40 local entrepreneurs and matched them with some 200 students for nine-week business development projects – supporting the teams throughout the process.
As juniors, the students – along with classmate Conrad Nilsen ('17) from Portland, Oregon – captured first place in the Milgard Case Competition on Social Responsibility hosted by the University of Washington Tacoma. The teams were given 72 hours to develop a new cost-sharing reduction plan for PEMCO Insurance.
"The experience taught us to perform well under pressure and utilize the full capacity of a team, which laid the ground work for the three of us working so well together as NVL program managers," Rabun said. Each member of the team received a $1,000 award.
The team represented Gonzaga's Hogan Entrepreneurial Leadership Program, a three-year, cross-disciplinary honors program in the School of Business Administration. Hogan students receive a minor and discover how to harness the power of enterprise to help create a better world.
Rabun, a business administration major who earned concentrations in marketing and creative business strategy and a philosophy minor, participated in Gonzaga's Mission: Possible service trip to L'Arche Farm in Tacoma where she worked with developmentally challenged adults. Now she serves as a customer experience consultant in Los Angeles with West Monroe Partners, a full-service North American business and technology consultancy.
"The people at GU are incredible. I will never be surrounded by a group of people like this again," Rabun said, noting she would advise incoming students to "soak up every second and build as many lasting relationships as you can during your time at GU."
Zalesky, who majored in economics and finance with a Spanish minor, also participated in intramurals and Z-Core, a campus organization that aims to make every Zag's senior year rewarding and memorable. In August, she begins work as a strategy consultant with West Monroe Partners in San Francisco.
"The road trip to Phoenix with my roommates for the Final Four this year was my favorite Gonzaga memory. It was a crazy trip but so much fun," she said. "GU is such a great place and the four years fly by, so I'd tell incoming students to take advantage of all of the wonderful opportunities and your time with friends."
Schacht, who served as Spike the GU mascot for three years and was captain of the Ultimate Frisbee club team, earned a degree in management information systems and an additional minor in computer science. He works for the Seattle technology company Katerra, focusing on architecture and design and facilitating the exchange of information between the company's business needs and technological opportunities.
"Four years is a long time, and commitments, friends and beliefs will change over your Gonzaga career," Schacht advised incoming students. "Accepting these changes as they come and using them to position yourself in a positive direction will help you maximize your experience."
One thing's for sure, these Zags intend to remain friends for life.