Zag Alums Relish the Journey to the Final Four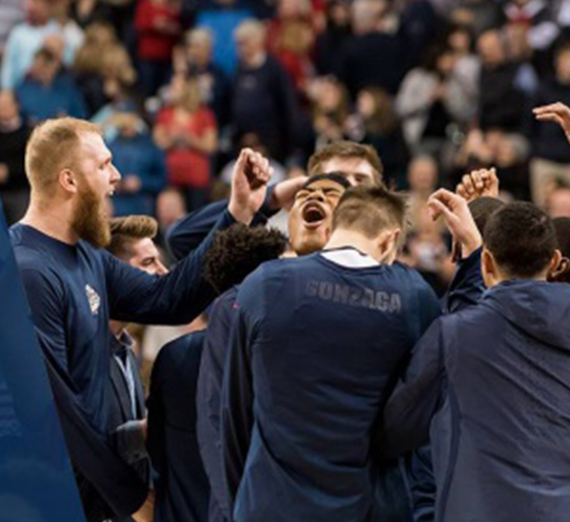 ---
For many longtime Zag fans, Gonzaga's epic march to the Final Four is almost beyond comprehension. Some watched from the stands or along the second-floor balcony back when the gymnasium resided in what is now College Hall. Hank Anderson was the coach and 7-foot-3 Jean Claude Lefebvre was the tallest college basketball player in the country, sparking national notoriety.

Jim Ringwood ('58) saw Jean Claude play. His buddy, Karl Speltz ('58), a basketball team manager at the time, was asked by Coach Anderson to take the lanky Frenchman to see the sights around town. To do that, Speltz had to remove the front passenger seat of his car to allow Lefebvre, sitting in the back seat, enough leg room. Ringwood invested in his first season tickets in 1988 and hasn't missed many games since.

Frank Burgess, an Army man from Arkansas kept GU on the national radar as the country's leading scorer in 1961. Burgess friend Steve Hertz, GU's associate athletic director, read a letter at Frank's funeral in 2010 in which Burgess wrote, "I'm sad I won't be able to see my beloved Zags go to the Final Four. So with one last breath, I want you all to cheer, GO ZAGS." Hertz conveyed that last wish, and everyone stood up and yelled a resounding, "GO ZAGS."

Hertz says when he and the team got on the bus after winning the Elite Eight game against Xavier this March, he received a text message listed as from Frank Burgess. "I knew this Final Four stuff was big, but now I'm getting a text message from Heaven. It was Frank's wife, still using his phone. It said, 'Congratulations. I'm sure Frank is proudly looking down on them. Please convey my best wishes to Mark Few, all the coaches, staff and players.'"
Character Counts
One of the shining lights of this program, that almost every longtime Zag fan pointed out, is the quality of character found in our student athletes over the decades.

"For many years, we'd have the men's team over for dinner one night and the women's team another night. Deep down these have always been quality kids, and Liz and I always felt like we'd adopt any one of them," says Bill Wrigglesworth ('75).

"I remember the night Quinton Dailey and USF came to town and we got our first huge program win, John Stockton's freshman year, a 79-67 win," recalls Mike Shields ('68), who has been watching Gonzaga games since he was 8 years old. "We had people like Ken Anderson (GU's dean of the School of Business), Eddie Taylor (dean of Undergraduate Academic Affairs at the University of Washington); and (All-League) Tim Wagoner. What a bunch of good guys."

It was during Stockton's senior year (1984) that the Zags were losing players left and right to injury, two of the biggest losses Bryce McPhee and Jason Van Nort. So the coaching staff plucked a young man from San Francisco, Gino Cerchiai, out of the intramural league and made him a Zag. "A very neat young man, popular teammate and a fun story," says Rich Alvari, then a graduate assistant to Coach Jay Hillock. Alvari 'tried' to guard Stockton in practice, and loved the competitiveness and character of McPhee so much that he and wife Kim named their first-born Bryce.
"I have rooted for and supported this program for more than 30 years. I love winners, and these guys have always been winners. But as a former coach and graduate school alum, what is more important is not THAT they win; it is more about HOW they win. This is a great program that never sacrificed integrity or morals just to win a game. That is what matters most to me. That is the culture that Mark Few and Mike Roth have created, and I could not be more grateful," Alvari says.
Bryce McPhee's little brother Jim McPhee was close behind (1986-90). He became Gonzaga's second leading career scorer behind Burgess with more than 2,000 points. His senior season was Gonzaga's only losing season in the last 37 years. He says, "I refer to my last year as the zero in the 180 degree turn the program took in 1990-1991. The last year presented challenges I had never experienced, but even at its worst it was meaningful in ways that are hard to articulate. I could sense a change was coming before the season started. I felt it during our first open gym in late August when I played against the new recruits, most of whom were going to redshirt. They were a cohesive, confident unit. They took the floor to kick your ass. To me, that turning point resulted because (Coach Dan Fitzgerald) Fitz gave new, young coaches, Dan Monson and Mark Few, a long leash to turn over every stone and find the right guys with the right mentalities and the right skill sets. It resulted in a 20-win season the very next year."

Gonzaga and basketball led McPhee to a very successful life as a Spokane attorney and managing partner. "Fitz prepared me to work harder than anyone else. Prepare more than anyone else. Say thanks. Give back. It may sound cliché, but in hindsight those things mean the most to me. I'll never be able to do as much for Gonzaga as it has done for me."

McPhee reminded: "You can't have a Zag message without mentioning Fr. Tony. To be continued."

The padre served as team chaplain for 20 years, and was the most popular guy on the bench. He didn't know much about basketball, but he was a master of the human spirit.

"I loved my time with Fr. Tony Lehmann," Alvari recalls. "He's the greatest man I've ever known; so grateful to have had him in my life, and in the lives of my family, my children. At the GU-Xavier game, I wore my Fr. Tony "To Be Continued" pin that was handed out at his memorial service in 2002. There is no doubt in my mind that Fr. Tony is still sitting on the Zags bench."

Bob Materne ('70) owns Swinging Doors in Spokane, a popular place to watch Zag games for those who aren't lucky enough to have season tickets. His restaurant is outfitted in Zag paraphernalia. One framed poster, in particular, cost him nearly $6,000 in a Zags Golf Classic auction. But it's priceless to Materne. It's the Great Eight poster, signed by the eight Zag greats therefore represented.
In a Word
Vicki Hertz ('72), longtime Zag fan who sent all six of her children here to receive their degrees, is like many longtime fans who might be having a tough time putting their arms around what this moment in time, this most significant weekend in the long journey that is Zag basketball, truly means.

"How can you possibly describe what this milestone means to every player and coach, longtime fans and newcomers, students, staff and faculty; those who have weathered the ups and downs, but always hung with 'our kids.' Is there one word that could possibly describe the heart and soul of an experience; a shared experience so magnificent that everyone with a Gonzaga connection can feel? In Italian, they call is musica, a term Professor John Caputo taught me. Translated into English, it's Zag. That single word is so dear, special and intimate to Steve and me, and our family; it means everything to us. It has inspired and guided our lives," Vicki Hertz says.

"I'm just so thrilled, and as the Irish would say, I'm over the moon, unbelievably excited," said Shields ('68). "I feel we've reached our goal. Anything that happens now is gravy. I am very satisfied (hope the players don't feel this way)," he says.

Just a reminder to Zag fans everywhere: Little Gonzaga, enrollment 5,100 undergrads, has won 36 NCAA Division I games this season, and lost just one. They have risen to the pinnacle of Division I basketball, being ranked No. 1 in the nation for the month of February. They have four players pursuing master's degrees, and the others on schedule to graduate. They give time to their community, they represent their university in a mature and likeable way, and take their basketball task very seriously. They have given fans so many memorable plays and victories this year.

Enjoy the journey, and be proud of your Zags.
The Goodwin Four
One lifetime Zag will be in Phoenix, rooting on the Zags. My son, Ben Goodwin ('16), 23, has been attending every home game since he was in the womb. He recalls being in Albuquerque in 2000, at age 5, and running into Matt Santangelo ('00) in the hotel. He looked up to Matt, whose team was playing Purdue in the Sweet 16 there on March 23, and requested: "Matt, would you please get us a win tonight so that you guys can play on my birthday (March 25)?"

Purdue was the better team that night, but on Ben's 23rd birthday his Zags beat Xavier to advance to the Final Four for the first time ever. "I've never had a better birthday," Ben says.

And it's a glorious thing to share the experience of watching Gonzaga in Phoenix with that young man – my son – my wife Mary ('84) and my daughter Brook ('21), who just committed to pursue her higher education at Gonzaga in the fall. Zags 4-for-4.