Basketball Alums Point to Key Turning Points in Rise to Success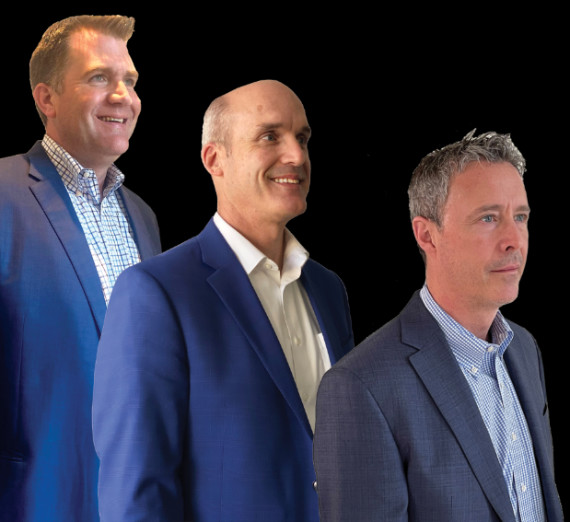 ---
The names Kispert, Timme, Ayayi and Suggs are familiar to everyone following the Zags through this pandemic-riddled, patchwork season of men's basketball.
But this rise to the pinnacle of the men's collegiate basketball world has been a long time in forming. We sat down with three highly successful Zags from the early days of the start of Gonzaga's basketball prosperity for a glimpse of those early signs of what might transpire.
Jim McPhee ('90, '96 J.D.) is the managing partner in the Spokane Law firm Witherspoon Brajcich McPhee PLLC. Before he was battling for his clients he was tickling the twine in the Old Kennel and all over the country, becoming Gonzaga's second leading career scorer behind Frank Burgess ('61) by the time he graduated.
Geoff Goss ('94, '99 J.D.), a partner in the Boise law firm Goss Gustavel Goss PLLC, was a scrappy, hard-charging walk-on during McPhee's senior season who played himself into a scholarship and a first-team all-conference selection his senior year.
Jeff Brown ('94), CEO of Mivation in Spokane, chose Washington over Gonzaga out of Mead High School, but a change in UW coaching staffs and a very persuasive Zag, Jarrod Davis ('92), made a transfer to GU an easy decision following Brown's freshman year. Considered by many to be the linchpin of the team's rise to national notoriety, Brown earned three first-team all-conference selections, as did McPhee, and became the nation's scholar athlete of the year.
Brown and Goss combined to lead Gonzaga to its first-ever post-season appearance in the National Invitation Tournament in 1994. Their win over Stanford in the first round was a highlight of their careers.
But it was Gonzaga's 1997 84-71 win over No. 5-ranked Clemson in the Top of the World Tournament in Fairbanks, Alaska, that made these three believe that the Zags were now competing at a different level.
It was Coach Dan Monson's first of two years as head coach. "I remember thinking that Mons and the young staff of Coach Mark Few and Coach Billy Grier may be starting something special," Brown said.
Goss was attending GU law school at that time. "I was listening to GU beat Clemson. It was hard to study at the time, much to the chagrin of my esteemed law professor and adviser Gary Randall. I found myself thinking that we really may be on to something with this class and other players now committed to Gonzaga. With the effort of the University and its coaching staff, it simply snowballed from there," Goss said. NIT in 1998, NCAA Elite Eight in 1999, and 21 NCAAs since!.
McPhee goes back even further to 1983 when a team his brother Bryce played on defeated highly-ranked DePaul in Chicago's Rosemont Horizon on a last-second miss and tip-in by Dave Clement. "I also remember sensing a sea change coming when Matt Santangelo ('00) chose Gonzaga over several other highly touted teams in 1997."
But perhaps the spark came in 1989-90 when Coach Dan Fitzgerald chose to redshirt Goss, Davis, Eric Brady, Matt Stanford, Scott Spink and Marty Wall, leaving Jim McPhee and his teammates to fend for themselves, along with a couple of young assistants, Monson and Mark Few, to make the best of that season. The result? Gonzaga's last losing season, 8-20.
"Coach Few had the unenviable task of coaching the redshirts every day," Goss said. "He was always the one telling us that if the work is put in, and the positive effort is a constant, and if you compete daily, great things would not only happen to our class, but to the University, as well."
McPhee has no hard feelings about being the sacrificial lamb that year.
"I always jokingly refer to my senior-year team as the zero in the 180-degree turnaround that Gonzaga basketball took. If that was by design and contributed even the slightest bit to Gonzaga's current success, then I have nothing but praise for forward-thinking coaches. And that team after my senior year is one of my favorites to this day," said McPhee, whose senior team quite often was beaten by the redshirt pack during practices in Martin Centre.
And so started this Cinderella story, and launched the career of Few.
"Mark is a lock for the Hall of Fame," Brown said. "He has a great basketball mind, is an incredible evaluator of talent and so innovative in his approach to player development."
Brown was among nearly 100 past players and former coaches invited to a social and a visit with the 2017 players the night before the semifinal game against South Carolina in Phoenix.
"Mark did a fantastic job of being extremely inclusive. When the players saw us walk into the room, unprompted they gave us a standing ovation," Brown said. "Everyone in that room had chills. That spoke volumes for the character of the players and the culture of this program."
Goss said that family feeling is what makes Gonzaga so special. "Even when I walked on, I felt people at Gonzaga and in the surrounding area really cared about our students. That sense of belonging makes Gonzaga what it is today, and contributed greatly to how highly-regarded it has become."
This Gonzaga basketball story is unprecedented in sports history, Brown said. "My greatest joy and pride are that they continue to do it the right way."
The Zag way.
More of our favorite March Madness stories: