The Brotherhood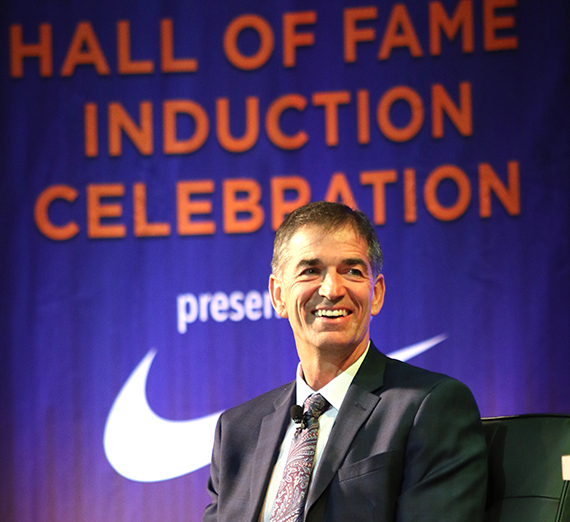 ---
When I walked into the Kansas City hotel last November, the first thing I spotted was former Gonzaga head basketball coach Jay Hillock holding court with several of his former players. I'd seen that before, but the faces were much younger and the talk focused on basketball and college adventures. This night the conversation was all about families and careers. John Stockton ('84) – the reason for our gathering – wouldn't arrive until 1:30 a.m. because he and his wife, Nada ('84), were in Missoula watching daughter Laura play for the Zags against Montana.
Stockton had invited eight former Zag teammates, three former coaches and a couple of other Gonzaga friends to celebrate his induction into the Collegiate Basketball Hall of Fame.
It was extraordinary to see this brotherhood of Zags, the warmth shared and the genuine care for each other and their families. This kind of bond is special, built out of respect and love. Friends who will always have each other's back, regardless of the time between visits.
"I was just thrilled to read the list of former players, coaches and friends who came to Kansas City," says Ed Taylor ('82, '85, current trustee), who played with John during Stockton's first season at Gonzaga. "I stayed up much of the night thinking about each person and how fortunate I was to know them at the time and how honored I am to know them now. It's as if we hadn't missed a beat."
The ceremonies honoring Stockton and seven other inductees were nice, giving due recognition to these outstanding athletes and impressive men, but "The best memory was our impromptu three-hour meal together after the event – hearing stories, sharing belly laughs," said Mike Champion ('87). "I really didn't want the night to end."
Stories were flying around the room like bees around honeysuckle.
Above: The Brotherhood, guys who played or worked together in the early 1980s reunited in Kansas City in November for John Stockton's induction into the Collegiate Basketball Hall of Fame: Bruce Wilson, Dale Goodwin, Ken Anderson, Ed Taylor, Hugh Hobus, Mike Champion, Tim Ruff, Stockton, Nick Zaharias, Jay Hillock, Rich Alvari, Jason Van Nort, Steve Hertz and Blair Anderson.
"A few years ago I asked my oldest son, Mark, why he might want to go to Gonzaga and he said, 'Dad, you've introduced me to teammates and classmates over the years and I have never once heard anyone say they 'liked' Gonzaga. I have only ever heard them say they 'LOVED' their time as a Zag," said Champion, who founded a worldwide high-tech network.
"I do remember beating University of San Francisco my senior year and then cutting down the net because we thought we would be the first team to the NCAA tournament," said Taylor. "Lesson learned – don't cut down the net until you have the invitation in hand. I still have a piece of the net, though, so that counts for something."
Always the joker, Taylor said he believes he was among the top scorers and defenders in University of Washington faculty and staff basketball for many years. "I kept my own statistics and the numbers are truly astonishing," he said, without breaking a smile.
"I have a picture in my office of me in really short shorts making a layup. In the background, you can see Dr. Elizabeth Cole, my statistics professor, and Dr. Jane Rinehart, my sociology professor, in the stands. I remember being honored they would be there," said Taylor, now dean and vice provost of Undergraduate Academic Affairs at UW.
Ken Anderson ('81) was the instigator of an annual basketball game between Old Dogs and the current varsity lineup, at the time of Matt Santangelo, Casey Calvary and crew. "Now, if an alumni game is to work it is only safe if the former players are within a year or so of actual competition – not with players who haven't made a jump shot since 1972," Taylor reasoned. "Some of the alumni were in the locker room trying to fit into undersized jerseys when NBA all-star John Stockton walked in. He asked 'Do you need a point guard?' The collective response was swift and resounding – 'No!' Somehow John was allowed to come off the bench and take part in a lopsided defeat. No actual basketball players were hurt in the fiasco."
Graduate assistant coach Rich Alvari, who sometimes had to guard Stockton in practices because several of John's teammates had been devastated by injuries, remembers "plucking" Gino Cerchiai from the intramural league to give the Zags an extra practice player, and "to see him welcomed as part of the family was heartwarming."
Who could forget Stockton's half-court bounce pass to Dave Clement against DePaul in Chicago, a missed layup by Clement and his own put-back that would give GU a win over a Top 20 opponent? Or the Zags' 1981 win over San Francisco that they believed would seal their ticket to the NCAA Tournament? Or GU's big win over Washington State in the Far West Classic, giving the Zags third place and Stockton the tournament MVP and a lot of looks from NBA scouts?
"John was tough, loyal, dedicated, a huge team guy. But based on his freshman year, I never saw his ensuing success coming," said Anderson, now dean of the School of Business Administration at Gonzaga.
"As I reconnected with all the guys I was struck by how successful they have been in their careers," said Bruce Wilson, this group's assistant basketball coach. "It made me very proud to see all that they have accomplished and to see them all come together to support John."
Other Bulldog brothers in KC included Blair Anderson ('84), transportation engineering expert; Nick Zaharias ('87), successful investor and sports coach for his four kids; Hugh Hobus ('81), custom homebuilding owner; Tim Ruff ('85), demolition manager; and Jason Van Nort ('85), recently retired as a community outreach manager for a utility company. Engineers, businessmen, entrepreneurs and educators. Family men.
A genuine brotherhood.
"Seeing my teammates and thinking of so many others over the years brings life to the concept of formation," Taylor said.
National Association of Basketball Coaches Executive Director Jim Haney told Hillock after the Induction Ceremony that it was highly unusual to see so many former teammates and coaches show up to this event on behalf of a former teammate.
"It is just the Gonzaga way of doing things. We are all a part of one big Zag family, and family always supports family. This was proudly on display in Kansas City, and in Phoenix last year at the Final Four," Alvari said.
"It brought back so many strong feelings – mostly of how much I wish that I had more time with each guy there – and the guys who weren't able to make it, as well," Champion summed up.
"Over the years we have walked together, shared common purpose, were part of a community that was intentional about the habits of mind and heart that prepare us to grow up and re-encounter one another. It felt as though we were all a bit slower in step but very much in step." - Ed Taylor ('82)