Alumna Ploeger Teaches, Researches in Bahrain on Fulbright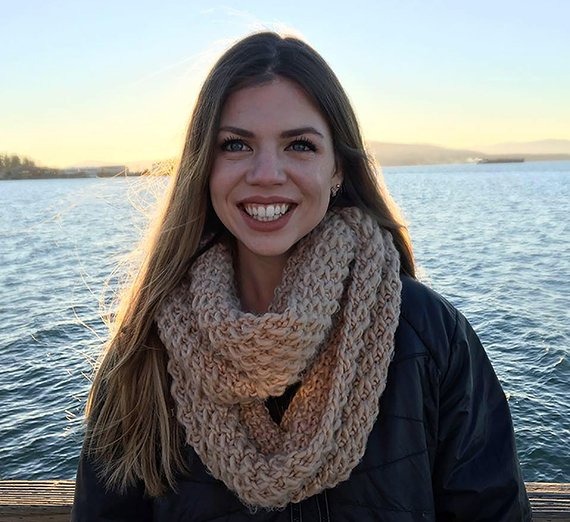 ---
By Megan Carroll
Class of 2018
SPOKANE, Wash. – Ryland Ploeger, a May graduate of Gonzaga University, is keenly aware of her privileges and freedoms as an American scholar especially now teaching English at a small private university in the Middle East as the recipient of a Fulbright U.S. Student Program scholarship.

"As an American woman, I have the freedom to apply my talents and education to anything I want," Ploeger said. "The women I meet and have met abroad, who possess the same talents and sometimes even better education, are not guaranteed those same opportunities."

Ploeger, from Snohomish, Washington, began the 10-month fellowship last month. She is teaching English at Ahlia University in Manama, Bahrain, a small island country near Saudi Arabia, while doing research on the civic engagement of young women there and serving as a U.S. cultural ambassador.

Ploeger spent her junior year abroad at the American University of Sharjah in Dubai, United Arab Emirates, where she "connected with many incredible Arab women when 'women's empowerment' was the hip phrase," Ploeger said.

Her experience in the Middle East sparked a longing for a deeper understanding of the region and its women, and inspired her to apply for the Fulbright English Teaching Assistantship.

She says Bahrain is considered one of the most progressive countries in the Gulf Cooperation Council – which includes Oman, Kuwait, Qatar, Saudi Arabia and the UAE – with respect to gender equality and women's empowerment initiatives, the subject of her research.

"Women are slowly gaining more power in culture and government in the GCC as government leaders recognize that they're some of the best educated members of the population, and thus necessary for these states to compete globally in the post-oil era," she said. "As these women come into power, I want to know what they want to do with it, if they are interested in democratization or liberalization, how they want to engage with the global community, and what major problems they perceive in their states."

At Gonzaga, Ploeger earned bachelor's degrees in international relations and political science along with a concentration in Middle Eastern studies and a minor in Arabic language. In the summer of 2015, she served as a civil rights legal intern for Washington's Council for American Islamic Relations in Seattle. In Dubai, as a junior, she researched UAE commercial aerospace imports for an internship with the Foreign Commercial Service, which directed her senior thesis focused on U.S. aerospace exports to China. Ploeger presented her work at the 2017 Midwest Political Science Association's annual conference.

Her many honors and achievements as an undergraduate include internships for Gov. Jay Inslee and the City of Lake Stevens, Washington; a Model United Nations delegate and moderator for three years; an award-winning Gonzaga mock trial competitor; and a recipient of the political science department's Jefferson Scholarship.

While in Bahrain, Ploeger also hopes to become fluent in Arabic, create a women's government club at Ahlia University and encourage her students to participate in annual Model United Nations conferences.

"While remaining cognizant of my foreignness and privilege as a white American woman, I want to be part of the solution for my young female counterparts in Bahrain to be given the same access to the public sphere by contributing to the body of knowledge about these young women's experiences," Ploeger said.