Engineering Students' Research Helps Advance Cars of Future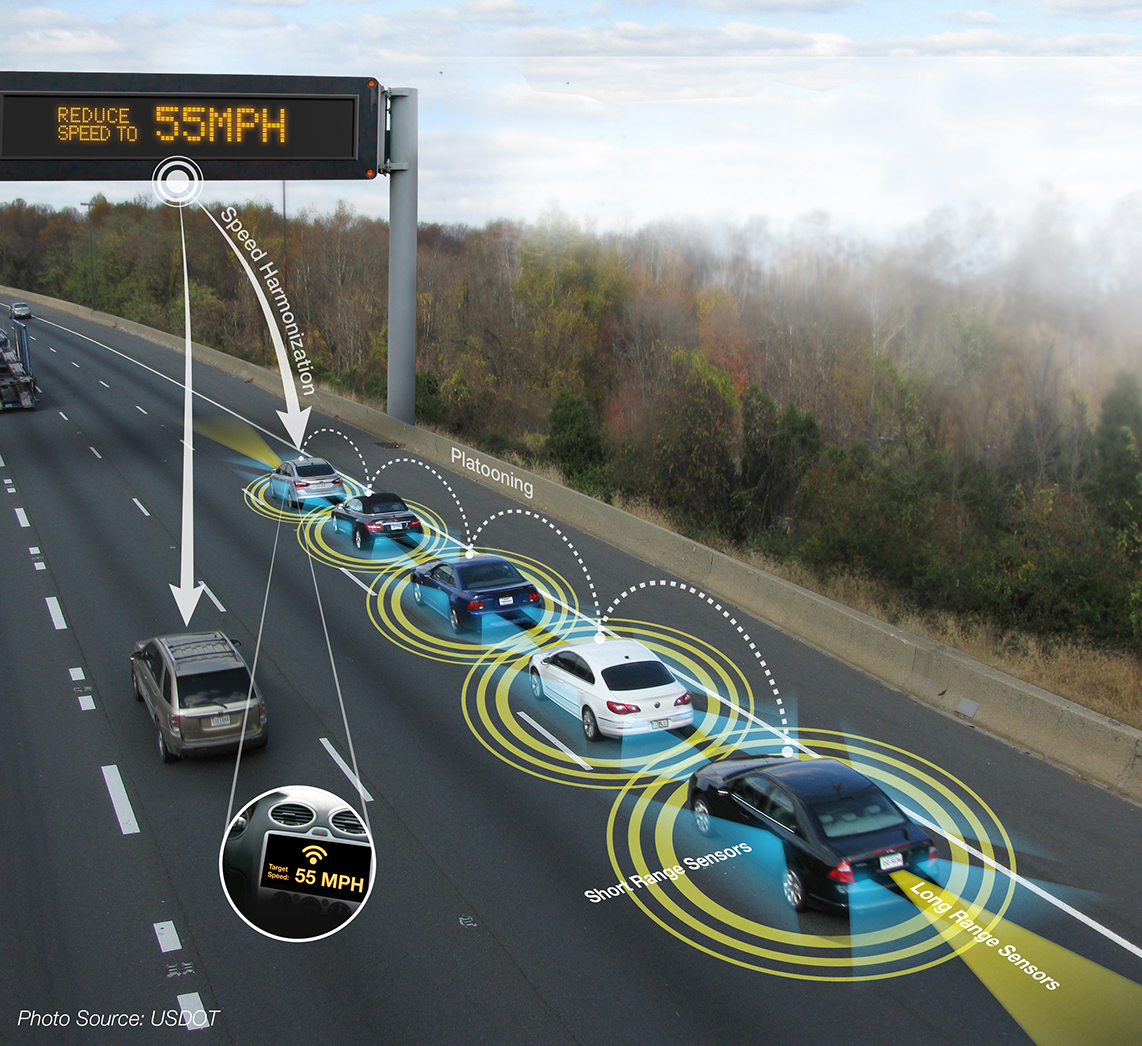 ---
By Megan Carroll
Class of 2018
SPOKANE, Wash. – The future is now for a dozen Gonzaga University senior engineering students who are gaining hands-on research experience with "connected vehicles." The technology is expected to form a high-tech communication infrastructure that will enhance traffic safety and improve the effectiveness of driverless cars.
The opportunities the research provides for students to contribute to the rapidly evolving changes in automotive transportation are the result of two federal grants involving Rhonda Young, associate professor of civil engineering in Gonzaga's School of Engineering and Applied Science.
Young, who came to Gonzaga last fall from the University of Wyoming, is a traffic engineer and manages a $7 million U.S. Department of Transportation-funded connected vehicle project in Wyoming. Young learned recently that Gonzaga is one of seven universities that will collaborate in a $14 million, five-year DOT grant, led by the University of Washington, to improve the mobility of people and goods in the Pacific Northwest. Local and regional agencies and companies will match for an expected total of $28 million.
The new grant provides Gonzaga with an additional $10,000 per year for five years, allowing an additional four to eight students to become involved in the research annually through summer experiences and their traditional senior projects.
Autonomous and connected vehicles both can operate with or without a driver, but autonomous vehicles need not be connected. Connected vehicles gather data and share it with nearby connected vehicles and the communication system.
"Connected vehicles are constantly seeing road surface, conditions and sharing information via short-range frequency of about 1,500 feet," said Young, noting that safety and reduced financial losses from road closures may be the biggest short-term benefits of connected vehicles. "Connected vehicles will generate safety messages, communicate when cars' airbags deploy, ABS (anti-lock braking) systems kick in, etc."
During winter white-out conditions along the 402-mile stretch of Interstate 80 in Wyoming, for example, timely vehicle-to-vehicle information is expected to save lives and reduce road closure costs. In one recent 11-month period, the Wyoming DOT estimated $773 million in losses from crash-induced road closures. Other project benefits may include alleviated traffic congestion, improved transit accessibility, enhanced trip-planning and better rural transportation options.
The research also considers how to best utilize connected vehicle-generated data, and poses major challenges for transportation engineers in the areas of technology, communication protocol, system architecture, and security.
I think it's exciting and daunting at this time," Young said. "I came from a research background getting undergraduate students involved. We teach them ways to approach these problems but tell them they will all have to be adaptive because the technology is changing so quickly."
As the largely private-sector-backed race to develop and market driverless cars continues, the government is moving quickly to advance connected vehicle technology. Starting in 2018, all new vehicles sold in the United States must be able to transmit data to other vehicles and connection sites.
In the coming decades, Young believes our roads will host a mix of connected and non-connected vehicles. She expects society to adapt quickly to driverless cars, similar to the switch to color TVs and smart phones. She foresees a future without traffic signals because self-driving vehicles will have a programmed destination and assignment to drive through an intersection.
The first phase of the Wyoming project determined the type of connected vehicle technology to deploy, the number of vehicles involved, and the software systems to run the program. In this second phase, the DOT is developing systems, and installing equipment. Two four-member civil engineering student teams and one team of four computer engineering students are working with Young to gather data and create baseline statistics.
Phase three of research, which will continue through 2019 and will include Gonzaga students' research, will implement connected vehicle technology and begin to compare crash rates, vehicle speed and driver behavior statistics to scientifically determine the extent to which connected vehicles impact traffic safety.
"Once you implement the connected vehicle technology, you want to see how much it reduces dangers," said Christian Rodriguez, a civil engineering student.
The second civil engineering team will collect speed and road operations data. Lea Stanley's group will create a baseline speed for the team to compare with data generated when the connected vehicle program begins in 2018.
"They'll be able to determine if implementing connected vehicles was successful in reducing danger to drivers," Stanley said.
MEDIA: For more information, please contact Rhonda Young at (509) 313-3574 or youngr1@gonzaga.edu.