Getting to Know John and Joan Bollier and the Facility Bearing Their Name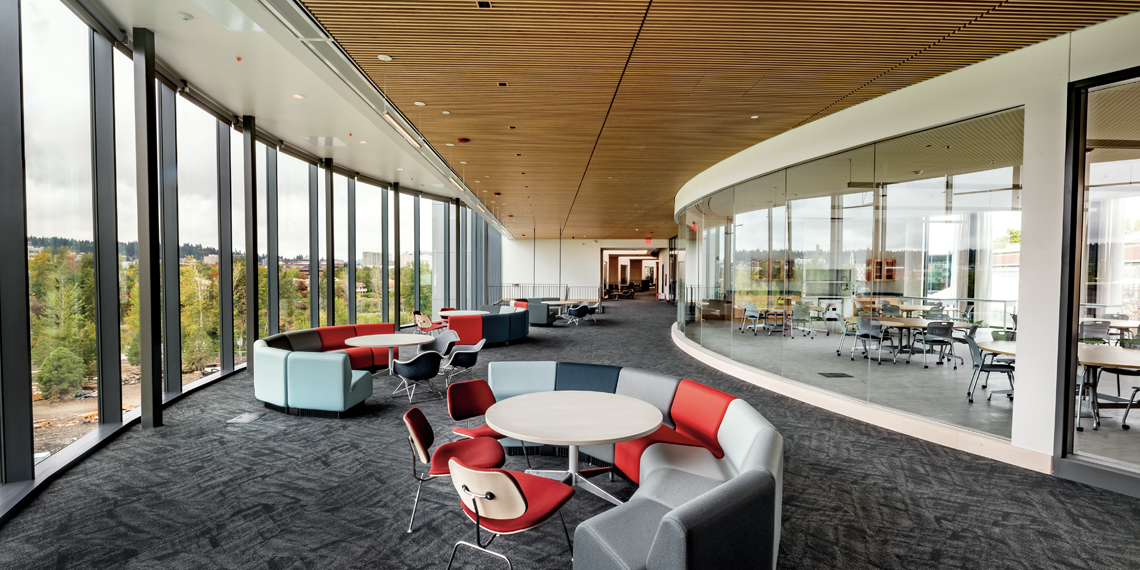 John and Joan Bollier built their careers and their family after pursuing degrees in construction engineering management and civil engineering, respectively. Sons Brett ('13) and Nolan (Gonzaga-in-Florence, '15) followed in their footsteps; daughter Emily ('15) graduated from Gonzaga's School of Business Administration.
The family has supported Gonzaga athletics and scholarships, and John has served on the Gonzaga University Board of Regents since 2018. Now, their family name is attached to the newest addition to Gonzaga's campus: the John and Joan Bollier Family Center for Integrated Science and Engineering.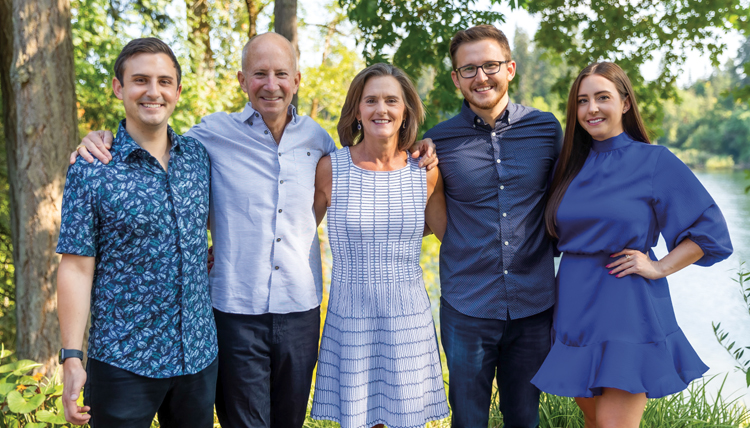 Left to right: Brett, John, Joan, Nolan and Emily
In Awe of Buildings
When John Bollier was a young boy growing up in San Francisco, his father took him and his siblings downtown to show them how the city was growing. John stared up at high rises under construction, marveling at the buildings that would later become iconic landmarks on the San Francisco skyline, like the Transamerica Pyramid.
These trips sparked in John an interest in construction, which would lead to a successful management career. Young John had big dreams for his future, but even he couldn't have imagined that one day his family name would be on a building of its own.
This fall, Gonzaga completed the John and Joan Bollier Family Center for Integrated Science and Engineering. It may not be a high rise, but the three-story curved facility overlooking Lake Arthur certainly adds an impressive new vantage on the south side of campus. Its 82,000 square feet of labs, classrooms, faculty offices and collaboration studio make a bold proclamation: Gonzaga University is serious about empowering more students to pursue careers in science, technology, engineering and mathematics (STEM).
John's interest in engineering started early, with those trips to downtown San Francisco, where his father was a CPA. "I always made things when I was a kid," he said.
One of the things John tinkered with was a 1941 Plymouth, which he inherited as a teenager and restored. He sold the car when Brett was born, because "we couldn't take our child around in a car without seatbelts," but his passion for hot rods lived on, and he's looking forward to hitting the road in a newly restored and modified car shortly.
John earned a construction engineering management degree from Sacramento State University before starting an internship at Stacy and Witbeck Inc., where he spent 35 years supporting the construction of transit lines around the country. He retired as CEO and continues as the chair of the board of directors.
"No one told me it was hard"
While Joan took a less linear route to engineering, her determination saw her through the grueling course load. She had excelled in mathematics in high school and thought she'd go to college to become a math teacher until her own math teacher told her, "You want to become an engineer."
"No one told me it was hard. No one told me it was unusual for a woman," she says. "No one told me anything, so I just went to school and started studying.
She first attended Portland State University, where she competed as a gymnast before transferring to Oregon State University to study civil engineering. Joan had never taken common prerequisites like calculus, physics or chemistry before she declared her major. Sitting down in a chemistry classroom one day, she recalled wondering about a big display on the wall. "It was a periodic table. I'd never even seen one," she says. "That's how unprepared I was for engineering."
Joan persevered, graduated from Oregon State in 1983 and shortly afterward entered a graduate engineering program with Lockheed. She was the only woman among the 20 young engineers in the program.
She credits her own grit with getting her through and is grateful that she studied engineering in a somewhat pioneering time, when no one was standing before her telling her how hard it would be.
After completing the Lockheed program, Joan earned her professional engineer's license and eventually managed the engineering division of the public works department in Campbell, California. However, it was while working for the City of San Jose, California, that she met John, who was working on a transit project for the city. The two married and started their family, and Joan soon retired to raise their three children. She adapted her managerial and technical skillsets in service to the boards of schools the Bollier children attended, and made class project quilts to support Catholic school fundraising auctions.
Making Connections
John and Joan's affiliation with Gonzaga began when their oldest son, Brett, became a student, followed two years later by their daughter Emily. Joan enjoyed rooting on the Zags and would often bring her mother to an annual Gonzaga basketball game when she could get her hands on tickets. Joan isn't the only Bollier who's a proud Zag by affiliation, as their youngest son, Nolan, who studied engineering at Marquette University, also loves to watch the Zags on the court.
"He's the loudest cheerleader in our family," John says. Today, John and Joan have an RV nicknamed the "Zag Express" that was one of only a few vehicles to tailgate at last year's NCA A Final Four men's basketball tournament in Indianapolis. For Emily, the strongest connection came through one of Gonzaga's "Trek" experiences, which she says jumpstarted her career. In an excursion orchestrated by Gonzaga's Alumni Relations and Career & Professional Development, she met representatives from the advertising firm Publicis and landed an internship that led to a full-time position following graduation.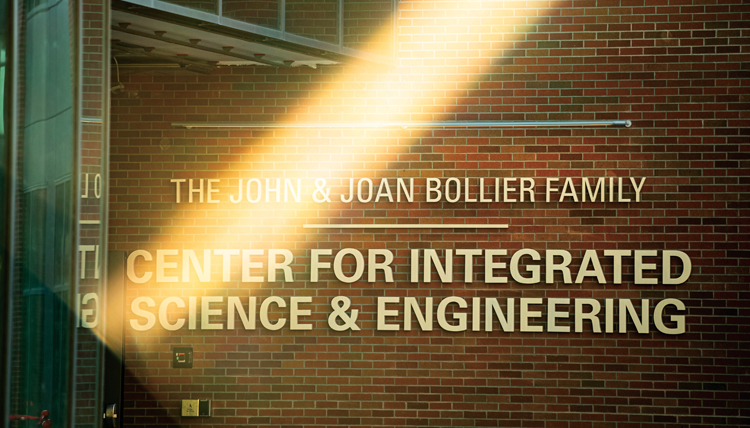 A Welcome Haven
"I think it's unique that Gonzaga feels more like this really small community than like a big college," Joan shares. She says the family loves the values and sense of inclusion the University imprints on students and their families.
And that's why the Bolliers are excited to have their name affiliated with the Center for Integrated Science and Engineering, which will serve as a place of innovation and possibility on campus.
From their earliest experiences with engineering, John and Joan are well acquainted with the challenges and messaging that young STEM students can face, and they hope the Bollier Center will be a welcome haven for curious scientists, mathematicians and engineers.
Learn more about the space, its impact, and how you can be a part of building the future: gonzaga.edu/ISE


About the Bollier Center
In addition to the Bolliers' generous contribution, more than 600 donors made the $49.7 million facility possible. It connects directly to the PACCAR Center to the east, and via skybridge to Hughes Hall, where some chemistry and biology labs will remain. Just inside the campus-side entrance to the Bollier Center is the Innovation Studio for the first-year engineering seminar course. Surrounding this space are research and teaching labs for multiple STEM disciplines. Their proximity and open
viewing are by design.
"Our goal is to provide visible confirmation to these students, who are just starting their engineering journey, many and different examples of research topics being studied," said Karlene Hoo, dean of the School of Engineering and Applied Science. "We hope this setting helps them imagine what their
own research could resemble."
This fall, faculty and staff began moving into the Bollier Center, and students may access common areas. Spring 2022 will be the official minting of the facility with classes and labs fully operational.
"Gonzaga is already known for delivering a world-class liberal arts education in a close-knit community. But the Bollier Center will take our STEM game to a whole new level. The design of the facility allows for many collision spaces that will foster creative problem-solving among students, faculty and staff who seek the common good. I can't wait to see the positive contributions that come from it."
- Annmarie Caño, Dean, College of Arts & Sciences
Learn more about the space, its impact, and how you can be a part of building the future:
Academics
Careers & Outcomes
Alumni
College of Arts & Sciences
School of Engineering & Applied Sciences
Academic Vice President
Civil Engineering
Electrical Engineering
Mechanical Engineering
Gonzaga Magazine