Nike & GAMP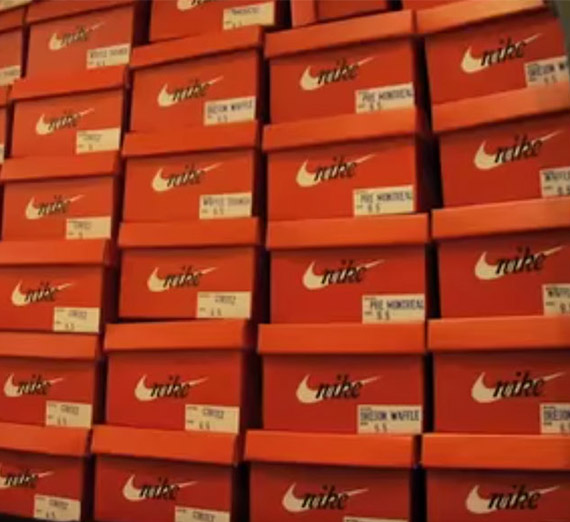 ---
Students Study Success with Gonzaga Alumni at Nike
It's an overcast January morning when 48 Gonzaga University students, dressed in business attire, exit buses to enter the Nike World Headquarters in Beaverton, Ore.
The students—participants in the Portland Trek organized by the Gonzaga Alumni Mentor Program (GAMP)—walk down the flag-lined path to the entrance of Steve Prefontaine Hall, hoping to gain a firmer grasp on a company that operates in over 160 countries and employs more than 35,000 people across six continents. But even more, the students hope to glean insights about finding and keeping a career they love from Gonzaga graduates who've found success at Nike.
The students meet with three Gonzaga alumni—John Naekel, '99; Todd Ernst, '92 and '93 MBA; and Greg Bui, '88—all in leadership positions at Nike. The three lead tours around the company's 190-acre campus and provide students with career advice. Asking questions along the way, the students learn about the history and success of Nike and how their college experiences will play a key role in helping them find their dream careers.
John Naekel
Like many college graduates, John Naekel says he had his degree in hand, but wasn't exactly sure where he wanted to work or what he wanted to do. Living in Portland, he worked his way into an apparel position at Adidas. His success there resulted in a position in basketball apparel at Nike, where he's been since 2005, currently as Global Product Director for Basketball Apparel.
"When I look at the big picture of my experience at Gonzaga," says Naekel, "the one thing I take away, more than anything, is that I learned how to interact with people from different backgrounds who thought differently than I did, who had different experiences, who just were wired differently than me."
Todd Ernst
Todd Ernst, Nike's Global Category Operations Director for Basketball and Men's Training, encourages the students to carefully consider how their personality matches with the jobs they're pursuing. "People are most successful in their career," he says, "when they can gain an understanding and awareness of themselves, and then become aware as they go through interviews and the job search process how that environment or company might fit with them."
Ernst tells students to choose a major they love and to take full advantage of what they can learn from their classes and professors.
"Internships are more important than ever," he also says. "I worked really hard to find an internship that was really relevant to what I wanted to do, and that was one of the biggest contributors to getting my job here."
GAMP at Gonzaga provides students with great opportunities to follow Ernst's advice here. The program matches students and graduates to alumni mentors sharing similar career fields, locations, or other interests. These mentoring relationships help students make better career decisions and develop professional networks that can lead to internship and job opportunities. GAMP's Trek program organizes company visits hosted by Gonzaga alumni, like the Nike trip, in Spokane, Seattle, Portland, the Bay Area/Silicon Valley, and New York.
Greg Bui
Greg Bui, a GAMP mentor himself, is a big reason why the students were able to visit Nike on this Trek. Bui leads over 300 Nike employees in more than 30 countries as Senior Director of Supply Chain Operations within Emerging Markets. Bui's work keeps him very busy, but volunteering with GAMP has helped him remain connected to Gonzaga, he says.
"I've been involved with GAMP for the last six or seven years. I think they do an unbelievable job for students. They've set the bar very high in terms of helping kids develop their lives beyond college," he says.
Growing up in California in the 1980s, Bui says he wasn't familiar with Gonzaga or Spokane. However, he says, "As soon as I arrived, I quickly realized that Gonzaga was a place that truly cared about who I was as an individual and started to shape my thoughts about who I should be as I grew up."
When Bui interviewed for a job at Nike, the company had received over 1,000 applications for just ten positions, he says. The interviewer told Bui that he was competing with another Gonzaga grad for the job, who, unbeknownst to Bui, happened to be his former roommate. When the interviewer asked Bui which of them the company should hire, Bui says he responded, "The only thing I can say is, two of us are better than one." The next day, both Bui and his friend were hired and went to work together for the next 13 years.
His position at Nike isn't exactly where he expected his degree in broadcast studies to take him, he says. He encourages students to keep themselves open to a variety of learning experiences. "As you learn your area of curriculum or a certain career, also learn about things that are outside of your direct responsibility," Bui says to the group.
Bui proudly touts that his daughter is now a Zag too. "I know that she's in the best care that she can be in for the next four years. I couldn't be happier," he says.
Students React
As the day winds to a close, many students find themselves reflecting on the new impressions they've gained about career development from talking with their alumni hosts from Nike.
"One thing I learned is that a major doesn't necessarily determine where you're going to end up working—what section of a business—or what you're going to end up doing," says Erik Fagan. "They like you to have a broad range of experiences."
Another student, Nicole Panichello, says her biggest takeaway from the visit was about the value of perseverance. "One of the guys that came out of Gonzaga applied 75 times before he got his first job at Nike," she says. "He definitely inspired us all to keep trying until we get what we want."
While all the students likely have their own personal highlights from the visit, it's hard to find anyone not impressed by what they saw.
"It was really interesting," says Panichello, "to see how one vision from two different guys [Nike founders Phil Knight and Bill Bowerman] came together to make such a global enterprise."