Treks Help Students Build Careers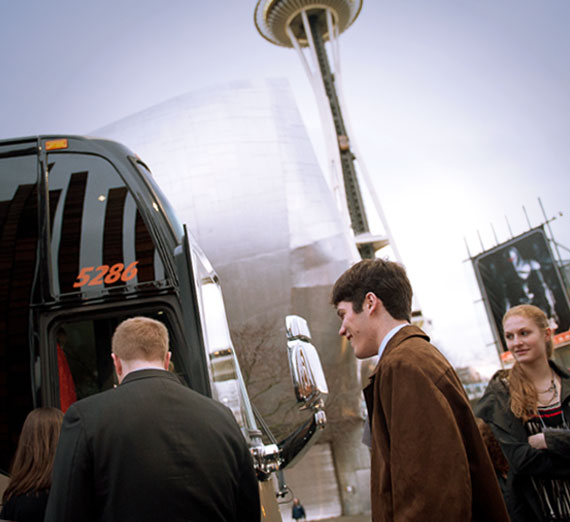 ---
SEATTLE – Gonzaga University completed its 14th annual Portland Trek and 15th annual Seattle Trek earlier this month to help Gonzaga students and alumni develop their careers. A total of 132 students attended the Jan. 6 event in Portland while 203 students took part in the Seattle event two days later.
Sponsored by the Gonzaga Alumni Mentoring Program (GAMP), the Treks are designed to help students advance their careers and network with alumni in key metropolitan areas for help in job-placement. The events consist of corporate excursions, which allow students to view organizations from the inside, career fairs held exclusively for Gonzaga students, and keynote networking socials for alumni and local professionals to meet GU students and for all to grow their personal networks.
Thirty-four employers turned out for the Portland career fair while six excursions connected students with 10 organizations, including Fisher Investments, Cambia Health Solutions, McKinstry, HDR, Widmer Brothers Brewing, Mondelez International, Oregon Health Sciences University, Portland Trail Blazers, Columbia Sportswear, and Nike.
In Seattle, 44 employers took part in the career fair while students were able to choose from eight excursions that linked them to 16 individual organizations, including The Boeing Company, Microsoft, Amazon, Zillow, Starbucks, Nordstrom, Gates Foundation Visitors Center, Publicis Groupe (including MSLGROUP, Optimedia, Razorfish and PBJS), Artist Trust, Davidson Galleries, Liberty Mutual Insurance, and Russell Investments.
The Treks – part of Gonzaga's comprehensive approach to helping students cultivate their careers – have expanded to six sites with annual treks also held in Spokane, New York City, and two Bay Area locations.
Senior business major Alex Belleba began participating in Treks as a sophomore and has attended eight so far with plans to attend two more before he graduates in May.
"The Treks have given me invaluable skills in so many areas," said Belleba, vice president of the Career Center Representatives, a group of volunteers who help other students with career development. "I've converted experiences and interactions on the Treks into at least five interviews, 30 contacts with recruiters, and innumerable handshakes, elevator speeches, and chances to foster my growth as a professional."
The Treks force students to acquire and polish professional networking skills – ready or not, he said.
"As a freshman and sophomore, I struggled with awkwardly asking for business cards, shaking hands with recruiters and providing resumes, but the practice of doing these things so often has helped me find the confidence to strike up conversation with recruiters and act as if I were the best candidate that day," Belleba said. As more students come to Gonzaga from every region of the country, Gonzaga aims to create opportunities for students to network with alumni and employers in their home region or where they hope to work after graduation.
"These events expose our students to our alumni who are so proud to be involved," said Meredith Aronson ('09), who leads the Treks for the Career Center and GAMP. "Our alumni come together to create career networking and development opportunities for students that very often lead to internships and jobs."
More freshmen and sophomores are stepping up to begin their career development work early at Gonzaga, Aronson said, adding there is a fresh emphasis on providing more opportunities for arts and sciences majors as well. A first fine arts excursion in Seattle took students to the Artist Trust and Davidson Galleries.
"Now we're seeing students from all majors taking part and more opportunities for all. Also, faculty are becoming more involved in promoting Treks," said Aronson, who underscores the importance of students becoming involved in career exploration early.
"Gonzaga offers much more than an internship and job placement program, it's all about career development and networking. That's true particularly for students who want to work at Microsoft and other big corporations – they need to get involved earlier in their student career. They can't come to us in the senior year and say, 'Hey, I am ready to work at Nike.' "
Aronson knows the benefits of Treks firsthand. A Gonzaga history major, a Trek as a senior proved instrumental for Aronson's own career.
"It was huge for me because I had zero experience in networking at that time. It pushed me out of my comfort zone," said Aronson who began working at Gonzaga in 2013.
Find more information about the Career Center and GAMP online or check out The Career Services blog.