GU Commits to 'Real Food Challenge'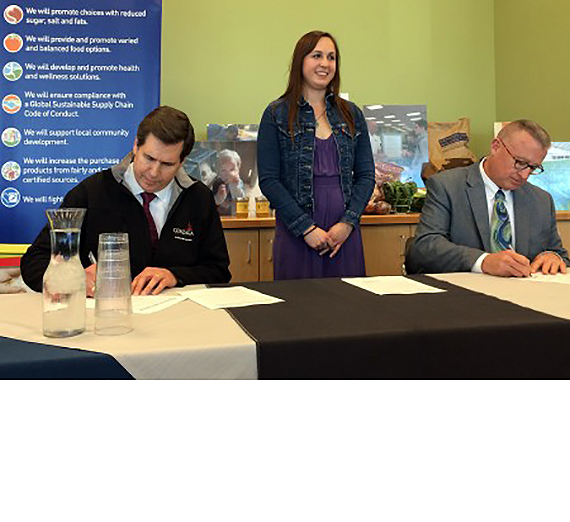 ---
(Above) Gonzaga President Thayne McCulloh (left) signs the commitment along with Chuck Faulkinberry of Sodexo (right). Between them is GU senior Breanne Flynn.
Gonzaga News Service
SPOKANE, Wash. — Gonzaga University today became the first Jesuit university in the United States to commit to the "Real Food Challenge," a pledge that 25 percent of food served on campus will be sourced from ecologically sound, fair and humane, and local- and community-based providers by 2020.
In a ceremony at the Boone Avenue Retail Center, Gonzaga President Thayne McCulloh and Chuck Faulkinberry, district manager for Sodexo, signed the commitment.
"It's always exciting but it's not always easy to be first," President McCulloh said, thanking Gonzaga senior Breanne Flynn and other members of the student club Gonzaga Ethical Awareness Together (Gonzaga E.A.T.) who have advocated for this commitment for two years. He also commended Sodexo, the company that operates Zag Dining food services at Gonzaga for its commitment to The Real Food Challenge.
"Food is one of the very few issues in our world today that affects every single person on this planet," Flynn said. "As students at Gonzaga University, a Jesuit institution, every single one of us learns about various social justice issues. But the reality is that food is one that overshadows them all."


The Real Food Challenge aims to shift existing university food budgets away from unhealthy processed food products toward healthier organic and locally produced "Real Food" products. The national initiative aims to leverage youth and universities to create a more healthy and fair food system.
"Real Food is described as a food system from seed to plate that fundamentally respects human dignity and health, human and animal welfare, social justice and environmental sustainability," President McCulloh said.
With the commitment signed, Flynn said a working group would be formed — made up of students, faculty, administrators, and Zag Dining staff — to draft policy on how the University will implement the pledge.
"The goal is not to increase Zag Dining's budget for food but to shift the budget, policy and products toward more Real Food," said Flynn. "The Real Food challenge is about students seeing a food system at their colleges and universities — their four-year homes — that reflects what they believe in. The students who have been involved in this campaign, including myself, recognize that Gonzaga students want to see justice prevail in all aspects of their lives and that certainly includes food."
The pledge is in keeping with a commitment by the Society of Jesus toward more ecologically sensitive and sustainable practices. President McCulloh credited Flynn and the other Gonzaga students involved in making Gonzaga's participation in the Real Food Challenge a reality.
"I am so grateful for the commitment of Breanne and her fellow students in developing this initiative. The Real Food Challenge amplifies the existing commitments that both Sodexo and Gonzaga have made toward creating greater awareness and support of environmentally sustainable practices," President McCulloh said. "I am so pleased to formally endorse this effort and look forward to the collaboration that it will instill on our campus."
The Real Food Challenge also maintains a national network of student food activists — providing opportunities for networking, learning, and leadership development for thousands of emerging leaders. The success of the new program on the Gonzaga campus is reflective of a national agreement between Real Food Challenge and Sodexo that puts in place a rigorous and comprehensive set of standards, defined by the Real Food Calculator, for judging the social responsibility and sustainability of vendors and food producers.
Kristi Theisen, senior manager of sustainability with Sodexo, oversees Sodexo's work with the Real Food Challenge and was at the ceremony.
"It's exciting to make this pledge together as we work side-by-side as good stewards of our community and earth," Theisen said.